Four People Just Became The First — And Only — Mexicans Allowed To Grow Weed
The country's Supreme Court on Wednesday opted to allow four people to grow their own marijuana, cracking open the door to legalization.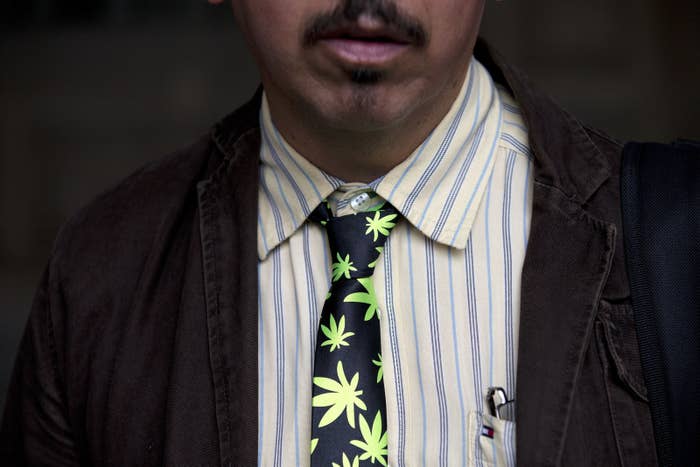 MEXICO CITY, Mexico — A small group of Mexicans are permitted to grow and smoke their own marijuana for the first time, the Supreme Court ruled Wednesday, cracking the door open to widespread legalization in the country.
The four people who brought the case to the Supreme Court are, for now, the only ones legally permitted to grow their own recreational weed in Mexico. The rest of the population still has to abide by the law as it stands on the books, which allows people to carry up to 5 grams of marijuana.
While the ministers deliberated, pictures quickly spread across Twitter of a crowd of supporters swarming outside the Supreme Court, carrying posters and lighting up.
Four out of five ministers who heard the case reportedly ruled in favor, according to local media sources, meaning that a legal precedent has been set. Under the rules of Mexico's legal system, if four similar cases are brought to Court and the judges rule in favor each time, then all judges in the country will have to issue similar rulings in future cases. An important caveat: this does not mean that the law will have changed — that still requires Congress and the president to act.

Today's victorious parties don't plan on actually partaking in their newfound freedoms; for them, the case represents the opportunity to usher in a new drug policy in Mexico, a country that has been battered by drug-related violence for nearly a decade.
The ruling applies to anti-crime activist and business-owner Armando Santacruz, along with another businessman, a lawyer and a stay-at-home grandmother. After nearly a year of fruitless meetings with congressmen to discuss legalizing and regulating marijuana. the four of them formed the Mexican Society for Responsible and Tolerant Consumption (SMART) in 2013.
Santacruz and his colleagues went through several courtrooms before Supreme Court minister Arturo Zaldivar took the project on. The case was built on the idea that prohibiting people from smoking marijuana deprives them of freely developing a personality and therefore violated the Constitutional right to a dignified life.
The case sparked a broader debate about legalization in the country. Some, like the mayor of Mexico City, expressed their support, while others warned that legalizing marijuana would harm society. The head of the National Commission Against Addictions in particular warned against turning Mexico into "a pothead country."