Former Mexican President: Drugs Are "Like The Forbidden Apple"
Vicente Fox, former president of Mexico, said illegal drugs have the same effect on people as the biblical forbidden fruit.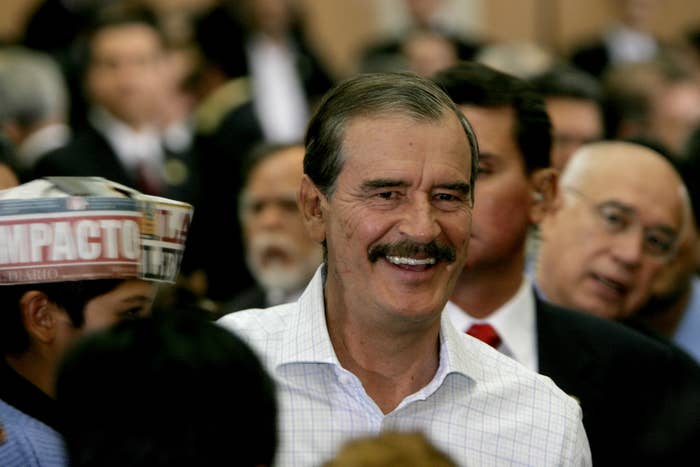 PUEBLA, Mexico — As a debate about drug legalization captivates Mexico, former president Vicente Fox likened the prohibitions in place to the forbidden fruit in the Garden of Eden: whatever is off-limits becomes ever more tempting.
The story would have turned out dramatically different if Adam and Eve had been informed and better educated about the fruit's dangers, Fox said. "If the apple turned out to be so attractive… why didn't anybody tell Adam and Eve that the apple had worms and that it would hurt their stomachs?"
During a panel on prohibition at the City of Ideas conference, organized by the Mexican consul in San Francisco Andres Roemer, on Saturday, Fox, who has been at the forefront of the legalization debate in Mexico, argued that the state must understand its limits.
"There is a crucial point, which is that governments cannot impose behaviors on human beings," added Fox, who in 2013 said marijuana should be grown and exported and hinted that he would harvest it if it became legal.
The panel pit four supporters against an equal number of opponents, including United Nations Office Representative on Crime and Drugs Liaison in Mexico Antonio Mazzitelli and crime reduction expert Mark A. Kleiman speaking against legalization while Fox and former president of Colombia Cesar Gaviria spoke in favor. A show of hands at the start of the panel revealed that more than half the audience was in favor of legalization.
The debate over marijuana legalization has captured Mexicans' attention in the weeks since four anti-crime activists who had been denied permission from the Health Ministry to grow, carry and smoke their own weed took their case to the Supreme Court. The group argued that it was a violation of their constitutional right to a dignified life to prohibit them from cultivating marijuana for personal consumption.
On Wednesday, in a 4-1 vote, the Supreme Court ruled in favor of the group, opening the door for widespread legalization in a country fatigued by drug-related violence since 2006, when former president Felipe Calderon launched a military offensive.
The divisive case was hailed by pro-legalization activists who had been waging a quiet crusade for years. Latin American leaders, in particular, have pushed for different degrees of deregulation or legalization in recent years.
"This idea that we are going to live in a drug-free world… is stupid," said former president of Colombia Cesar Gaviria Saturday. "It goes against all the facts." Gaviria, who gesticulated vehemently and raised his voice passionately during the debate Saturday, said the U.S. has a double standard. "We provide the deaths and they provide the values."
But some in the panel disagreed, saying deaths from the drug trade were not limited to Latin America.
The U.S. has 40,000 victims of oxycontin, said Kevin Sabet, former senior advisor at the White House Office of National Drug Control Policy, arguing that it is not just currently illegal drugs that should be heavily regulated. Speaking about the lessons from Colorado, where recreational marijuana was legalized in 2013, Sabet said that legalization did not do away with the black market. Who do people go to when they don't want to pay taxes, or when they want to buy weed at 3 a.m.? "You go to the drug dealer you went to before," said Sabet.
In Mexico, where more than 70,000 people have been killed since 2006, often in mass massacres that have traumatized the nation, the question many are asking is whether legalizing drugs will reduce violence.
Viridiana Rios, expert in Mexico's citizen security and rule of law, said there is no way to know but warned that the state is too fragile and drug gangs too enterprising to be deterred simply by legalizing marijuana. "How are we going to create a country with firm rule of law that can impede criminals from simply committing other crimes?"