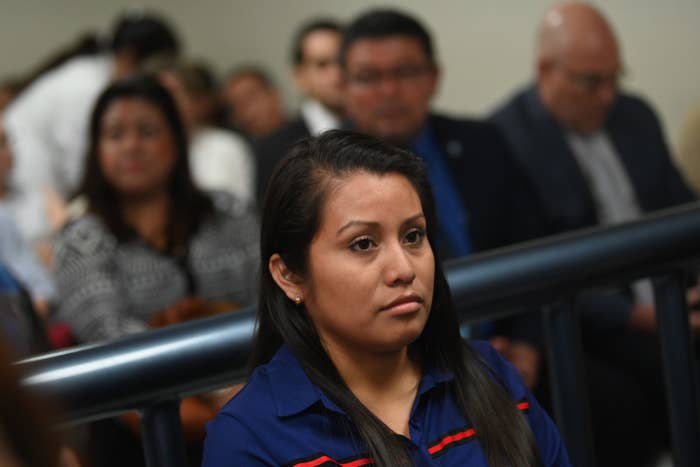 MEXICO CITY — On the morning of Feb. 15, Evelyn Hernández walked out of Ilopango, a women's jail in El Salvador, where she had been for nearly three years. Looking slightly dazed, she stepped through a crowd of cheering women carrying "Justice for Evelyn" banners outside the gates and into a waiting car.
Hernández, who had been serving a 30-year sentence for aggravated homicide after she had a stillbirth, had become malnourished in prison. But she finally had reason to believe her luck was turning: Her sentence had been annulled following an appeal from her legal team. Since then, the 21-year-old has gotten treatment for her physical ailments, gone back to school, and started a part-time job.
This week, she is heading back to a courtroom to be tried again for the same alleged crime. It's a date that has been looming over her since she first regained her freedom, as the courts have been preparing to relitigate her case. Thursday's proceedings come after the retrial began and was swiftly suspended in July.
Hernández is one of dozens of women in the Central American country, which bans abortion entirely, who have been accused of murder by the state after having miscarriages or stillbirths. Her case will be the first of its kind tried under recently inaugurated President Nayib Bukele, who has spoken out against the punishment of impoverished women who have suffered "spontaneous abortions," putting the new administration's stance on women's rights to the test.
In El Salvador, "there is an intentional, systematic persecution of women, of poor women," Paula Ávila-Guillén, director of Latin America Initiatives at the Women's Equality Center, a New York City–based reproductive health advocacy organization, told BuzzFeed News.
Over the last decade, activists, lawyers, and international women's groups have rallied behind Salvadoran women imprisoned for "obstetric emergencies." Since 2009, more than 38 women have been released from jail, 16 remain incarcerated, and at least three — including Hernández — are in the middle of legal proceedings.
Before her release, Hernández had served 33 months in prison. According to Angélica Rivas, one of her lawyers, Hernández's first trial ignored scientific evidence and was determined largely by statements from witnesses called forth by the prosecution. This time, the defense is focused on highlighting the presence of meconium in the baby's lungs, which can cause asphyxiation — and shows that the baby died of natural causes, said Rivas.
Raped by a member of a local criminal gang, Hernández kept quiet, aware that her case would have likely slipped through the cracks of a justice system virtually synonymous with impunity. Machismo is rampant in the country, which has one of the highest homicide rates in the world. More importantly, going to the police would have put Hernández's and her family's lives in danger.
Hernández said she didn't know she was pregnant until 32 weeks later, when she went to the latrine in her small home and delivered a stillborn baby. She started bleeding profusely and passed out.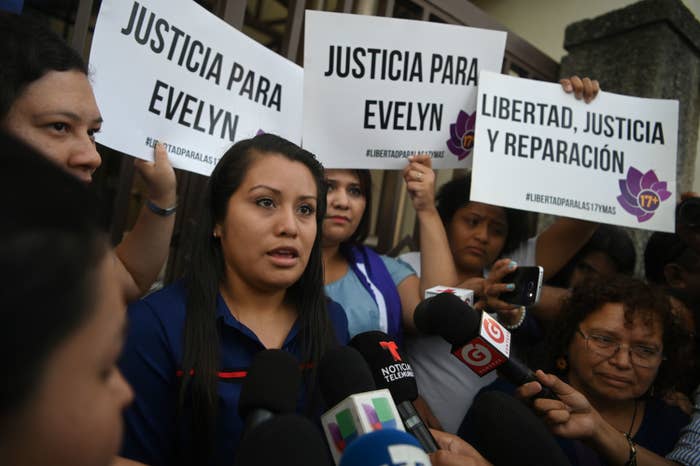 A total ban on abortion was put in place in El Salvador in 1998, after an onslaught of pressure by the Catholic Church. The country of 6.3 million people has eluded a growing regional trend toward liberalization of abortion laws: In 2012, Uruguay legalized abortion during the first trimester, while Colombia, Brazil, and Argentina have incorporated exceptions, such as in cases of rape or when the fetus is expected to die — though eligible women and girls have at times been forced to fight the state to access this right.

Efforts to dent El Salvador's ironclad legislation have been growing. In 2017, then-legislator Johnny Wright Sol submitted a petition to legalize abortion in cases where the woman's life is in danger or when a minor has been raped. It didn't garner enough votes to be discussed in the National Congress.
"As is the norm with this issue, it was put back in a drawer and stripped of its importance," Wright Sol told BuzzFeed News during a telephone interview. He worries that the current administration is so focused on fighting gangs — a push factor for Salvadorans to head to the US, creating a diplomatic challenge for the country — that abortion legislation will take a backseat.
Bukele, who took office this summer, said during a conference at the Universidad Centroamericana José Simeón Cañas last year that abortion should only be available for women when their life is at risk. He also argued that impoverished women should not be presumed guilty after having an unintended abortion.
There are no signs that the law will be modified anytime soon — and any attempt to do so will likely be met with fierce opposition, both from the church and conservative political circles.
Ricardo Velásquez Parker, a lawmaker who has spoken out against abortion, told the BBC earlier this year that the maximum sentence for murder — 50 years — "should be changed to be harsher" for abortion. Parker, whose Twitter profile description has #NoAlAborto and #AltoAlBullying side by side, did not respond to an interview request.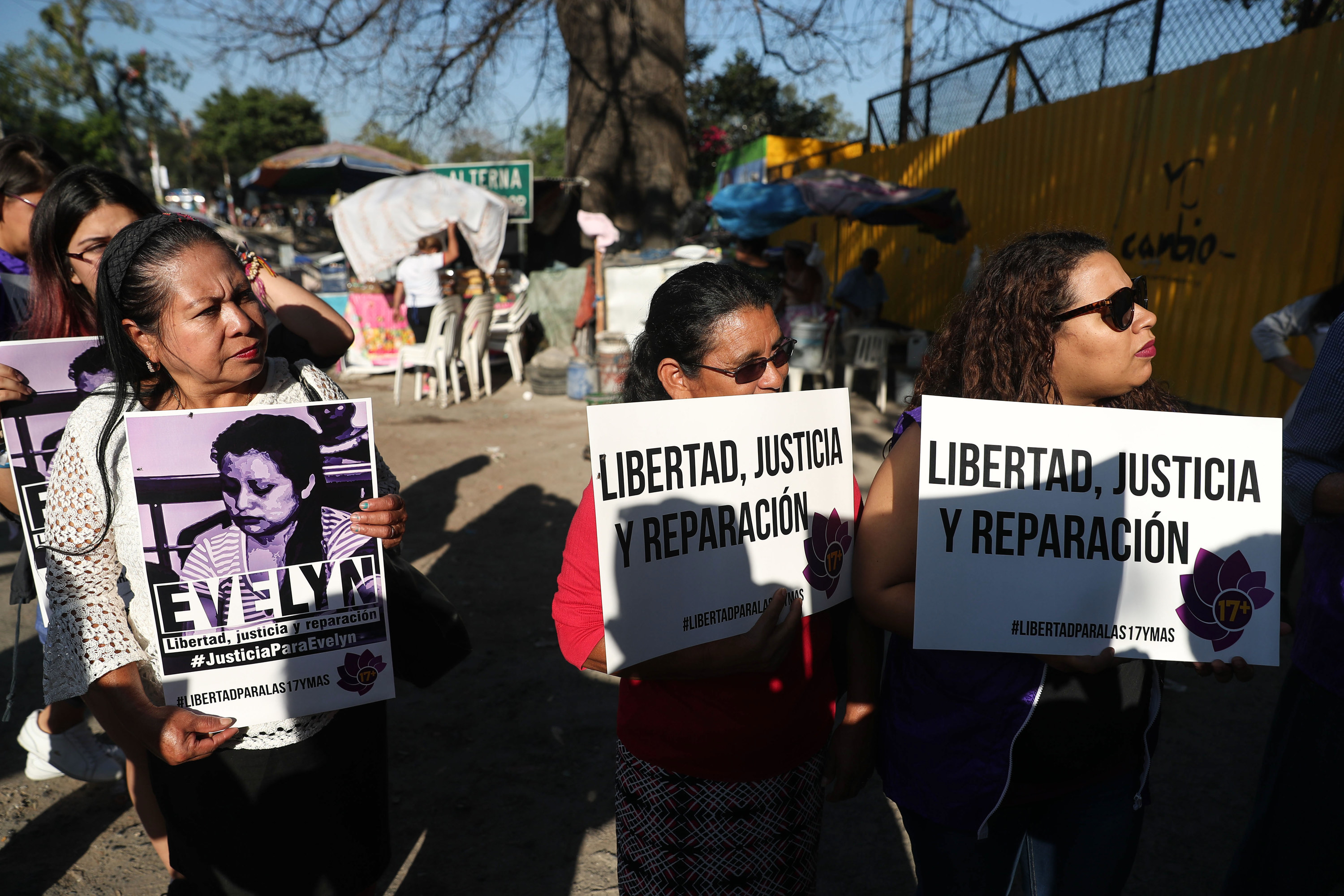 Teodora Vásquez stood outside the gates of Ilopango in San Salvador, the capital city, the morning Hernández was to be freed. While she waited, Vásquez, 35, thought about how serendipitous timing could be: That day, Vásquez was celebrating the one-year anniversary of her own release from prison after serving 10 years for stillbirth.

"Welcoming Evelyn to her freedom was one of the greatest gifts I've ever received," Vásquez told BuzzFeed News.
In 2007, Vásquez was pregnant and eager for her baby's arrival. She was at work when she felt a sharp pain in her abdomen. She started bleeding and called 911 seven times; the ambulance never arrived, Vásquez lost consciousness, and her baby was born dead. When she regained consciousness, she was handcuffed, taken to a clinic, and shortly afterward, to prison. Vásquez was sentenced to 30 years.
Vásquez, whose sentence was commuted by the country's supreme court last year, has become an outspoken defender of women who have gone through similar situations. Since her release, eight other women have been freed, including Imelda Cortez, 20, who spent more than 18 months in jail awaiting trial, suspected of having attempted an abortion. "My freedom was a door that opened for the rest of them," said Vásquez, "things are beginning to speed up."
Now, Vásquez leads a collective of 17 freed women who call themselves "Free to Bring Down the Patriarchy," though she said the group is looking for a new name. Four of them, including Vásquez, live in the same house in San Salvador, where a psychologist visits every weekend to speak to the women. They are all part of a WhatsApp group where they check in regularly, offering each other support through the inevitable bouts of depression. The women, some of whom left prison with a criminal record, have faced stigma from their families and have struggled to get jobs.
Vásquez said she will be at the courthouse Thursday, when Hernández goes back before the judge, cheering her on. Anxious about the verdict, Hernández declined an interview request, but her legal team said she is eager to move on.
"She's counting down the hours, the minutes, to put this behind her," said Rivas, "as if it had been a bad dream."