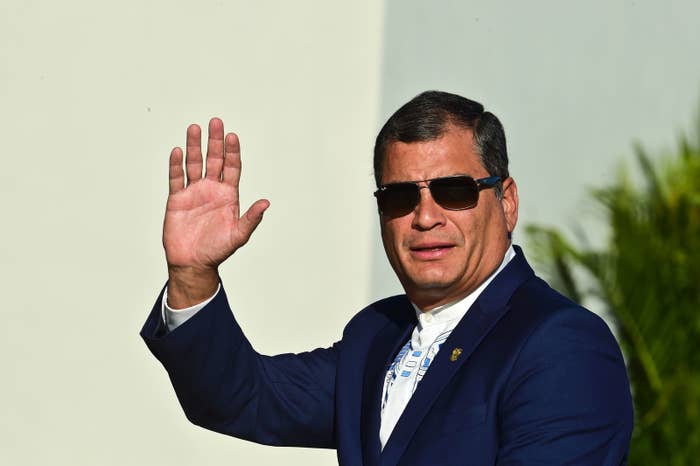 Ecuador's government acknowledged that the reason it "temporarily restricted" WikiLeaks founder Julian Assange's internet access at its embassy in London was because his site published documents from Hillary Clinton's presidential campaign.
In a statement, Ecuador's Foreign Ministry said the government of Ecuador did not "interfere in external electoral processes."
"The government of Ecuador respects the principle of non-intervention in the internal affairs of other states. It does not interfere in external electoral processes, nor does it favor any particular candidate," read the statement.
The statement added that the government stands by its 2012 decision to grant Assange Asylum, and that the "temporary restriction" did not prevent Wikileaks from carrying on its activities. The statement said that the decision to cut off Assange's internet access was a "sovereign decision" and that the government "does not yield to pressure from other states."
The statement did not specify the extent of the restrictions on Assange's internet access, or when they would be lifting those restrictions.
Assange has been using his WikiLeaks site to publish thousands of hacked emails, most recently from the email of Hillary Clinton's campaign chief John Podesta. The White House has said that at least some of the emails, those from the Democratic National Committee, were obtained by Russian state hackers.

On Monday, WikiLeaks said on Twitter that Ecuador cut off Assange's access to the internet over the weekend, "shortly after publication of Clinton's Goldman Sachs speeches."

Shortly after, WikiLeaks alleged that US Secretary of State John Kerry had asked Ecuador to stop Assange from publishing Clinton documents. (An op-ed published Tuesday on state-run outlet Russia Today followed suit, suggesting a "potential US cyberattack" had taken down Assange's internet.)

In a statement, State Department spokesperson John Kirby denied the allegations. "Reports that Secretary Kerry had conversations with Ecuadorian officials about this are simply untrue," Kirby said in a statement provided to BuzzFeed News on Tuesday morning.
Tuesday afternoon, deputy spokesman Mark Toner doubled down on the denial. "I mean, we weren't involved in this," he told the daily press briefing at State Department headquarters. "It wasn't our – it was – we had no involvement in any way, shape, or form in trying to shut down Mr. Assange's access to the internet."
Toner also denied Wikileaks' claim that Kerry had met with Correa while in Colombia, saying the claim is "just not true."
"He didn't raise that," Toner said. "He didn't even engage with President Correa when he was on the ground in Colombia; they had no meeting. Neither – no bilat, no – nothing on the margins, so that – there was no – there just was no meeting. They didn't discuss any of this stuff."
Some have accused Assange of actively agitating against Clinton, including releasing his own medical records shortly after Clinton fell ill at a Sept. 11 memorial ceremony.
WikiLeaks also pushed an unsourced rumor that Clinton had joked about droning Assange, forcing Clinton to respond earlier this month. "I don't recall any joke. It would've been a joke it if had been said but I don't recall that," she said.
The common thread between WikiLeaks' possible connection with Russian hackers and Russian President Vladimir Putin's clear preference for Republican nominee Donald Trump have also raised eyebrows. Assange has refused to reveal his sources.

But in a little-noticed Sept. 30 interview, Ecuador President Rafael Correa told Russia Today's Spanish-language outlet that an electoral win for Clinton would be preferable for the US and the world.
"I want Hillary, whom I know and appreciate greatly, to win," Correa said.
He went on to say, however, that Latin America "would be better off with Trump. When did progressive governments get to power [in Latin America]? ... With Obama or with Bush?"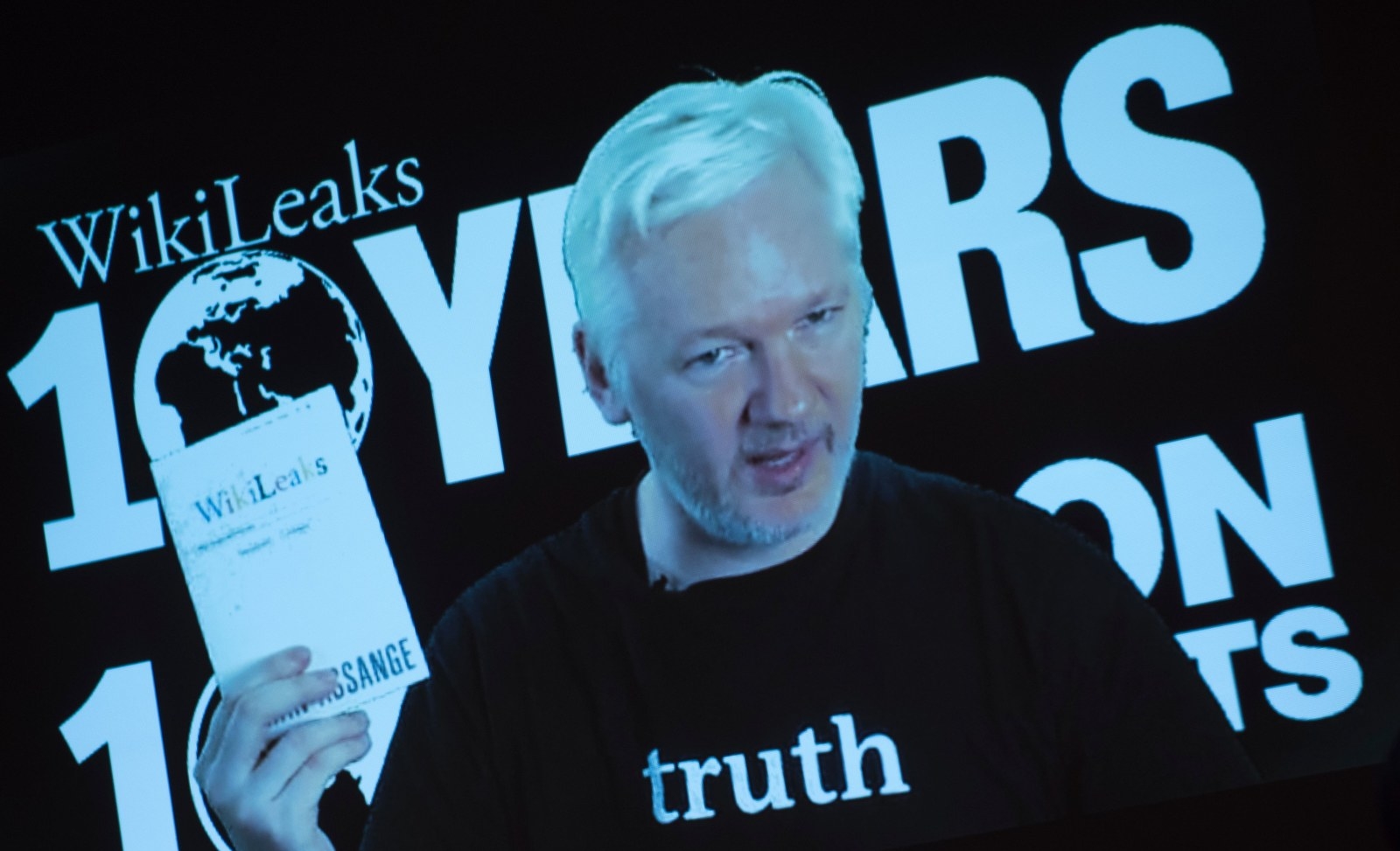 The US-educated leader's relationship with the United States has been strained for years. This summer, Correa accused the CIA of financing opposition politicians in Ecuador. In 2009, he ordered the withdrawal of US troops from a military base in the coastal city of Manta. The decision to host Assange in 2012 did not help matters.
An employee at the Ecuadorian embassy in London said authorities in Ecuador had instructed them to tell journalists that they would not answer questions and to refer them to a press release. Foreign Ministry authorities "ratify that the protection given [to Assange] by the Ecuadorian State will continue while the circumstances that led to the granting of asylum remain," the release said.

Ecuadorian Ambassador Carlos Abad Ortiz did not reply to a request for comment on what was the cause of the internet outage at the embassy.