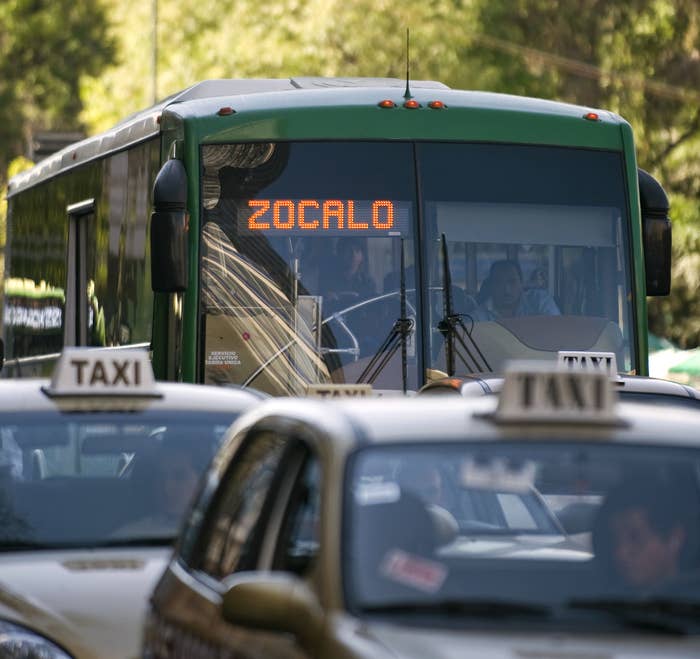 Two competing muggers are dead after running into each other trying to rob riders on a public transportation bus in Mexico City at the same time.
As the bus made its way down Avenida Miguel Bernard, a four-lane thoroughfare in the city, two teenagers sitting in the back pulled out a gun and a knife, and began snatching cell phones and wallets from passengers. Unknown to them, as they began their mugging, an armed 34-year-old man sitting in the front began his own mugging, making his way towards the back of the bus.
The three men ran into each in the middle of the narrow aisle. The two men carrying guns fired on each other.
"They must've thought the other was a cop," said Eduardo Carreño Alvarado, a local prosecutor, during a press conference on Wednesday, one day after the fatal mugging.
Of course, muggings are common in the densely populated capital city. But Tuesday's hard-to-believe coincidence underscores their extent and possible surge, even as politicians try to protect Mexico City's image as an oasis of calm.
There were 15,219 violent muggings during the first six months of the year in the city, a number on track to exceed the 21,483 that took place in 2016. Homicides, too, appear likely to increase, with 1,104 so far, up from 1,640 last year.
In July, a firefight between an armed gang and authorities in Tlahuac, a working class district on the city's eastern edge, left eight people dead, including the gang leader. Locals were incensed: They torched buses, tossed a Molotov cocktail into a public transportation van and blocked off entrances to the site of the confrontation.
It was a scene straight out of Mexico's drug war hot spots — not the capital, deemed by international publications the #1 place to visit in 2016, the "New Iceland", and even the "New Berlin".
Since taking office in 2012, President Enrique Peña Nieto has struggled to steer the focus away from the country's widespread security problems to its less problematic economy and his education and energy reforms. The disappearance of 43 students, a massacre committed by security forces and a record number of homicides have forced Peña Nieto to admit that the country has taken a step backward.
Still, the fatal double mugging was surprising. "Instant Karma!" and "#ThisIsNotAJoke," national newspaper Milenio tweeted, linking to its coverage of the crime. As one astute observer tweeted: "These Mexico City thieves were too imbecilic to even to be imbeciles."
The 34-year-old mugger died on the scene, and one of the teenaged muggers died in the hospital. Carreño Alvarado's office urged passengers who witnessed Tuesday's mugging to come forward.