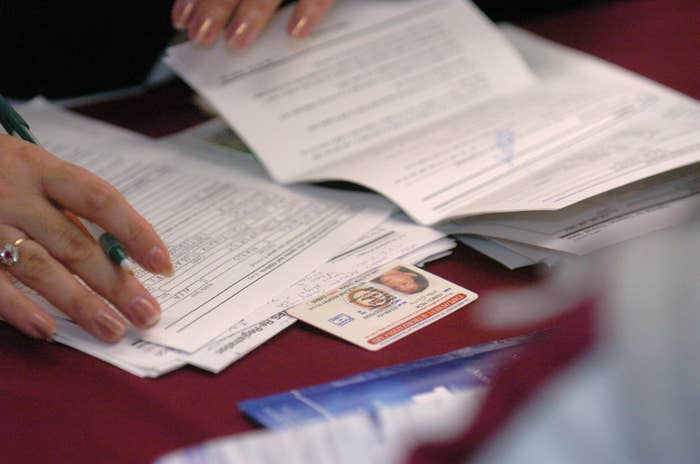 MEXICO CITY, Mexico — Salvadorans and Hondurans who have been living in the United States since at least 2001 under a special protection status granted to people who cannot return to their countries safely have grown increasingly anxious that they will be deported during Donald Trump's administration.
"I'm not sleeping calmly anymore," said Maria, who moved to the US from El Salvador 23 years ago after a civil war left the country in economic shambles. Maria, whose US-born children voted in this week's election, now fears Trump will not renew the program that has allowed her to reside in the US legally after having been undocumented for eight years. "What's going to happen? We need to start preparing our suitcases," she said.
Maria, who asked that her last name be withheld because of the uncertainty of her legal immigration status in the near future, is one of nearly 200,000 Salvadorans living in the US under Temporary Protection Status, or TPS. Countries are designated TPS because of ongoing armed conflict or environmental disasters. El Salvador was granted TPS after a series of devastating earthquakes in 2001, three years after Honduras obtained the designation as a result of Hurricane Mitch's devastation.
TPS, which passed into law in 1990, is granted and revoked at the discretion of the Secretary of Homeland Security, who generally renews the status every 18 months if conditions in those countries remain unstable. It benefits about 300,000 people from 13 countries, including Nepal, Somalia and Yemen.
Years after the US designated El Salvador and Honduras for TPS, only residual effects of the natural disasters exist but they have been compounded by unemployment and gang violence. Last year, El Salvador had the highest homicide rate in the Western hemisphere. Both have had outbreaks of mosquito-borne illnesses and a prolonged drought.
"It would be frightening to go back," said Heather Yvonne Axford, senior staff attorney at the Central American Legal Assistance organization in New York. "Safe repatriation would be unlikely. I think if they go back their lives are at risk," she added.
Central Americans in the US and immigration advocates have become anxious that Trump, who promised during his campaign to deport all undocumented immigrants in the US and build a wall along its southern border, will suspend many programs that provide a safe haven to immigrants, including TPS. They say that the reported appointment of Kris Kobach, who co-authored Arizona's feared SB 1070 immigration law, to Trump's transition team leaves little doubt that his administration will seek to implement aggressive anti-immigrant policies.
People living under TPS are are more vulnerable for removal than perhaps undocumented immigrants because "the US government has a list of who they are and where they live," said Camille Mackler of the New York Immigration Coalition.
The majority of people who benefit from TPS have lived and worked in the US for nearly two decades, birthed American children, and assimilated culturally. Many have not returned to, or kept ties with, their countries of origin. Returning would make them a prime target for extortion since they would be perceived to have amassed some wealth during their years working in the US.
"It would be extraordinarily challenging" for them to readapt to their countries, said Axford.
Fear spread in El Salvador and Honduras after Trump's victory, too. If TPS is not renewed during Trump's term — both countries recently received extensions until early 2018, just at the beginning of a midterm election cycle — the two nations will struggle to absorb the high number of deportees. There are few job opportunities. "I don't know that our government is prepared. I think it would cause an enormous impact for us," Reynaldo Alvergue, an immigration expert in El Salvador, told BuzzFeed News.
Thousands of families in El Salvador and Honduras who depend on remittances from their relatives living in the US under TPS will also be affected if the program is not renewed. Esmeralda, a 50-year-old Salvadoran who works in the US as a housekeeper under TPS, told BuzzFeed News that her mother, brother, and daughter depend on the $475 she sends them monthly to pay for their rent and food.
If TPS for Salvadorans is suspended, Esmeralda will have no other recourse but to return home. Unlike refugees and asylum status holders, people living under TPS have to have been in the US since the status was first granted, do not have a path to permanent residence status, and are not allowed to bring their children or spouses to the US. They can work legally and travel outside the country but must reapply to the program every 18 months.
While they wait to see if the president-elect will go through with his campaign promises, Central Americans and Hispanics in general are reporting growing hostility toward them. Maria said her son and other Latinos were told at school to go "build the wall" that Trump pledged. "It feels as though [Americans] want the promises Trump made to be carried out immediately," said Esmeralda.
"This will be the first president whom we don't want to see fulfill his campaign promises," said Alvergue.