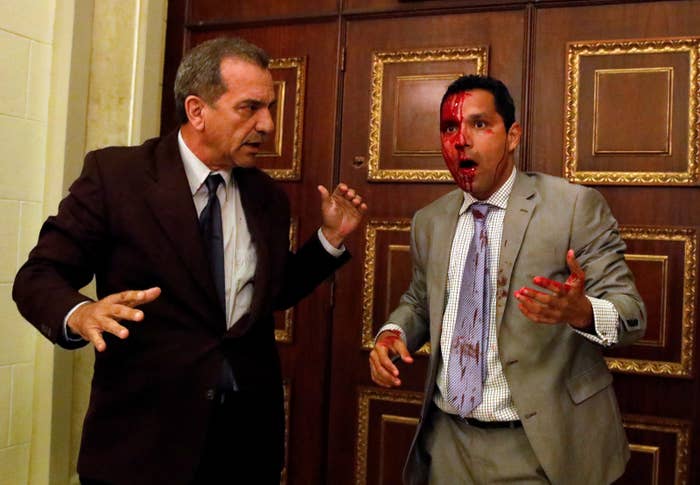 MEXICO CITY — Bloodied handprints smeared the walls of Venezuela's congress after a group of government supporters broke into the building and attacked opposition lawmakers on Wednesday, the latest in an ongoing escalation of violence.
Photographs of blood-soaked legislators having their wounds bandaged and lying on the grass circulated on social media. A video showed file cabinets and rolled-up rugs piled up in front of one of the building's doors.
"We are living through a coup d'etat that is trying to reinstate a dictatorship," opposition lawmaker Miguel Pizarro wrote to BuzzFeed News via WhatsApp from inside congress. "As I talk to you, explosives are being thrown at the doors of the Legislative Palace." Pizarro said five lawmakers, seven congressional employees, and three journalists were injured in the assault.

Lawmakers said they could not leave the building, which continued to be surrounded by pro-government groups.

President Nicolás Maduro condemned the attack — but questioned who was to blame. "Strange acts have occurred, always strange acts wherever the opposition is around," he said. The dramatic events took place during celebrations of Venezuela's independence from Spain.
Political violence has become a regular occurrence in Venezuela, where Maduro has stripped virtually all power from the opposition and even from detractors within his own party, including Attorney General Luisa Ortega.
In the midst of a renewed wave of street protests in May, Maduro convened a popular assembly to rewrite the constitution. Ahead of ballots being cast to choose its members, the opposition has called for an unofficial referendum against the whole process — saying that the proposed assembly is a gimmick by the government to avoid free elections.
Maduro's wife, Cilia Flores, and Foreign Minister Delcy Rodríguez are overseeing the assembly. The two have kept busy in recent weeks: Flores has been making dancing cameos during Maduro's televised appearances, while Rodríguez recently returned from a meeting with the Organization of American States, where she called member states "lap dogs of imperialism."
Venezuela has united a region with abysmal political differences in its concern for the oil-rich country's languishing democracy.
The bizarre events unfolding in Venezuela can at times seem like they have been ripped straight from a movie. Óscar Pérez, a strapping police officer who moonlights as an actor, hijacked a helicopter and flung grenades at the Maduro-friendly Supreme Court as the helicopter overflew it last week.
"We demand your immediate resignation," Pérez said in a video posted on his social media accounts, addressing Maduro. Four men, their faces covered and their hands gripping assault weapons, stood behind Pérez as they all looked straight into the camera. The opposition said Pérez's actions were a government-sponsored smoke screen — while the country was focused on Pérez, the Supreme Court had just stripped Ortega of much of her power.
On Tuesday, the Supreme Court swore in a new vice prosecutor, Katherine Haringhton. Haringhton was one of seven Venezuelans sanctioned by the US in 2015 for undermining the country's democracy.
Nearly 100 people have died during street protests in the last three months, most of whom have been young men injured by gas canisters fired at close range.
"We are here to defend Venezuela," Armando Armas, one of the five injured lawmakers, the collar of his white button-up shirt stained red, said in a video. "This is what we were elected for, whatever the cost may be, even if it is our lives."