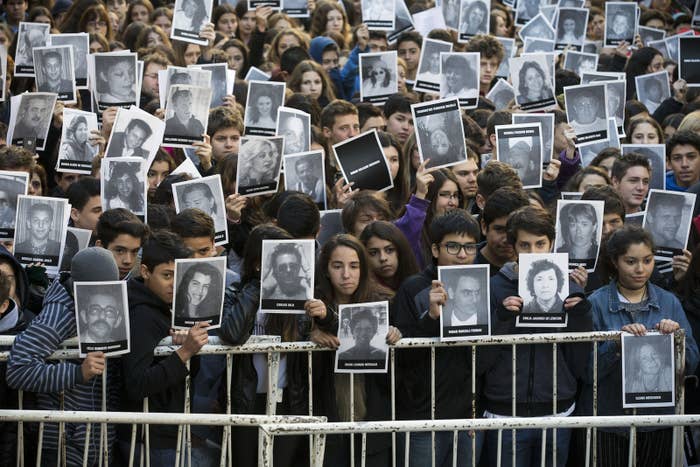 MEXICO CITY, Mexico — Argentina's newly sworn-in government on Monday essentially nullified a controversial agreement with Iran to jointly investigate the 1994 bombing of a Jewish center, an attack which has had deep political ramifications for the South American country.
Federal prosecutors argue that the attack, in which two bombs detonated inside the AMIA Jewish center killed 85 people, was orchestrated by Iran and executed by the Hezbollah paramilitary group. Plans to nullify the pact were announced Friday, one day after President Mauricio Macri was sworn in. A member of the Justice Ministry's press office told BuzzFeed News the pertaining documents were filed Monday at a federal court.
One of Macri's first pledges after he won the presidential election in November was to tear up the memorandum of understanding with Iran.

"It's something that didn't help united Argentines and show the world we are coherent in regards to what we want," said Macri about the pact during a press conference last month.

Signed in 2013 by Macri's predecessor, Cristina Fernandez de Kirchner, the agreement created a joint commission to investigate the bombing. Federal prosecutors say the memorandum shrouded a deal in which Argentine authorities would give Iranian officials virtual immunity from any attack-related charges in exchange for trade benefits, including oil.
The leading prosecutor in the case, Alberto Nisman, was found dead of a gunshot wound earlier this year after drafting an arrest warrant for Kirchner for covering up the alleged deal. He was due to present the results of his investigation to Congress the following day.
"The international political alignment that Macri has laid out… is to make this memorandum with Iran fall," Daniel Blinder, an expert in international politics who has followed the bombing investigation closely, told BuzzFeed News. "This will probably thrust the Nisman case forward."
Kirchner and other government officials initially suggested Nisman's death was a suicide but later shifted position, saying his murder was part of a plan to discredit the former president. An Argentine judge later dismissed Nisman's complaint, found in a garbage dump outside the prosecutor's apartment.
The memorandum was signed by Iran and Argentina's foreign ministers, Ali Akbar Salehi and Hector Timerman, respectively. Critics of the pact were particularly concerned with a clause allowing suspects to be interrogated in Iran. German Garavano, the newly-appointed justice minister, said Friday that he would not appeal a court's decision to declare the pact unconstitutional.
Macri won against Kirchner's hand-picked candidate by less than 3 points.