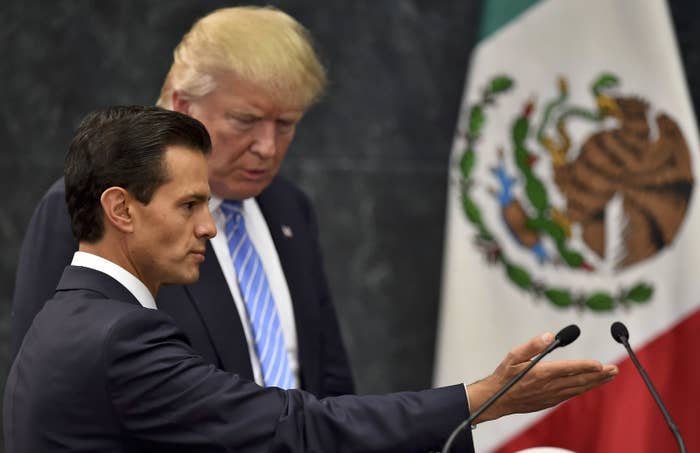 MEXICO CITY — If Mexico ended 2016 concerned about the consequences of US President-elect Donald Trump's protectionist economic policies, it has grown outright fearful in 2017.
Still reeling from a sharp increase in gas prices on Jan. 1 and frustrated by the currency's ongoing fall — the peso lost about 20% against the dollar last year — Mexicans were confronted Tuesday with Ford's announcement that it had scrapped plans to build a $1.6 billion plant in Mexico. Earlier that day, Trump threatened General Motors with a "big border tax" for building one of its compact car models south of the border.
"This catches us at a moment of enormous complexity," said Armando Rios Piter, a senator from the opposition Democratic Revolutionary Party. "This bloodbath could continue in a massive way for the next few months."
The peso was the second-worst performing major currency in the world last year, behind the post-Brexit UK pound. Its deep tumble is widely attributed to a number of factors: a fall in oil prices, the resignation of the president of the Mexican central bank last month — and Trump's victory.
Less than two weeks before Trump takes office, Mexico is already feeling the effects of the president-elect's campaign promise to keep jobs in the US. In November, the air-conditioning giant Carrier announced a deal with the president-elect to reverse the transfer of about 1,000 jobs to Mexico — another 1,000 jobs will still move south. That month, Trump also claimed credit for keeping a Ford plant in Kentucky from moving to Mexico (the carmaker had planned to move one assembly line out of the country, not the entire factory).
Trump riled Mexico from the beginning of the campaign, claiming it was sending criminals and rapists to the US. In his stump speech, he threatened to abandon the 22-year-old North American Free Trade Agreement, or NAFTA, saying it has benefited Mexico disproportionately. (Trade between the two is valued at $1 million per minute; US exports to Mexico in 2015 were $236 billion, up 97% from a decade earlier. Mexican exports to the US totaled $295 billion in 2015.)
He also promised to deport millions of undocumented immigrants and to build a wall along the southern US border that would be paid for by Mexico.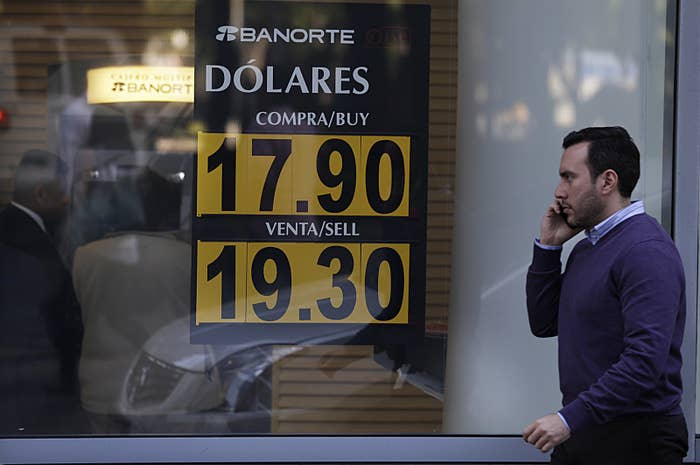 At the time, Rios Piter proposed adding safeguards to the annual budget so no tax money went into building the wall. He created the Monarch Operation, a support program for Mexican migrants in the US, and plans on sending American companies in Mexico letters highlighting the equal benefits of NAFTA for the two neighbors.
It's not just Mexico that is concerned about a possible breakdown in trade: on Tuesday, Canadian Prime Minister Justin Trudeau stressed the deep ties between the US and Canada, which is also part of NAFTA, in a video address to the newly sworn-in US Congress.
But most Mexicans still waved Trump off during much of his campaign, certain he was little more than temporary comedic relief. Even after President Enrique Pena Nieto invited Trump on an official visit, few believed he stood a chance at reaching the White House.
After Trump's unexpected victory, Mexican authorities and the business community began scrambling to generate protective measures. The Foreign Ministry announced an 11-point plan to help anxious migrants in the US two weeks after the election. Reversing his critical stance of Trump, Carlos Slim, Mexico's richest man, traveled to the president-elect's estate in Florida to "open a friendly line of communication," according to the Washington Post.
The Ministry of Economy said in a release Tuesday that it "laments" Ford's decision. "The jobs generated in Mexico have contributed to maintaining manufacturing jobs in the United States, which would have otherwise disappeared in the face of competition from Asia," it continued.
The ministry did not respond to an interview request from BuzzFeed News.
Fears of Trump's policies come at a time when Mexico is facing growing economic hardships. Roadblocks swept across the country Tuesday as people protested a 15% rise in gas prices. The peso deepened its continued loses after the Ford announcement. The IMF, Moody's, and S&P have all downgraded their outlook for Mexico in recent months.
If Trump continues to pressure companies to return jobs to the US and follows through with his promise to abandon or renegotiate the NAFTA, Mexico could face reduced exports, a weakened capacity to attract foreign investments, and further pressure on its currency.
Trump's hostile talk aside, Mexico's economic fortunes are closely tied to growth in the US, and numerous economic indicators show the US economy is strengthening, with wages rising and consumer confidence surging.
In any case, analysts warn that Mexico must start preparing for the long-term effects of Trump's other policies, such as mass deportations. A sharp decrease in remittances, which account for 2.3% of Mexico's gross domestic product, could devastate hundreds of communities across the country.
The government, they say, must create a clear and comprehensive strategy in the face of growing uncertainty.
"All of these scenarios correspond to a country that isn't doing anything to counteract them," said Rodolfo de la Torre, an economics expert at CIDE, a research institute in Mexico City.
But, he added, "Mexico does not have to passively accept these consequences."