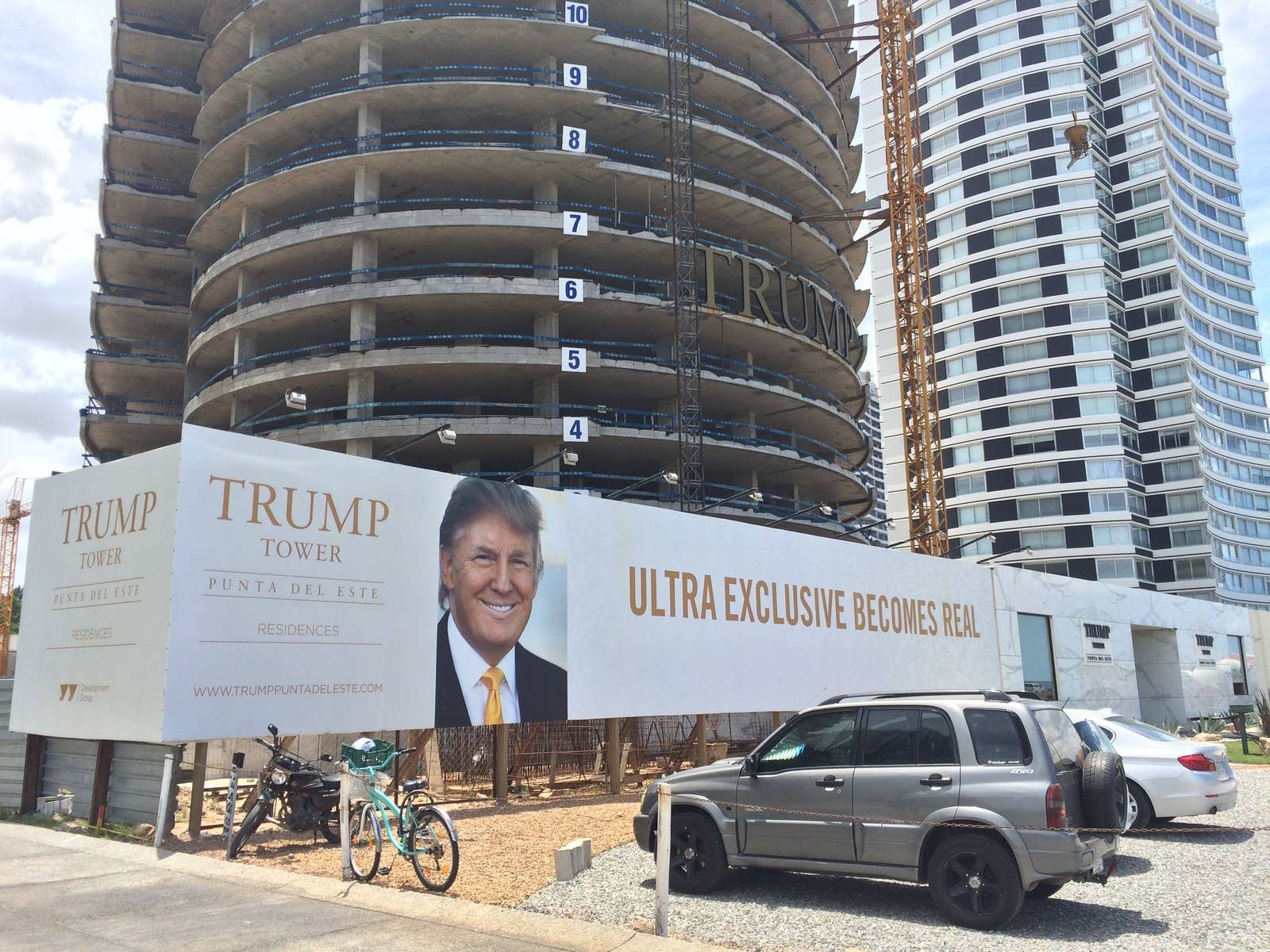 PUNTA DEL ESTE, Uruguay — In this resort town where South America's jetsetters flock to wade in the brisk Atlantic Ocean, a new tourist site has sprung up with an eye-catching illustration: Donald Trump's grinning face.
For weeks, busloads of travelers and beachgoers have been making unscheduled stops outside the halfway-built Trump Tower in this exclusive Uruguayan enclave, a magnet for Argentine and Brazilian millionaires. The president-elect's beaming face, splashed on the marble facade of the building's showroom, looks over the Lorenzo Batlle Pacheco Boulevard.
Until recently, for all its popularity, there wasn't much to see in this city except a sculpture of a hand emerging from the sand near the bus station. Now things have changed. "People will come see the fingers and take a photograph with the Trump poster," said Leonardo Carbonell, president of Destino Punta del Este, an organization that promotes investment in the city.
The sales team at the tower is preparing for an influx of curious visitors, many of whom admit they cannot afford an apartment but are bent on getting a selfie wearing a Trump-emblazoned hard hat. It's easy to discern the real clients from the hoi polloi, explained sales associate Fernanda Felipez: They wear Louis Vuitton and Armani. Still, all guests are greeted at the door by a larger-than-life photo of Ivanka, Eric, and Donald Trump Jr., and a German hostess offering dark chocolate truffles on fine china.
Remember, Felipez said of the ritzy outpost on the Uruguayan coast, this is the "Mini Monaco" of Latin America, a town of about 10,000 that swells to nearly 400,000 during the summer. "Punta is a bubble for people with a lot of money."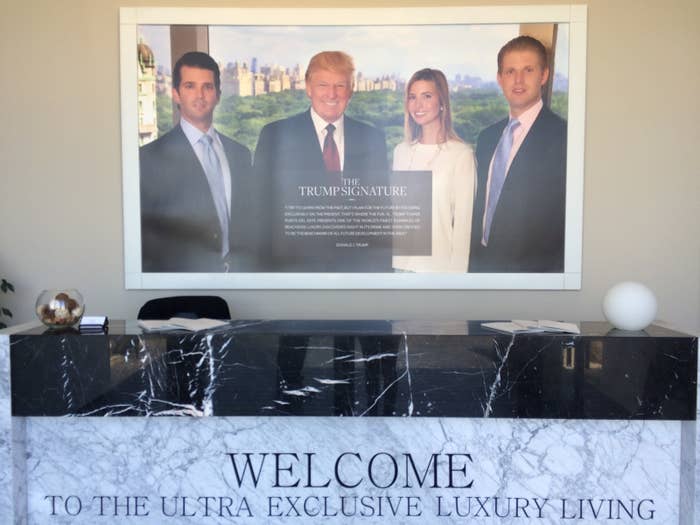 During a recent morning, workers milled around the Trump skyscraper, which will include a two-story marble lobby, a climate-controlled tennis court, and a heliport. Each apartment comes with an iPad that tenants use to control everything from ordering food delivery to requesting a valet to drop off their car at the entrance (the iPad belonging to the fictional apartment owner in the showroom displays a selection of Bentleys and Ferraris).
Two years before it is due to be inaugurated, more than 60% of the tower has been sold to Argentines, Brazilians, and some Americans, Felipez said.
The Trump Tower here epitomizes the aggressive expansion of the Trump Organization in Latin America, which has swept into Panama, down to Brazil and, if all goes according to plan, westward to Argentina. As with their deals elsewhere, Trump's children seal relationships with prominent politicians and entrepreneurs, who in turn appear to use their connection to the real estate mogul turned president-elect to pursue projects that will boost both their own coffers and the Trump Organization's bottom line.
It also highlights the conflict-of-interest concerns that entangle Trump's commercial properties in dozens of cities around the world, with many calling into question whether US foreign policy will be influenced by the president's business interests, and whether his political influence will help them prosper.
The president-elect announced earlier this month on Twitter that "no new deals" will be made during his term in office, and that he will leave his businesses in the hands of his sons Eric and Donald Jr. But he later postponed a press conference during which he was to announce his plans for his business. Trump has resisted calls to divest from his company during his presidency.
What's more, as BuzzFeed News explained in a look into Trump's business ties in Turkey, the licensing fees the Trump Organization typically agrees to with international properties, in particular hotels, are based on income of the property. That means governments who direct business his way add to the company's profits.
Trump's expansion in Latin America is ironic given his comments about Mexicans being "rapists" and promises to deport millions of Latinos during his campaign. Yet, when it comes to doing business in the region, the Trump family appears eager to curry favor with the powers that be.
The Trump transition team did not reply to requests seeking comment about the president-elect's potential conflicts of interest in Latin America.
In 2014, when Eric traveled to Punta del Este to monitor progress on the tower, for example, he told Uruguayan newspaper El Pais that he would love to meet then-President Jose Mujica. Mujica's very un-Trumpian style — he donated 90% of his salary to charity and drove himself in a 1987 VW Beetle — was applauded globally. Eric said at the time that, "I really like his lifestyle … It's refreshing to see a country's president worry not about material possessions, or what he's wearing, but about having a simpler, working-class style."
That's almost the exact opposite of the Trump family's typical approach to anything, especially business. The flashiness that has become a clear part of Trump's brand — and the larger-than-life personalities he associates himself with — is anything but simple. The Trump Organization and the finances of the soon-to-be president are now linked to development decisions all around the world — with any decision impacting them certain to raise questions about whether Trump is doing this to further US interests or just to boost his bottom line.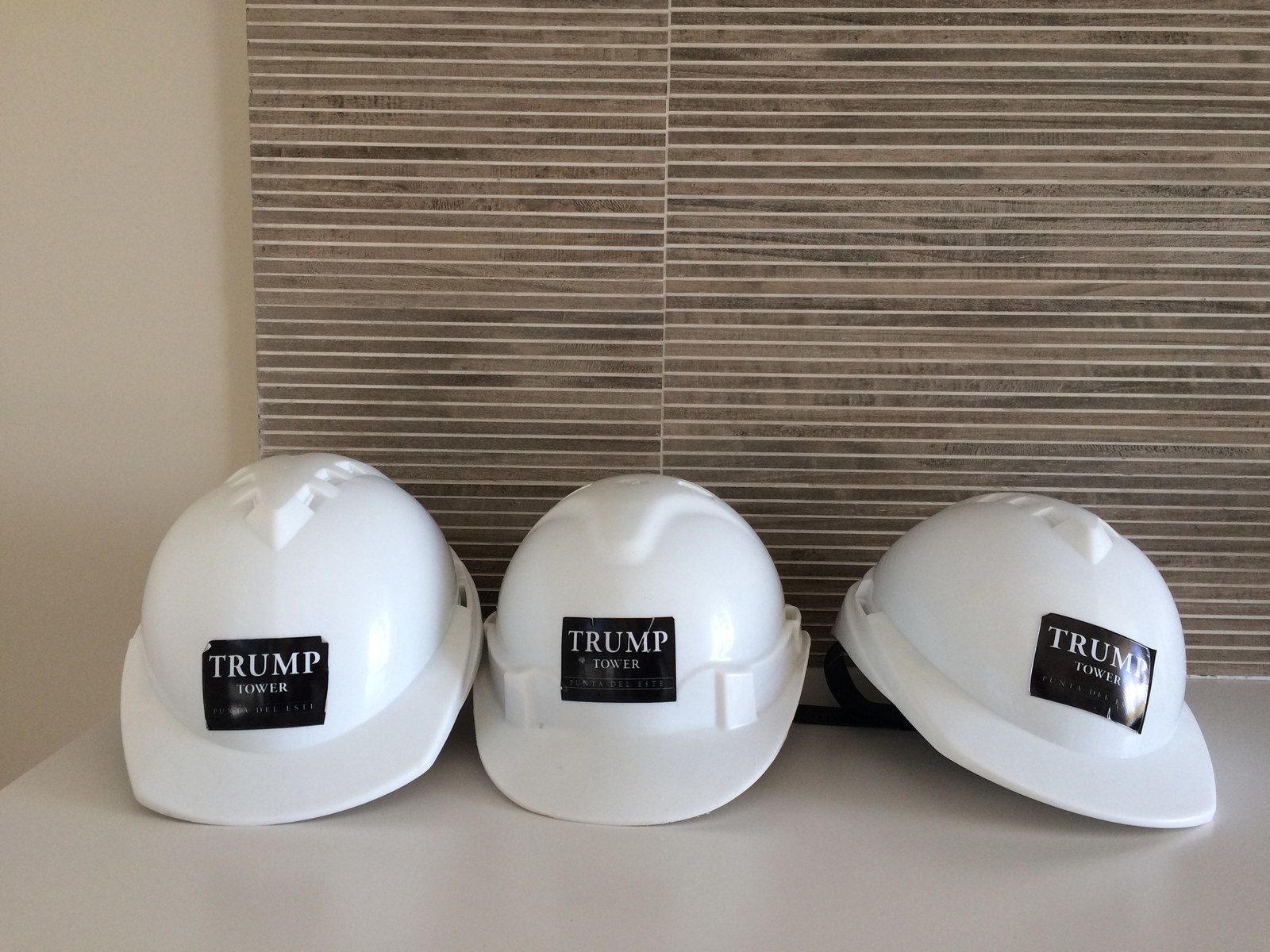 It was Jorge Lanata, one of Argentina's most flamboyant journalists, who ignited one of the biggest international scandals involving Trump after the election, during his weekly TV show in late November.

"The phone rang…" Lanata began, prodding Romina Manguel, a reporter who joined him in his studio. She replied, "The phone rang and so began a really strange story."
Manguel revealed that during Argentine President Mauricio Macri's congratulatory call to Trump, the president-elect asked him for a business favor: approving the permits required to build a Trump Tower in Buenos Aires.
The ensuing controversy was only deepened the following day when news emerged that Ivanka Trump, charged by her father to expand the brand internationally, had also joined the call. Macri's spokesperson immediately denied that Donald Trump had broached the building permits, but a prominent Argentine politician told BuzzFeed News that Macri had reported Trump's remark on a call with governors.
(In a puzzling turn of events, Lanata later tried to minimize the importance of the story. "I think this is totally minor and I don't understand why it became a big deal," he told BuzzFeed News.)
Shortly after Lanata's revelation, Marcelo Ramal, an opposition lawmaker in Buenos Aires' city legislature, began looking for information on the yet-to-be-built Trump Tower but came up short; he couldn't even find the address in any public record. He proposed requesting any paper trail of the project but was voted down by his colleagues — the largest bloc is controlled by the country's ruling party.
The following day, the Buenos Aires Ministry of Urban Development and Transportation issued a statement saying that the property in question had been approved for construction in 2007 but that the permit had expired. It also revealed the future tower's address.
For now, the Trump Tower in Buenos Aires is expected to sit just off 9 de Julio Avenue, one of the widest boulevards in the world and the site of frequent social protests in Argentina. From the parking lot that currently sits on the corner, the Obelisk — the most emblematic sight in Buenos Aires — is clearly visible. At 442 feet, the Trump office tower will be nearly double the famed structure's height.
The Trump Tower "is being placed in the political center of Buenos Aires and Argentina," said Jonatan Baldiviezo, president of the Observatory for the Rights of the City, an organization that monitors public policy in Buenos Aires. "It will be an important increase in traffic and people in an area that is already collapsed," added Baldiviezo.
BuzzFeed News visited the office of Dujovne-Hirsch, the architect firm behind the project, and was given access to the plans for the ultra modern building. The all-glass, 35-story, rectangular tower, which has five-story blocks stacked at skewed angles, will stand out in an area where most buildings don't rise higher than 12 stories and display either colonial architecture or somewhat shabby, nondescript neutral-colored facades.
The man behind the project is Felipe Yaryura, a business associate at YY Development Group, which is also in charge of the Punta del Este tower. Yaryura, a lawyer described as a low-key man by people who have worked closely with him, deepened his relationship with Trump and his children, particularly Eric, during the presidential campaign. Over time, however, he appeared to take a liking to the spotlight.
In interviews with local press, Yaryura has trumpeted his close relationship with the president-elect, saying that Trump once asked him if he should run for president, to which he replied, "If you do, you'll win." He indicated that permits for the Trump Tower in Buenos Aires would be simple to obtain and spoke authoritatively about the strong relationship that he believes will develop between Argentina and the US.
He touted his relationship with the real estate mogul and his family on social media. On Instagram, a beaming Yaryura appeared next to Trump, his son Eric, and their political ally Rudy Giuliani. One of the pictures was taken from inside Trump's victory party.
"USA and Trump Towers Ambassador Felipe for all the men and women," Fernando Isidro, a friend of Yaryura's, commented on one of his photographs.
Yaryura became a celebrity in Argentina overnight after Trump's win. He now appeared to have the country's closest link to the world's most powerful man, especially given Macri's complicated history with Trump.
"I had an intense relationship with [Trump] when I was 24," Macri told BuzzFeed News during a Facebook Live interview in August. A friendship born out of a real estate project in New York was deepened through golf outings and wild nights in Punta del Este, according to Gabriela Cerruti, a lawmaker at the Buenos Aires legislature and the author of El Pibe, a book about the Argentine president.
"Now they'll follow the law but that was not the initial intention."

But then the two appeared to break off relations in 1991. The future Argentine head of state's father, Franco Macri, was suspicious that Trump and his son had cheated him on a business deal in New York, added Cerruti, citing a recently published book, a distrust that led him to believe Trump was behind his son's 12-day kidnapping that year. (The Trump transition team did not respond to BuzzFeed News' request for comment on the allegation.) Earlier this year, Macri publicly endorsed Hillary Clinton.
After Trump's victory, local news reported that Yaryura coordinated a call between Susana Malcorra, Argentina's foreign affairs secretary, and Eric Trump.

The intense scrutiny after Macri's congratulatory call with Trump soon overwhelmed Yaryura, who declined an interview request from BuzzFeed News and did not respond to emails or WhatsApp messages. During a visit to his Buenos Aires law firm, Yaryura's assistant came out to the lobby and said he was not giving any more interviews to press.
The project "went cold," said Ramal, the opposition lawmaker. "Now they'll follow the law but that was not the initial intention," he added, referring to developers and city officials. This caught Yaryura and his team off-guard, said Bernardo Dujovne, the architect behind the Trump towers in Punta del Este and Buenos Aires. "They are a bit surprised and paralyzed."
It's not just Argentina. The intrigue surrounding Trump's connections there is playing out across the continent, which has already proven eager to welcome the president-elect's looming towers.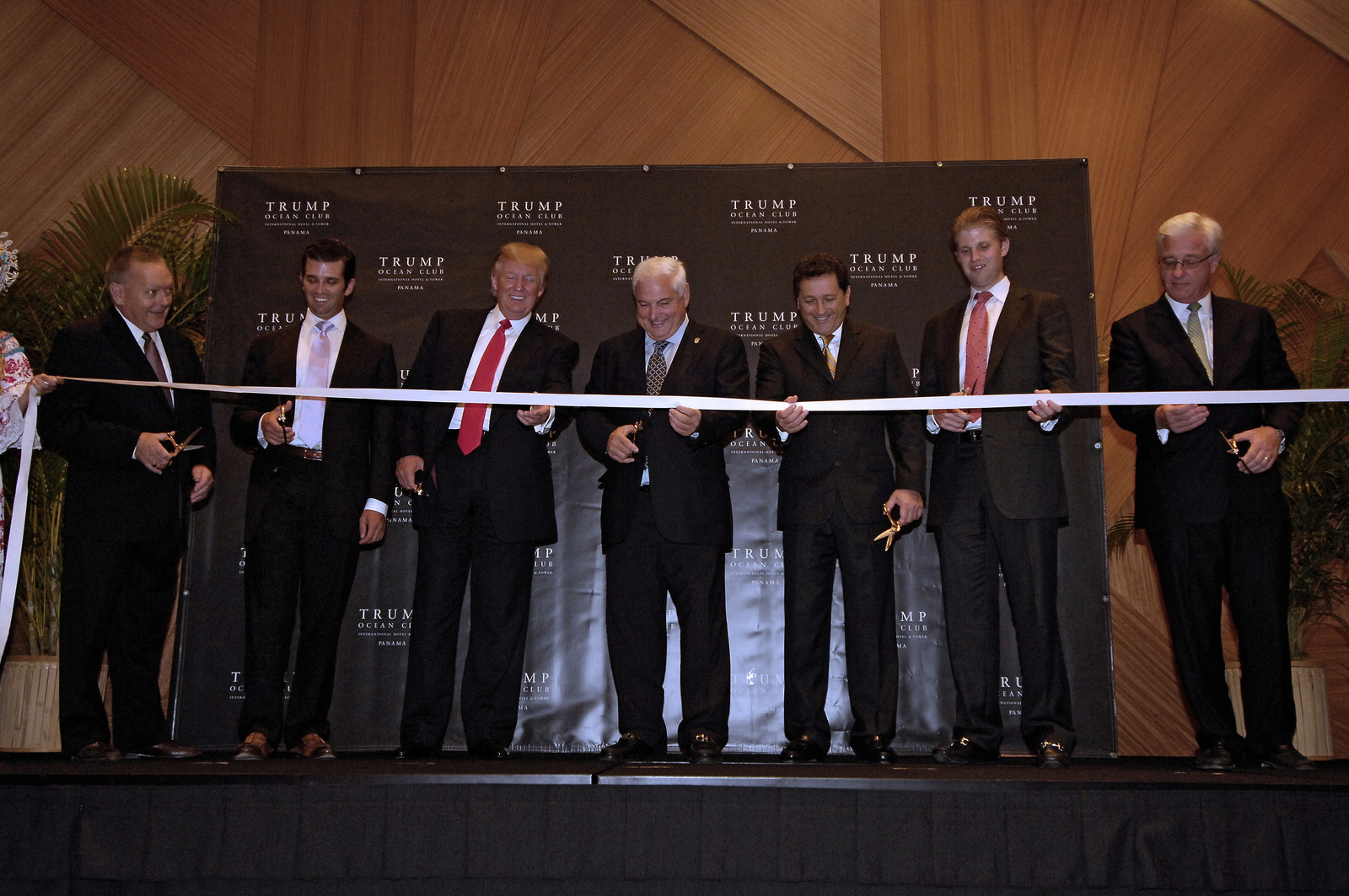 Thunderous applause filled the Trump Ocean Tower in Panama City when Trump and then-President Ricardo Martinelli entered its lobby during its 2011 inauguration. "I really love your president," Trump told the crowd. "You're my friend. Great honor," he said, turning toward Martinelli before the two ceremoniously cut the ribbon.
Shaped like a giant D, the building was the tallest in Latin America at the time. But the eagerly awaited inauguration was tinged with resentment, as Trump had been declared persona non grata earlier that year by the Panama City municipal council after criticizing the US for handing over the Panama Canal in return for nothing during an interview with CNN.
In spite of his seeming lack of finesse when it comes to dealing with Latin America, he has expanded his business in the region and around the world.
"I've always been a big fan of Latin America," Trump said during an interview in 2010.
The following year, Trump sent his son, Donald Jr., to Bogota, Colombia. There, he met with President Juan Manuel Santos at his official residence. According to local reports, Santos offered Donald Jr. a "Colombia is Passion" brochure and urged him to invest in the country's tourism.
In 2012, Donald Jr. traveled to Rio de Janeiro, Brazil, where he met with the city's mayor, Eduardo Paes. The two, accompanied by other government officials and the president of Even Construtora e Incorporadora, a major construction company, announced the development of Trump Towers Rio. The project included four more 38-story office towers.
The Trump Hotel Rio opened partially in time for the summer Olympics. But the project has recently come under criminal investigation by federal authorities for questionable investments from state pension funds. On December 14, the Trump Organization announced that it was pulling out of the project, saying that developers had fallen behind.
Back in the resort town of Punta del Este, Trump has added his flashy footprint to a skyline tailored for South America's millionaires who wanted to clean their money.
"Punta del Este started off as a money laundromat for Argentines," said Carbonell, of Destino Punta del Este, adding that Argentines invest the money they don't want to pay taxes on at home here.
The president-elect's last name already adorns the tower's unfinished facade and huge cranes perch atop the structure. It will cost at least $100 million to build, said Jorge Pieri, a Uruguayan architect hired by Yaryura and his team to get permits approved by the government of Maldonado, the department where Punta del Este is located. His father, at the time, was an official at the department's Ministry of Planning, though Pieri says that "the procedure was correct" — no exemptions were needed, he said, and his father did not help him obtain the permits.
Developers insist that the Uruguay and Argentina towers do not need special permits. Even so, these projects tie the region's development bigwigs and their influence game directly to the future president's wealth.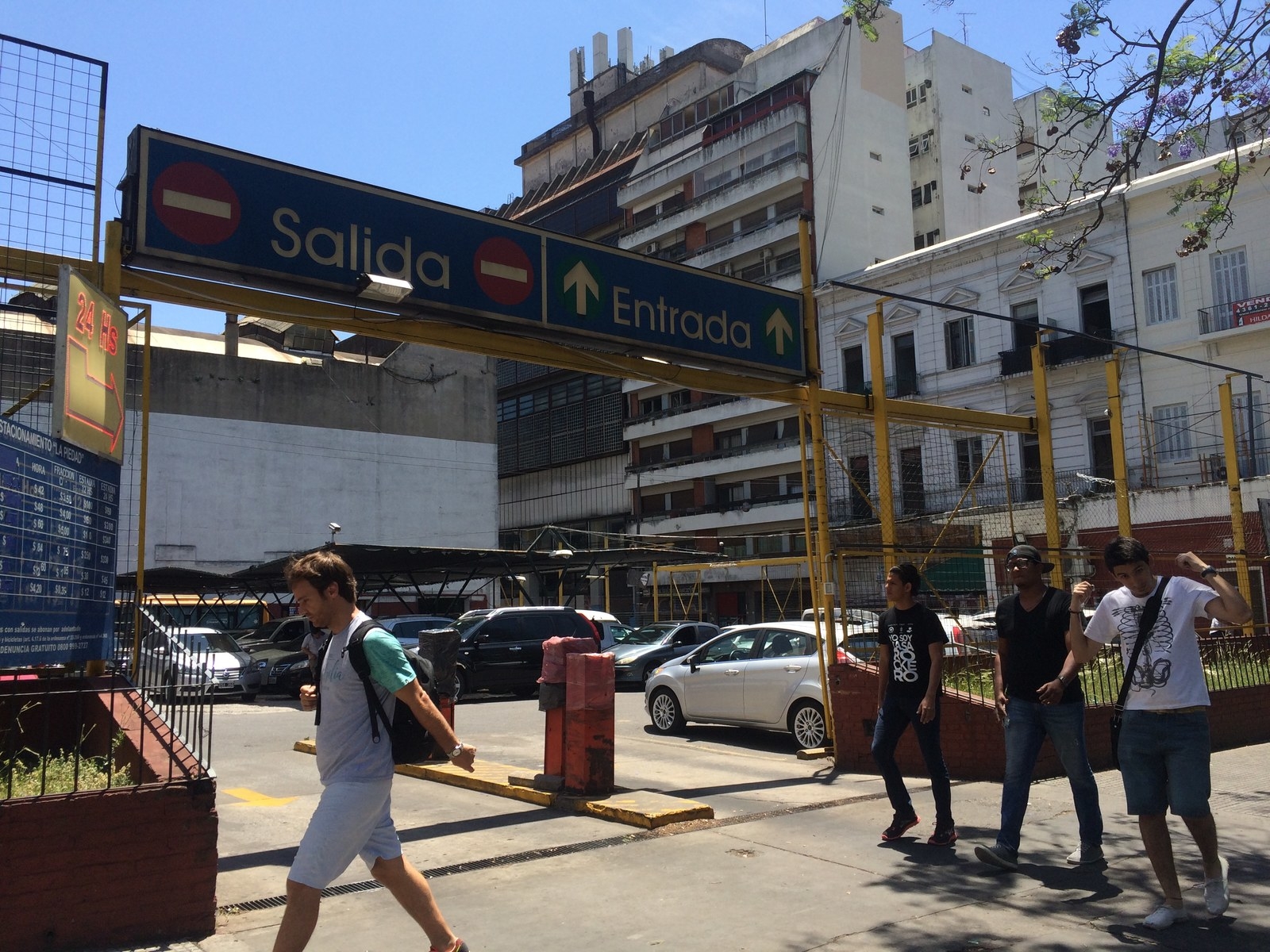 In Buenos Aires, nothing about the area immediately around the proposed site for the new tower suggests that it's at the center of a controversy involving the incoming US president. Budget hotels, several jewelry stores, and a Spanish restaurant make up the block where it is slated to be built. The Piety Hotel straddles one side of the now-infamous parking lot. Its manager, Jose, told BuzzFeed News that potential buyers have approached him in recent years, eager to capitalize on the increased value that the long-delayed project will likely bring once built — a value that will almost certainly go up once it has Trump's name proudly displayed. Other businesses nearby said interested buyers had stopped by; one came as early as last month.
Tere Fernandez, the Spanish-born manager at a student hostel on the block, said no one has approached her. Unprompted, she went into a breathless tirade about immigrants being too taxing on the country. "They should get deported to their countries, especially those in jail," she said.
Asked about the Trump Tower, she paused. "Investment is welcome," she said.
Lucas Gutierrez contributed reporting from Buenos Aires.