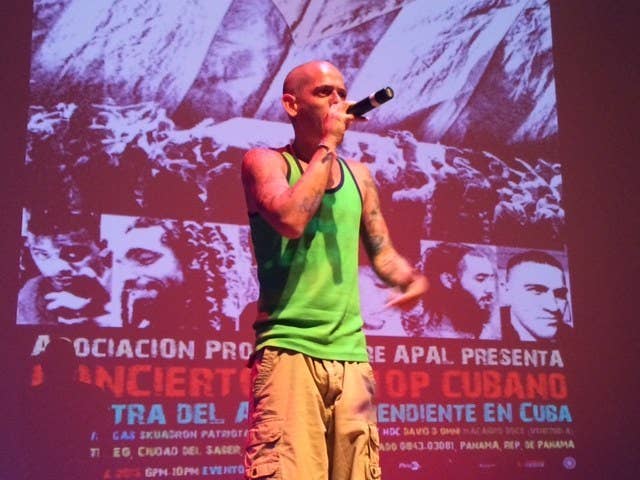 PANAMA CITY, Panama — The concert stages were only six miles apart but a whole universe was lodged between them.
The singers gracing each stage Thursday night — a father and son — share blood and mutual respect but little else. The father, Silvio Rodríguez, writes odes about Cuban revolutionaries. The son, Silvio Liam Rodríguez, known as Silvito "El Libre," sings about the hardships of living in the Communist island. The two raised their microphones just a 15-minute car ride away from each other hours before a regional summit began in this Central American city.
This was a night of firsts: the first time Cuba geared up to participate in the 21-year-old Summit of the Americas, a gathering of all heads of state in the Western Hemisphere, and the first time Rodríguez and his son played simultaneous concerts in the same city, according to Silvito.
"In La Havana it doesn't happen because I'm not allowed to sing there," said Silvito during a cigarette break between rehearsals.
Rodríguez is Cuba's best known folk singer and songwriter, for decades a favorite among leftist leaders in Latin America, including former Venezuelan President Hugo Chavez and Bolivian President Evo Morales. Silvito has emerged as one of the voices of the opposition with his rebellious hip-hop lyrics.
One of Rodríguez's best-known songs is an ode to revolutionary fighter Ernesto "Che" Guevara: "The era is giving birth to a heart / It can't stand it anymore, it's dying of pain / And we must run to its side / Because the future is falling / In any jungle of the world / In any street." Rodríguez composed the song shortly after Guevara was killed in Bolivia.
Silvito, too, sings about pain and an uncertain future. "People leave here, there is no light / no shampoo no detergent / No future no time, no respect, no clothes," goes a song he composed with Aldo Roberto Rodríguez, another Cuban hip-hop artist. He goes on about his grandmother, who "died going hungry because of this government that walks with cramps / that tightens the throat of the people with a wire."
Silvito plays down their differences and the political content of their music. "My father is a trovador, he makes music that went hand in hand with a historic moment, a generation of his time," said Silvito. "I'm a more contemporary musician."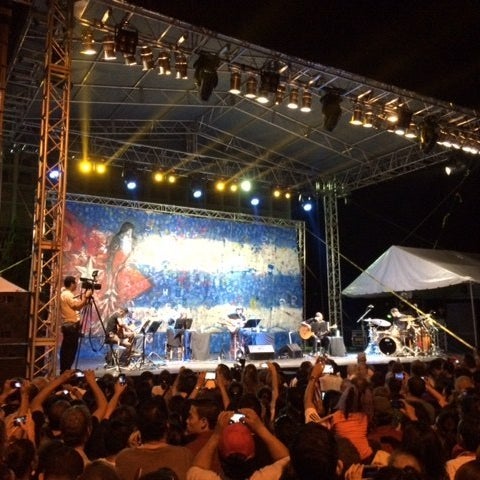 The Thursday venues were as different as the artists themselves. Rodríguez played at an outdoor parking lot at the University of Panama, where an assassination plot against Fidel Castro was reportedly foiled in 2000. Silvito played in a closed auditorium at the City of Knowledge, a cluster of academic institutions and technology companies that is also a former U.S. military base.
Police cars with flashing lights were stationed outside Rodríguez's concert venue. People were patted down before entering to see him singing in front of a huge Cuban flag.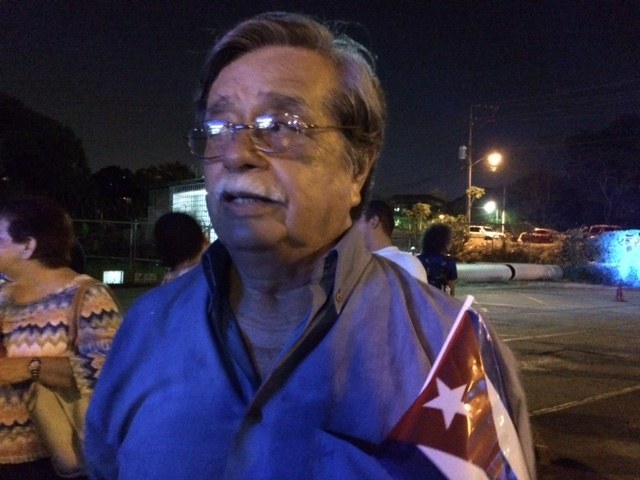 "He is a great musician with a very clear social position," said Antonio Osorio Abrego, 71, while watching Rodríguez sing. Silvito, on the other hand, "is a media-driven artist who responds to other, non-social interests," said Abrego.
Not so, said Boris Villavaz, back at Silvito's concert venue, standing near a Bacardi stand serving free mojitos. The Panamanian 30-year-old said he is drawn to Silvito's music because it "transcends Cuba."
"Many people in Latin American can relate to some of the situations he expresses," said Villavaz, such as inequality and the government's lack of interest in forming people who think freely.
Silvito, 33, has been living in Tampa, Florida, for two years. He said his farewell concert in Cuba, like all others before, was at a private home, with people streaming down staircases and overflowing from the bedrooms.
David D Omni, another Cuban hip hop artist headlining Thursday's concert, said the Cuban government scheduled Rodríguez after hearing about his son's show, "to make it impossible to attend both."
Still, Silvito was reticent to talk about the timing of his father's concert, saying instead that the real concern was the presence of plain clothed Cuban agents who were roughing up groups of Cubans who had come to the Summit independently of the government.
A physical altercation between pro and anti-government groups took place at a park here Wednesday, though the identities of those involved were unclear.
"What they should be doing is sitting down to talk civilly. This is 2015," said Silvito, caressing the tattoos on his arms. Images of skulls and sewn-up dolls cover his left arm, just above the words "My fucking bad toys" in English.
The hazel-eyed singer, who sports a shaved head and a goatee, said he knows nothing about politics and that his songs are based on things that happen to average Cubans. But he added that while the recent economic shifts in the country — people are now able to buy and sell properties and travel more freely off the island — had benefited some in Cuba, many others are now worse off. Hunger has grown and free speech has dwindled, he said.
For Rodríguez, Silvito and his friends are dreamers that in some ways have come to define the new generation of Cubans.
"They are rebellious spirits, without material possessions. They left Cuba, like we say here, 'with a hand in front and the other behind': rich in dreams, draped in the applause of other uncomprehended youth, often abused, sons of homelessness and the outdoors," wrote Rodríguez on his blog, Segunda Cita, after the Associated Press revealed the U.S. Agency for International Development had lured Silvito into a scheme intending to catalyze a youth uprising against the Cuban government in December.
"Go to hell, USAID," Rodríguez wrote.
When Silvito appeared onstage after several other acts that got concert-goers up on their feet, the crowd clapped and whistled. But it would be a while before the hip hop artist would shared his night's triumph with his father, himself getting applause a cab-ride away.
"He's with a Cuban brigade so who knows where he is," said Silvito.