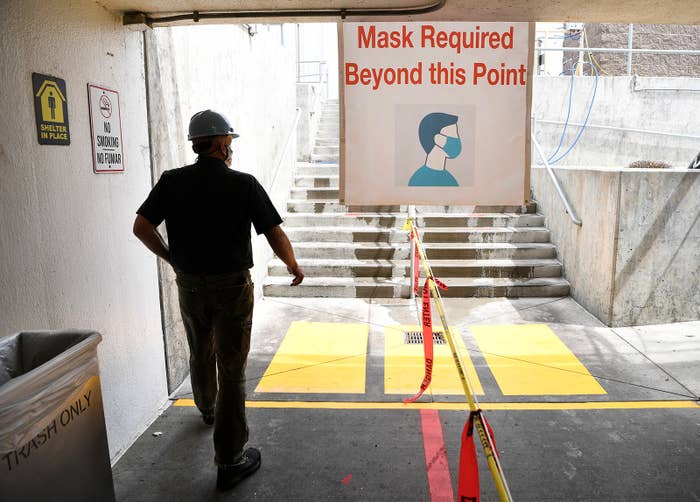 During the first wave of the pandemic, the meatpacking industry emerged as an early and shocking hot spot. Since then, around 40,000 meatpacking workers nationwide have tested positive for the coronavirus, according to news organizations tracking the industry. Around half of them were employed by JBS, Smithfield, Tyson, or Cargill, the four industry giants collectively responsible for more than 80% of the meat consumed in the US. At least 200 workers have died.
But a BuzzFeed News investigation has found that the real scope of the outbreaks — in an industry where workers stand shoulder to shoulder for hours in sometimes poorly ventilated warehouses — was likely far worse, because dozens of plants didn't test all their employees even when scores of workers were falling ill and, in some cases, public health officials offered the tests free of charge.
As infections surge anew across the country, the extent of the spring outbreaks — and thus the true scale of the danger to the industry's workers — remains unknown, shrouded by meatpacking companies' patchwork testing practices. And even now, with federal officials giving meatpackers broad authority over how to keep their workers safe, the companies have yet to implement universal testing. All four companies told BuzzFeed News that they have minimized the risk their workers face through new safety gear, protective barriers, distancing protocols, screening programs aimed at ensuring that anyone showing symptoms stays home, and mandatory testing for employees who show symptoms or are exposed to a confirmed case.
But meatpacking workers are still getting sick.
Seven months after the JBS plant in Greeley, Colorado, briefly closed due to an outbreak in the spring that left six people dead, the virus has hit that workplace again: Last week, 20 employees at the facility and 34 more at the local corporate headquarters tested positive, according to state health department data.
The company attributed that to "the increase in the number of cases in the surrounding community," JBS spokesperson Cameron Bruett told BuzzFeed News, noting that it was "not unexpected."
"The rate of increase among our workforce is not nearly at the rate we are seeing in the local community," he said. But the plant still does not conduct facility-wide testing, leaving the full scope of the new outbreak uncertain. At Greeley, as at many plants across the country, an early outbreak wasn't enough to spur universal testing protocols.

Of the 45 JBS, Smithfield, Tyson, and Cargill facilities around the country that recorded at least 50 confirmed cases, only 20 ordered full-scale testing for all employees, according to interviews with local health officials, company statements, and a review of data compiled by the Midwest Center for Investigative Reporting.
The four companies say that they responded to outbreaks by directing sick and exposed workers to quarantine for two weeks, implementing additional safety policies, and encouraging employees to stay home or get tested if they showed symptoms or were in close contact with someone who tested positive.
In Joslin, Illinois, where local officials announced that 194 employees tested positive at a Tyson plant in the spring, the Rock Island County Health Department told BuzzFeed News that the company declined its offer for a local clinic to set up facility-wide testing. Instead, Tyson partnered with mobile health clinics to test workers who had symptoms or were exposed to a known case.
"The decision to conduct facility-wide testing is handled on a case-by-case and has typically involved the input of state and/or local health officials as well as other outside medical experts," Tyson spokesperson Gary Mickelson told BuzzFeed News, noting that the company conducted facility-wide testing at 17 of its 25 plants with outbreaks of at least 50 cases. "Other factors include the number of active cases involving our workers as well as the number of cases in the community."
In Arkansas, seven meat processing plants owned by JBS, Tyson, or Cargill with at least 50 confirmed cases declined the state health department's offer "to conduct testing on-site," according to Danyelle McNeill, Arkansas Department of Health's public information coordinator, and just two of those plants later arranged for all employees to be tested. In statements to BuzzFeed News, Tyson denied that the state offered mass testing for its Arkansas facilities, Cargill didn't address specific plants, and JBS said that local testing was "widely available" and the company has "partnered with the health department on contact testing our team members."
In Colorado, JBS officials turned down testing in the early days of the April outbreak. Though testing kits were scarce at the time, state officials secured enough tests to cover all 3,200 workers at the Greeley plant, where a coronavirus outbreak was emerging, according to the local health department. But on the day the testing was scheduled to start, JBS "got a hold of all the employees and told them that they weren't testing anymore," said Rosario Hernandez, whose husband works at the plant. If they needed to get tested, she said, "they had to do it on their own." Company and union officials confirmed her account.
The Greeley plant later emerged as one of the deadliest workplace clusters in the US, with six employees dying of COVID-19 complications in April and May.
The numbers at the Greeley plant were high, but "if they would have tested every worker, this would have probably been one of the highest in the whole country," said Kim Cordova, president of UFCW Local 7 of Colorado and Wyoming.
In all, that location logged a total of 312 confirmed cases as of mid-November, according to local health department data. Some plants of similar size that did facility-wide testing, such as Tyson's pork processing operations in Waterloo, Iowa, and Logansport, Indiana, recorded around 1,000 confirmed cases each — a testament to the way the contagious virus raced through the plants, sickening some and making many others asymptomatic carriers.

The company maintains that it acted quickly to close the plant after the outbreak began and that local testing is available for everybody.

"If someone did not get tested, it was a personal decision," JBS spokesperson Bruett told BuzzFeed News.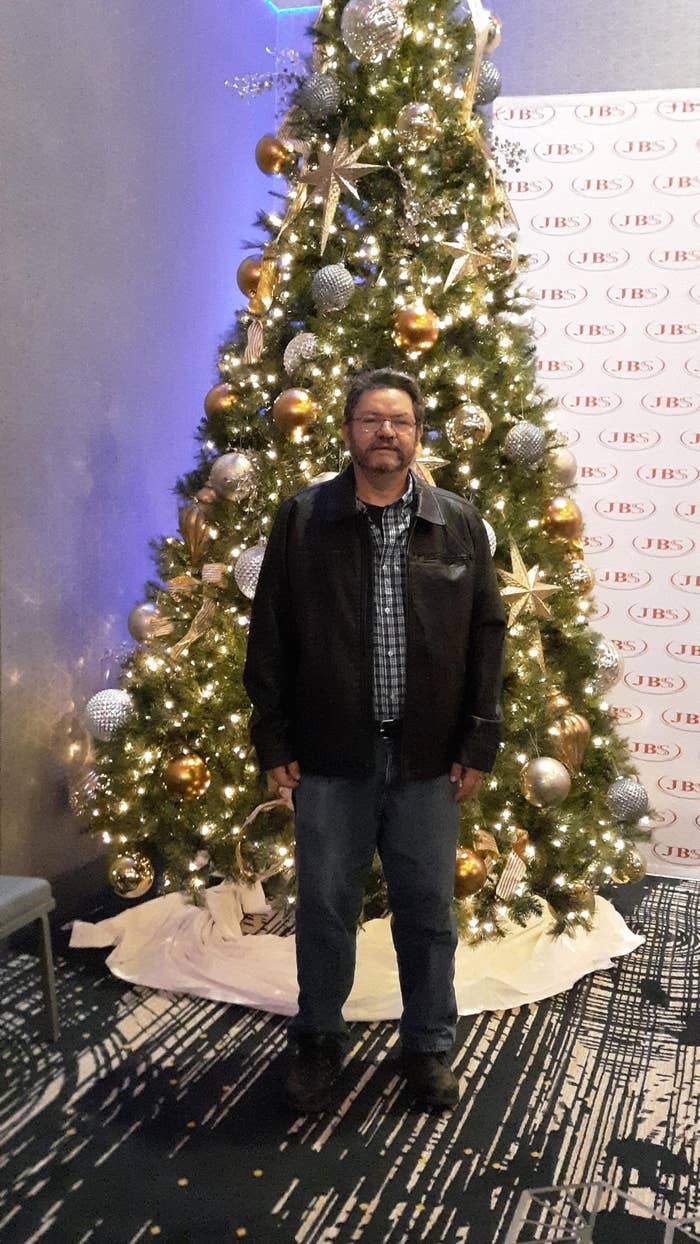 Rosario Hernandez's husband was among those who got sick.
Alfredo Hernandez, who has worked at the JBS plant in Greeley for 31 years, developed a cough and felt unusually tired in mid-March, before he was aware of any cases at work. He thought it was a cold at first, but his exhaustion escalated, his temperature rose, and his back began to ache. On March 23, Rosario called her husband's supervisor to say he was showing coronavirus symptoms. She left a voicemail message that was never returned, she told BuzzFeed News. JBS didn't comment on specific cases.
Five days later, with her husband's condition worsening, Rosario drove him to the hospital, where he was immediately hooked up to an oxygen mask and tested for COVID-19. He was positive. Within days, more workers fell ill, Rosario and Cordova said. By April 1, county health officials were aware of at least 14 JBS workers who tested positive, including nine who "worked while symptomatic and therefore were contagious to others," the Weld County Department of Public Health and Environment stated in an April 4 letter to JBS's human resources director. By April 10, the number had risen to 43, including 14 hospitalizations and two deaths. "The rapid nature of the spread of disease among JBS employees is very concerning," state and county officials said in a letter to JBS that day, ordering the company to "identify ill workers" and implement "an ongoing testing and monitoring program."
And yet, the company quickly abandoned a plan to test all its workers.

Initially, JBS, in conjunction with local officials, announced plans for comprehensive testing. But the company changed course within 24 hours, instead deciding to close the plant for two weeks but let testing be voluntary, according to spokespeople for JBS and the state health department.
Though the state initially directed that all workers be tested before the plant reopened, officials retreated from the order. The state health department didn't respond to questions about the reason for the shift. In a statement to BuzzFeed News, it noted that the two-week closure "provided quarantine or isolation time for employees who were exposed or sick."
JBS spokesperson Bruett said that such mass testing had proven to be logistically unfeasible "given the short turnaround." The union, however, alleged that the company didn't want to know how high its case count really was, fearing a public relations problem that could keep the plant closed even longer.
The company says the safety of its workers has always been its top priority; Bruett noted that JBS directed workers who needed or wanted tests to a drive-through-testing facility, although he acknowledged there was no way that site could accommodate the entire workforce.

The day the plant reopened, local health officials set up a temporary testing site for JBS employees and their relatives, but it only had the capacity to test 300 a day and stayed open just five days, according to records obtained by BuzzFeed News. By the end of April, 245 workers had tested positive. Like at most plants that closed due to outbreaks, JBS reopened its Greeley facility without knowing for certain whether infected workers were cleared of the virus or untested workers were bringing it inside.
Employees could return once they were free from symptoms for 72 hours without having to get retested. While masks, face shields, fans, and plexiglass barriers have reduced exposure, at least 65 workers at the plant have tested positive in the months since it reopened, according to health department data.
The company "was just pushing for that plant to open regardless of testing or regardless of whether people were positive without symptoms," Cordova, the union president, said. "The workers in this plant have been treated as just sacrificial human beings."
JBS noted that public health officials approved their plans to restart operations at the plant. But while Weld County's health department signed off, the state health department did not, and requested that it be removed from the company's statements about the reopening, according to emails obtained by BuzzFeed News. State health officials did not respond to questions about why they did that.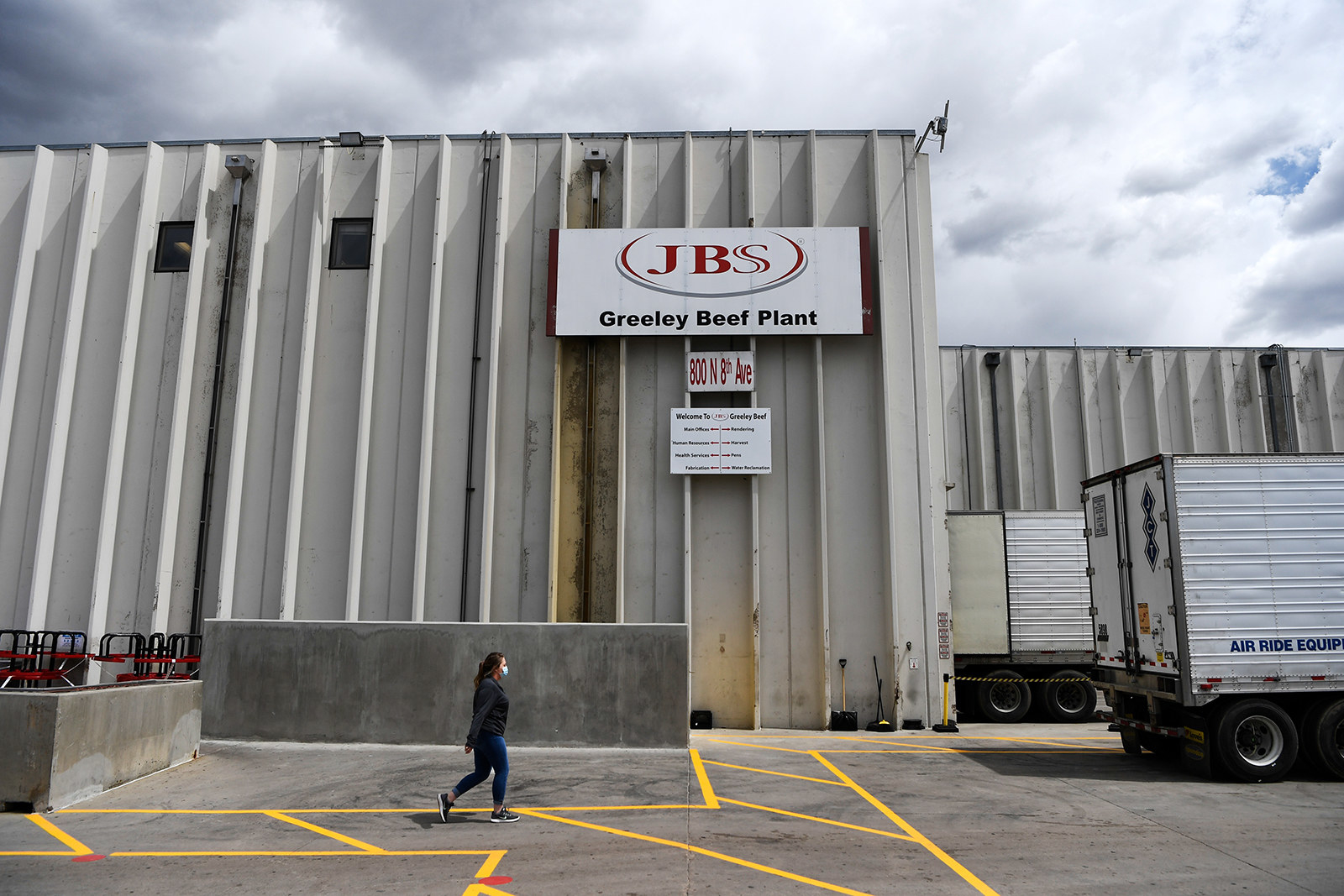 Nine months into the pandemic, JBS tests a random sample of workers every two weeks, the company said, and Tyson conducts surveillance testing based on an algorithm tied to "the number of positive cases involving plant workers as well as people in the community," according to a company statement. Smithfield says that it now requires all workers to be tested before a closed plant reopens.
But Cordova, the union president for JBS Greeley, noted that many workers are torn between protecting their health and avoiding "financial devastation."

"There's a 'work while sick' culture in these facilities," she said. "The workers feel like they can't afford to wait and not have a source of income."

Two medical assistants contracted to conduct COVID screenings at the JBS Greeley plant after it reopened claimed in affidavits filed earlier this fall that the company encouraged workers to clock in even when they showed symptoms, such as a cough or a high temperature, the Greeley Tribune reported. The company, in a statement to the newspaper, called the claims "unsubstantiated" and said that its "screening process has been reviewed and approved multiple times by local, state and federal entities, including the CDC."
Meatpacking workers are not assured paychecks if their illness exceeds their two-week sick leave. In Minneapolis, where more than 200 JBS employees tested positive in April, nearly 80% of the 930 COVID-related worker's compensation claims in the industry were rejected, with the rest still pending, and in Utah, where more than 300 JBS workers tested positive, the company rejected all seven claims filed through the end of July, Reuters reported.
"Given the widespread nature of viral spread, our third-party claims administrator reviews each case thoroughly and independently," Bruett told Reuters.
Hernandez was in the hospital for a week. When he returned home on April 5, he was bedridden and hooked up to an oxygen tank. JBS provided two weeks of paid sick leave, but after that Hernandez had to apply for short-term disability, which covers around 60% of his salary, though he went four weeks without pay before the claim was processed, his wife said.
He provides the sole income in his household, and he is unsure when he will return to work. He still feels lingering effects of the infection months after testing positive, with body aches, fatigue, and difficulty breathing.
In September, the Department of Labor issued a fine to JBS for "for failing to protect employees from exposure to the coronavirus" at the Greeley plant. The total penalty was $15,615. While the union protested that the amount was so low as to be "insulting," the company argued that it shouldn't have been fined at all, calling the citation "entirely without merit" because it "attempts to impose a standard that did not exist in March as we fought the pandemic with no guidance," according to statements from both sides. JBS contested the fine, and the case will go to an independent arbitrator. ●