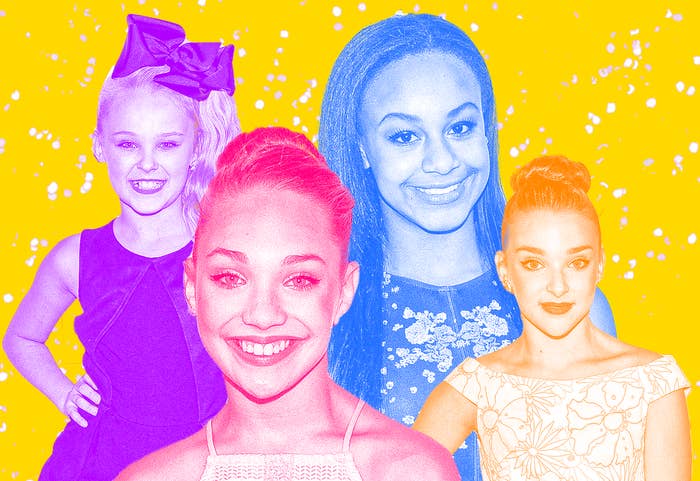 The Lifetime original series Dance Moms first aired on July 13, 2011. It followed Pittsburgh dance coach Abby Lee Miller and the dancers on her eponymous junior elite competition team. Filmed primarily in Pittsburgh and then LA, the show served as a launchpad for the careers of dancers like JoJo Siwa and Maddie Ziegler as they competed in weekly competitions. Viewers tuned in every week to see who would win first place in their division, but the show also featured drama about controversial costumes and group dances, as well as explosive fights between Miller and the moms.
While the show hasn't produced any new episodes since 2019 (rumors loom surrounding a potential ninth season), Dance Moms has had an interesting afterlife on TikTok and YouTube. The hashtag "dancemoms" has 16.4 billion views on TikTok and encompasses all things Abby Lee Dance Company (ALDC), including clips of popular group dances such as 2015's "Boss Ladies," the hip-hop number famously known as Maddie and Mackenzie's final dance; tributes to dancers and their funny one-liners; and intense edits that tell the story of a specific dancer. There's also the occasional out-of-context Abby Lee Miller scene posted, for pure entertainment value, or a clip of Miller teaching dancer Nia Sioux her 2012 "Working Girl," which cemented Sioux as the fiercest dancer at the ALDC.
The show sparked many memorable lines. Jill Vertes infamously doted on her daughter Kendall, repeating the cloying expression "My little Kendall" so often it became a default catchphrase. Audio of her instructing Kendall to practice a front aerial, a signature move of the ALDC, was parodied and spoofed, and brands like Varsity Spirit have included it in their marketing. The phrase also caused a Spotify song with the same name to go viral.
Fans of the show still love to post deep dives online as well. Some create video essays in which they explore certain narratives of the show, such as exploring favoritism shown toward a certain dancer, while others refer to cast interviews or other artifacts — including production notes that courted controversy — to provide a more complex understanding of the realm of Dance Moms.
The show's evergreen virality can be pinpointed to a lot of things. Christi Lukasiak, an OG member of the show and mother of dancer Chloe, attributes the phenomenon to its relatability: "Our kids are literally just a couple of kids from Pittsburgh who truly grew up together, and it's so interesting to see little girls who all came from the same place, like Penn Hills in Pittsburgh, who have careers now," Lukasiak told me in a Zoom interview.
Lukasiak explained that the series was originally supposed to run for six episodes. However, once the show aired, ratings skyrocketed, and it was like "lightning in a bottle." Where else could you watch a mother instructing an empty chair to "do a solo," or a dance teacher stopping traffic so her students could film a Wizard of Oz–themed commercial? The outlandishness made great television, and Dance Moms' recent virality demonstrates a longevity that has persisted beyond the girls' final dance.
Lukasiak has become a fan favorite; she's the subject of many viral videos, thanks to her much-memed and quotable one-liners, and has also been one of the most candid cast members about her experiences. While she only recently found out that she was considered a "Gen Z icon," Lukasiak explained to me that Dance Moms had always been a major part of pop culture, even during its original run on the network, which had celebrity fans like Jennifer Lawrence. In her podcast, Back to the Barre, which she hosts with fellow OG dance mom Kelly Hyland, they recap the show episode by episode, sharing their reactions and behind-the-scenes secrets. People who subscribe to their Patreon receive exclusive content such as never-before-seen dances and photos.
Where else could you watch a mother instructing an empty chair to "do a solo," or a dance teacher stopping traffic so her students could film a Wizard of Oz–themed commercial?
The series was full of personalities that made great TV and moments that now make great TikTok audios. Take, for instance, the Rosa Parks fiasco, which has been parodied multiple times on social media. The episode called "The Apple of Her Eye" aired on March 19, 2013. In it, moms Vertes and Holly Frazier argue with Abby over which daughter should play the civil rights icon. "Since the dance is called 'Rosa Parks,' obviously this is a part destined for Nia [the only Black dancer on the show]," Frazier says in the episode. But Miller doesn't seem so sure. "Don't assume anything, I have no idea who will play Rosa Parks," Miller says as she presents the pyramid, her visual representation of how the girls performed the week prior. Vertes advocates that her daughter, Kendall, should be considered for the role as well.
It's easy to laugh at the absurdity, but culture commentator and YouTuber Toni Bryce cites this conflict in her September 2022 video essay, "Everything Wrong with Dance Moms (racism, bullying, abuse, etc.)," as an example of the show's more problematic components. "The fact that it was even questioned, or even suggested there would be some form of competition to who would get this lead and that it shouldn't be implied who this lead belongs to makes absolutely no sense," Bryce said. "That would have never flown by today. That show would have been canceled real quick if they even tried that."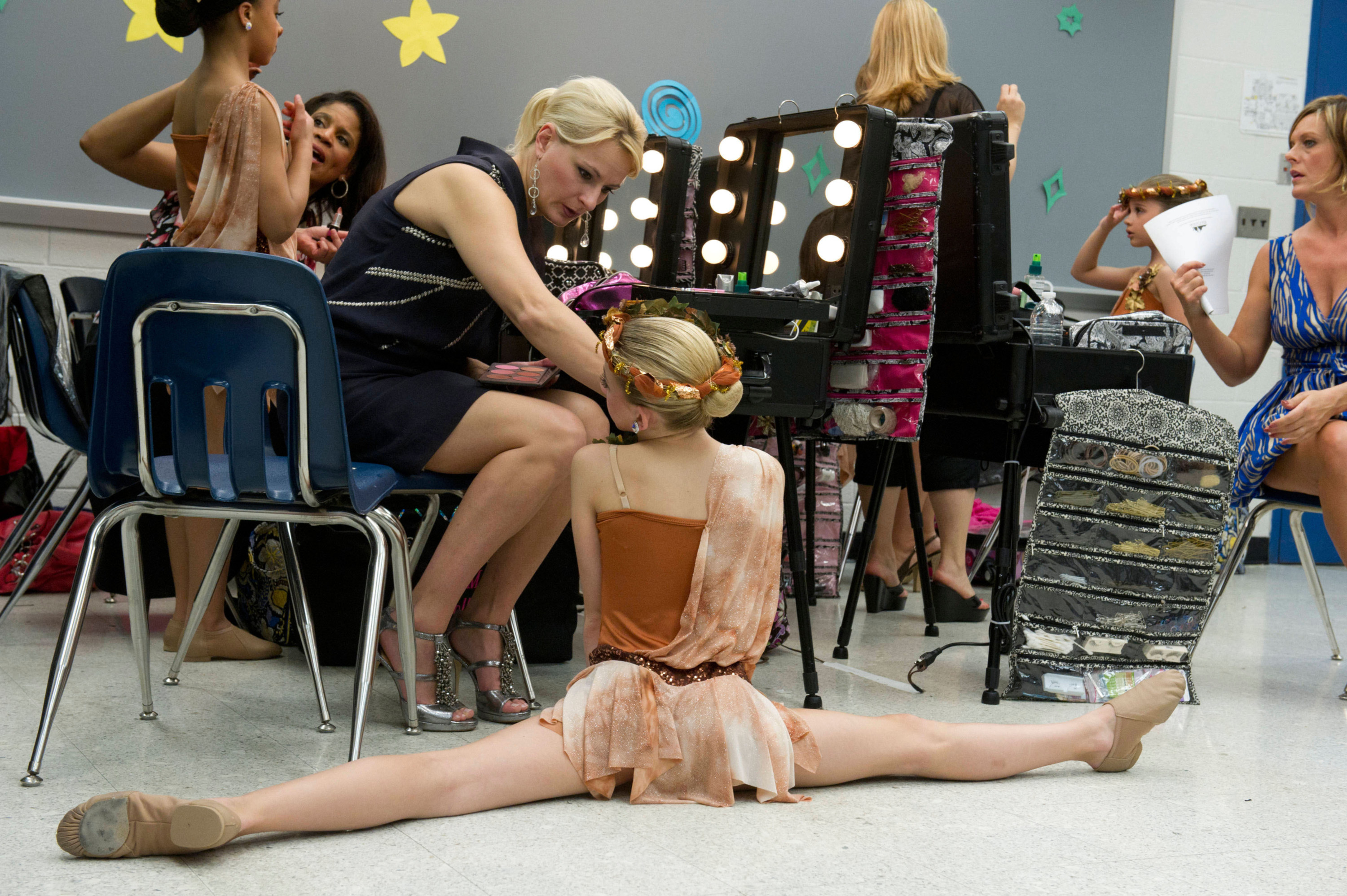 Other unsettling elements of the show have come to light. Dance Moms fans have uploaded production notes on Reddit and Google Drive that they bought at an auction. The notes reveal how much producers wanted to attract controversy with the show. Notes from Season 5 detailing ideas for themes and storylines include "something with a cross, exorcism, something offensive. Possibly license a prayer," and "child obesity. Possibly overweight."
In a January 2022 TikTok video posted on YouTube and TikTok, creator Jenna Baker Morrissey, who describes herself as "upsettingly knowledgeable about Dance Moms," discussed some of these notes. Morrissey originally became aware of these notes after a popular YouTuber, MackZBoss, posted about them in her "Dance Moms Uncovered" video series. This inspired Morrissey to make her own Dance Moms deep dive video series, "The Rise and Fall of Abby Lee Miller," and also completely changed the way that she interacted with the show. "Of course it's a reality show, of course these things are produced," Morrissey told me in a Zoom interview. "It really shows how the producers wanted to spin it, specifically the story producers. … It's not just people being like, 'Oh well production just did that.' It's like, production did that, and we have proof."
Miller's tough teaching style has also been reexamined by fans and commentators — she infamously threw a chair at dancer Paige Hyland and would often take her frustrations with the mothers out on the dancers. Her throwaway comments and proclivity for drama had to be the product of a carefully crafted character…right? In 2017, Nia Sioux told J-14 magazine that "what you see is what you get, but also they don't even show everything that happens on the show. So, I mean, other people might say differently but from my point of view, it's much worse off camera. Nothing changes. That's just her personality." Earlier this year, JoJo Siwa reacted to a resurfaced montage of Abby Lee Miller berating her in a TikTok that read: "When people hate to try and hurt me but this was my childhood…"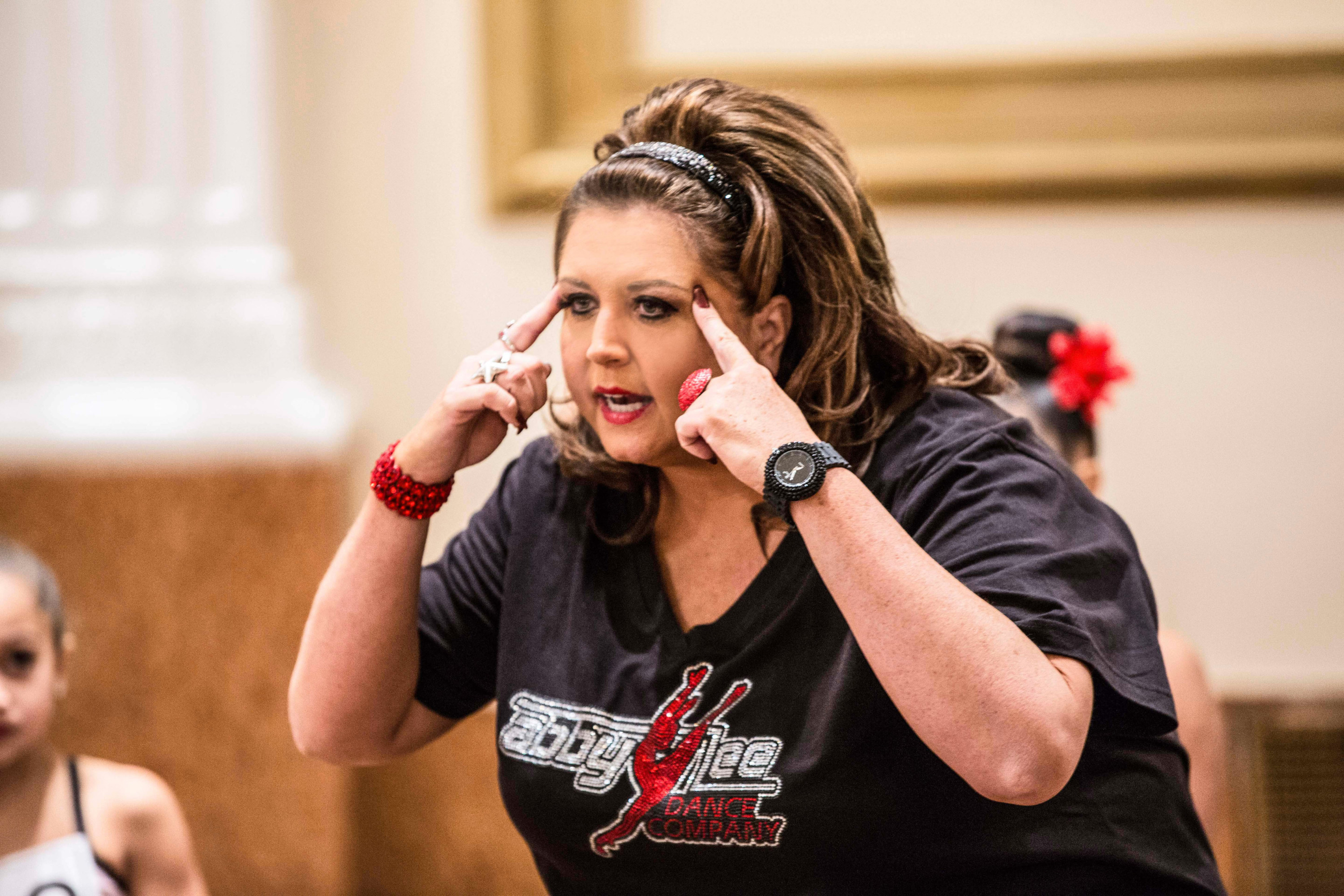 According to former cast members, other incidents weren't as straightforward as they seemed in the show. Dancers sometimes forgot their solos, which would often lead to explosive dressing room fights and a spot at the bottom of Abby's pyramid. But Fallon Chapman, who appeared on the show in 2014 as a guest dancer, explained in a January TikTok that in an incident where she had "forgotten" her solo, she had actually injured her knee during her dance, so she began improvising the rest. She also said that she ran off the stage so that the camera operators wouldn't "see her crying and try to make some story out of it."
Chapman stated that prior to her appearance on the show, she had only done a couple of solos and that she had only done musical theater and lyrical numbers. "This was already a red flag at this point when they told me I was going to be doing, like, a dark and creepy contemporary number, because I never even done that before," Chapman explained.
While the dancers experienced a whirlwind of emotions and experiences, many seem to be thriving. TikToker Caroline Tsambalieros posts updates on the show's dancers and explained to me in a Zoom interview that the show was such an important part of so many people's lives growing up that there was bound to be an audience hungry for life after Dance Moms.
"They were role models for so many other girls that were the same age," she said. "It's exciting that it has this longevity even though the show has been over for so long and that original cast has been gone even longer. There was just something about them. They connected with people."
Lukasiak agrees: "Lots of people grow up and have big careers, but it's odd that like a group that literally has known each other since they were two, three, four, they all have successful careers. And no one's a serial killer, which is amazing. They easily could have been, given everything they've been through." ●