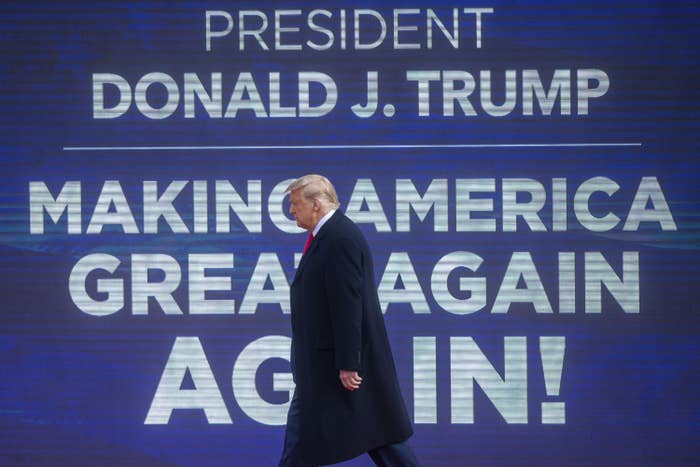 President Donald Trump, in his last sprint of rallies before Election Day, is aggressively accelerating his campaign to spread distrust in the US election and legal systems, laying the groundwork for a potential effort to stop counting votes after Nov. 3.
"The whole world, and our nation, is going to be waiting, and waiting, and waiting to hear who won? You're going to be waiting for weeks?" Trump asked a crowd of supporters Saturday morning in Bucks County, Pennsylvania.
There has been a giant spike in early and mail-in voting nationwide because of the coronavirus pandemic, particularly — polls suggest, among Democrats. Because of how some key states like Pennsylvania count votes, that might mean that the election winner is not determined on election night, and it could mean that some states that count absentee ballots late may show initial results that have Trump winning, only for Joe Biden to overtake him as more votes come in. There's nothing about that that would suggest fraud or illegality, and it's not unusual for some states to take days to finalize a vote count. Trump, though, is now loudly insisting otherwise.
He repeatedly blamed the Supreme Court, which earlier this week denied Pennsylvania Republicans' request to issue a decision on mail-in ballots before the election, punting the issue. That denial means that Pennsylvania can still count ballots that are postmarked by Election Day as long as they arrive by Nov. 6; Republicans had sued to stop them from counting anything that arrives after Nov. 3.
"This is a terrible thing they've done to our country. And that's the United States Supreme Court I'm talking about. That is a terrible, political, horrible decision that they made. We're going to be waiting, Nov. 3 is going to come and go and we're not going to know," Trump said. "And you're going to have bedlam in our country, and you're going to have this period of nine days or seven days or whatever it is, and many bad things — ballots are going to be, 'Oh, we just found 10,000 ballots. Oh, that's good, we just found another 10,000.' This is a horrible thing the United States Supreme Court has done to our country. And I say it, and I say it loud and I say it proud."
"We have to know who won," he said. "We have to know who won."
There's no legal or constitutional reason for election results to be known on election night — the reason this typically happens is because of media decision desks and organizations like the Associated Press. But Trump's insistence aligns with the opinion of some of the conservatives on the Supreme Court. In an opinion in a case related to Wisconsin's vote-counting last week, Supreme Court Justice Brett Kavanaugh wrote states had an interest in avoiding "the chaos and suspicions of impropriety that can ensue if thousands of absentee ballots flow in after election day and potentially flip the results of an election."
In the Pennsylvania case, three of the court's conservative justices — Samuel Alito, Neil Gorsuch, and Clarence Thomas — said that the court could act on the late ballots after Election Day, raising the possibility of invalidating them. The state is currently planning to keep the ballots that arrive after Nov. 3 separate and not include them in their vote count until the case is settled.
Trump's comments Saturday morning came in a much more intimate setting than his usual MAGA rallies. He addressed several hundred supporters at Headquarters Farm in Newtown, his first of three stops in Pennsylvania for the day. His tone, different from his usual boisterousness, remained subdued for the entire hour and 20-minute speech, where he tried to drum up anxiety over the possibility of a delayed election result.
At least one attendee who BuzzFeed News talked with agreed with the president. "Democrats are gonna continue with even more rioting," said Joe Techner, 21, of Philadelphia.
But for the most part, the supporters that came to cheer him on just days before the election disagreed. They're not expecting "bedlam."
"I don't think there's gonna be an uproar," Steve Britt told BuzzFeed News. "I think he's gonna win. I don't think he even thinks he's gonna need Pennsylvania, so I don't think there's anything to worry about."
The Milligans from Doylestown expressed the same sentiment and suggested people are a bit more understanding than Trump implied.
"There's gonna be more voters now than ever before in the history of voting. Period," Sue Milligan said as she waited to get on board the yellow school bus that brought several hundred supporters to the farm. "And I think this is one of the biggest elections, and I think that the people are willing to give it a little bit of extra time to get all the votes in."
Antonio Aspite, who's betting on the president winning in a landslide, also brushed aside the president's comments. "I think it'll be fine," Aspite, 43, told BuzzFeed News. "I think common sense will prevail and the country will get back to normal as soon as he wins on Tuesday."
Later, at another rally in Pennsylvania Saturday, he appeared to change his tune, saying, "If we win on Tuesday or — thank you very much, Supreme Court — shortly thereafter."