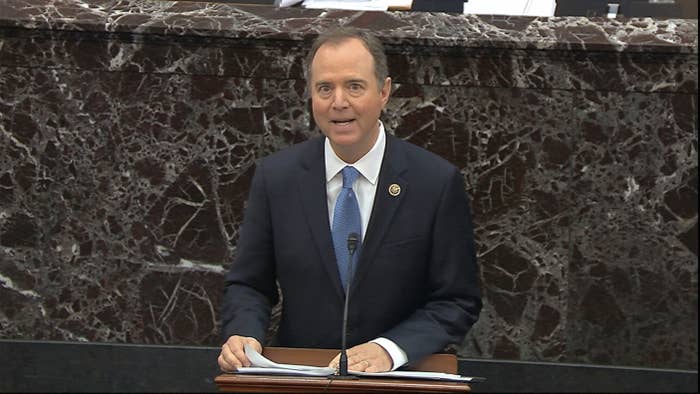 WASHINGTON — House Democrats continued making their case against President Donald Trump Thursday night, ending with an impassioned speech from Rep. Adam Schiff on why senators must vote to remove the president from office.

"You know you can't trust this president to do what's right for this country. You can trust he will do what's right for Donald Trump. He'll do it now. He's done it before. He'll do it for the next several months. He'll do it in the election if he is allowed to," Schiff, who chairs the House Intelligence Committee, told senators. "This is why if you find him guilty, you must find he should be removed. Because right matters. And the truth matters. Otherwise, we are lost."
Republicans had been restless in the closing hour, with many standing around or retreating to the cloakroom where they could chat. But during Schiff's emotional closing statement everyone sat silently and stared at the center of the room. Both parties seemed rapt.
Democratic Sens. Jeanne Shaheen and Debbie Stabenow called Schiff's final remarks of the evening "powerful."
"You could hear a pin drop when he was speaking," said Stabenow, leaving the Capitol Thursday night. "This is a very serious thing that is being talked about here — of the president focusing on himself and not on the country and intimidating and coercing another country to do what he wants politically."
Throughout the day Thursday, Democrats focused on applying the Constitution to the president's actions, further bolstering their impeachment case.
The arguments followed Wednesday's presentation, in which House Democrats laid out a timeline of events to support the two articles of impeachment against Trump: abuse of power and obstruction of Congress. Each of the seven impeachment managers covered a detail from their investigation into Trump's decision to withhold military aid to Ukraine in exchange for an investigation into former vice president Joe Biden and his family.
House Judiciary Committee chair Jerry Nadler kicked off the arguments on Thursday, making the case that Trump has committed "high crimes and misdemeanors" — impeachable offenses as defined by the Constitution. Republicans have argued that because Democrats didn't charge Trump with a crime — a violation of the criminal code — he should not have been impeached and should not be removed from office.

But Nadler countered that the founders specified "high crimes" as opposed to just "crimes" in writing the impeachment section of the Constitution, calling it "a deliberate choice." He then quoted Alexander Hamilton, saying that "impeachable offenses are defined fundamentally by 'the abuse or violation of some public trust.'"
Nadler also played a clip of Sen. Lindsey Graham, one of the president's top allies in the Senate, who served as an impeachment manager in former president Bill Clinton's trial.
"What's a high crime? How about if an important person hurt somebody of low means?" Graham said at the time. "It's not very scholarly, but I think it's the truth. I think that's what they meant by high crimes — doesn't even have to be a crime. It's just when you start using your office and you're acting in a way that hurts people, you've committed a high crime."
Graham was reportedly not in the Senate chamber when the clip was played.
Throughout the day, Democrats showed news clips of Trump and his personal lawyer Rudy Giuliani, as well as witnesses in the House investigation testifying that Trump withheld the aid from Ukraine in exchange for the investigations he requested to help him in the 2020 election. Schiff also read portions of the White House's record of Trump's July 25 call in which he asked Ukrainian President Volodymyr Zelensky for a "favor" and to help "look into" Biden.
Toward the end of arguments Thursday night, Schiff addressed a question he said that senators may have, "OK, he is guilty. Does he really need to be removed?" Schiff said that while there's little dispute about the facts of the case, some Republicans may feel that the next election is coming up and that voters should get to decide.
"This is why he needs to be removed," Schiff said. "Donald Trump chose Rudy Giuliani over his own intelligence agencies. He chose Rudy Giuliani over his own FBI director, Rudy Giuliani over his own national security advisers. When all of them are telling him the Ukraine 2016 stuff is crazy Russia propaganda, he chose not to believe them he chose to believe Rudy Giuliani. That makes him dangerous to us, to our country."
According to Senate impeachment rules, the prosecutors and defense attorneys have 24 hours to make their case over the span of three days, leaving Friday for House managers to finish summarizing their case. The president's defense team will begin its opening arguments Saturday. (The Senate will take Sunday off and return to the trial on Monday.)

On Wednesday, Schiff led the opening arguments. The Democrat from California went as far back as 2016 when Trump, then a presidential candidate, called on Russia to hack his political rival, Hillary Clinton. Republicans are saying there's nothing new, but that's because they voted against subpoenaing documents and witnesses.
Senators, per the rules of the trial, sat quietly while listening to the testimony. During Rep. Hakeem Jeffries' testimony, a protester burst into the public gallery but was swiftly constrained and removed by Capitol Police. No other protesters have interrupted the proceedings so far.
Senators will vote on whether to hear witnesses and admit new documents after both sides have finished opening statements.
Chief Justice John Roberts adjourned Wednesday a little after 9:30 p.m. to applause from senators listening to testimony for nearly nine hours. Thursday is likely to go just as late.
"I'll listen to what they've got to say tomorrow," Republican Sen. Lisa Murkowski told reporters when she was leaving the building. "It's like sitting in front of the class or sitting in the front pew at church. You've got to pay attention."