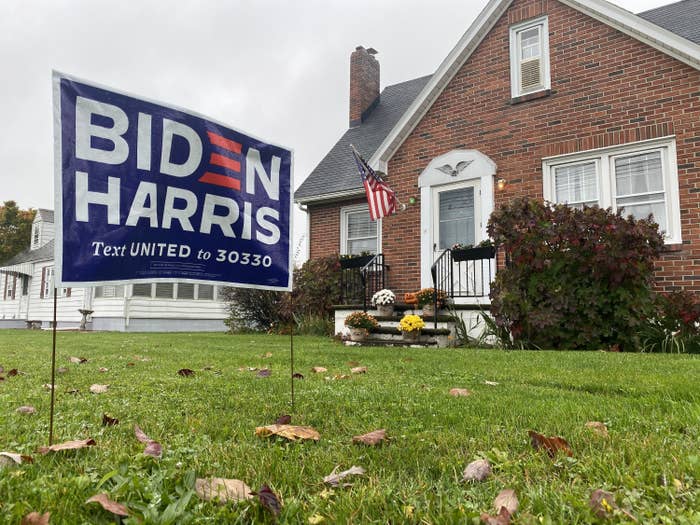 ALLENTOWN, Pennsylvania — When Tara Doyle heard President Donald Trump would be in Lehigh Valley, she scrambled to find out where. She turned to a community website where she found the rally would take place Monday, the next day, just feet away from her doorstep.
"I said 'Jesus Christ, he's coming right up the road from us,'" Doyle told BuzzFeed News Monday afternoon during an interview in her home, a few hours after Trump and his thousands of supporters had left her neighborhood. Her husband, Don Doyle, a Democrat like his wife, was set on one thing: "'Goddammit,' he says, 'We're not taking the signs down," she said.
Trump came to Allentown for a last-minute rally Monday that brought several thousand to the parking lot of a local business near the Doyles. Four lone signs are lined methodically on the front lawn of their brick house along Airport Road: one for state Rep. Tara Zrinski, another for Susan Wild for Congress, and two Biden–Harris signs. The couple erected the signs about a month ago, and according to Tara, they were the only ones with lawn signs on their street, until Monday.
For a moment on Monday, dozens of Trump supporters streamed down their street on foot past their home. Some of them waved flags, most of them had on gear that with the president's name: a red MAGA hat, a T-shirt, or a mask with some reference in support of the president. And while her Biden–Harris signs remained untouched, Doyle said her husband, who had gone to work earlier, and a distant neighbor had been calling to check in on her throughout the day.
"I kept going outside to put out the trash, just so people knew there was somebody here," Doyle said. She thought it was best she stayed home from her job as a medical biller "just in case."
"You know, I was getting nervous and nervous and nervous. I thought, I don't know what's gonna happen," she said.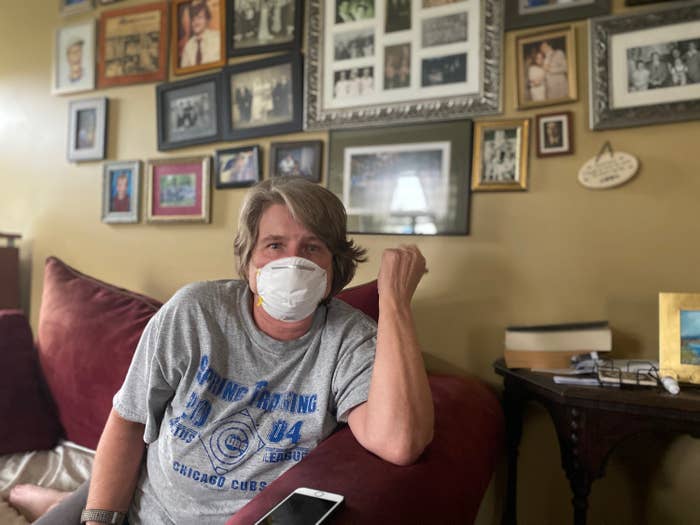 From inside her house, Doyle could hear a chorus of "Four more years" as flag-waving attendees waited to get a glimpse of the president's motorcade. For Trump supporters, the chants are welcoming rally calls, but for those who are voting for his opponent, those three words can make a person "uncomfortable."
"I felt much more comfortable when they were going to the event," Doyle said. "They were a little rowdy when they came out."
Just eight days ahead of the election, the president is blitzing Pennsylvania, a key state in the presidential election. He stopped in two other parts of the state — Lititz and Martinsburg — the same day.
In general, Doyle can't wait for the election to be over. She said her neighbors — mostly Trump supporters — are "nice people," but the attitudes of people in her town have changed a bit in recent months. She's not sure whether to blame it on the coronavirus or the election.
"People just seem abrupt, and short, a little ruder," she said.
The Doyles live on the border of Northampton County and Lehigh Valley. The latter voted for Hillary Clinton over Trump in 2016, while Northampton went for Trump and has almost consistently voted in line with the winner of the presidency for nearly a century.
Nevertheless, Tara feels guardedly optimistic about the prospect of a Biden win.
"I think he'll do great," she said of Biden. "Once everything settles," she added. "I know people are worried about repercussions afterward, but who knows if that's just chitchat."
In the meantime, Doyle says she's not going to be getting into any arguments with people to change their minds.
"That's why we have elections," she said. "We don't all think the same."