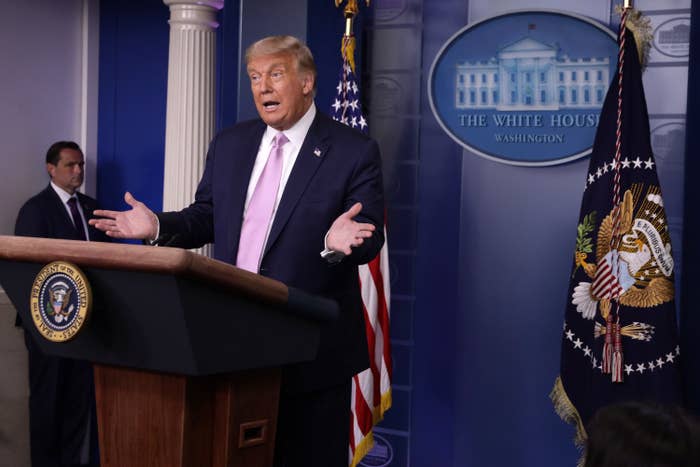 WASHINGTON — President Donald Trump tested out disorganized lines of attack against Kamala Harris on Tuesday, just about an hour after Joe Biden announced she would be his running mate.
He settled into none of them, instead raising broad denunciations and frequently reverting back to calling Harris "nasty."
Trump rattled off policies Harris ran on during her bid for president, mentioning taxes and fracking, and then incorrectly claimed she wants to take away health insurance from Americans.
"She's in favor of socialized medicine," he said. "She wants to take your healthcare plans away from 180 million Americans." Harris had campaigned on a healthcare plan that was designed as a more moderate Medicare for All, leaving room for private insurers.
Trump called her nasty a handful of times, particularly in how she treated Justice Brett Kavanaugh during his 2018 confirmation hearings. He also commented on her debate strategy during the Democratic primary.
"Plus she was very, very nasty to — one of the reasons that surprised me — she was very, she was probably nastier than even Pocahontas to Joe Biden," Trump said of Harris while using the derogatory nickname he's often used for Sen. Elizabeth Warren. "She was very disrespectful to Joe Biden."
That attack alone — that Harris was "nasty" because she was disrespectful of Biden — is odd coming from someone who regularly attacks Biden and many other people he disagrees with first by calling them insulting nicknames.
During a call with reporters after the president spoke, Trump's reelection campaign gave mixed messaging on Harris's record as attorney general in California. When asked how the fight for suburban women could potentially play out, Sen. Marsha Blackburn of Tennessee said voters understand they'll be safer with Trump. Blackburn then deferred to senior campaign adviser Katrina Pierson's earlier comments, conversely saying Harris was being overly tough on crime.
Pierson later clarified to say Harris "was going after the wrong people." But the attacks on Harris's record on crime will be tricky as the president tries to promote himself as a law and order president.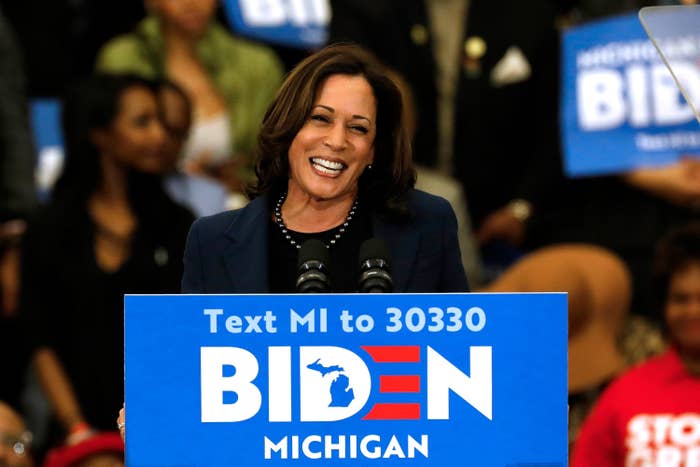 In a statement and during the call, Pierson incorrectly said Harris had called Biden a racist — an erroneous attack also employed Tuesday by Republican National Committee Chair Ronna McDaniel. The comment is rooted in a primary debate when Harris, Biden, and eight other candidates were vying for the nomination. Harris called Biden out for protecting the reputations of two segregationist former senators and for opposing busing.
"I do not believe you are a racist," Harris said to Biden then, before laying into his record.
Trump World's inability to hone in on a consistent line of attack against Harris was particularly surprising, given that she was long viewed as one of Biden's most likely picks for his ticket.
"By our count, the Trump campaign and their allies have already cycled through over 20 separate lines of attack against Senator Harris today — some of them conflict with others, and even more have disgusting undertones of sexism and racism, but at the end of the day, none of them will be effective," Biden spokesperson Mike Gwin said in a statement to BuzzFeed News.
Last May, when Harris was running for president herself, Trump called her "probably very nasty" to characterize her questioning of US Attorney General Bill Barr during a Senate hearing. His comments then and now are a sort of throwback to his attacks against Hillary Clinton during the 2016 campaign, when he also called her a "nasty woman." Trump has often called other high-profile women nasty, from House Speaker Nancy Pelosi to Meghan Markle and Denmark's prime minister Mette Frederiksen.
The two have also had contentious Twitter exchanges, including the time he seemed to sarcastically say goodbye after she announced she was suspending her presidential campaign.
"Too bad. We will miss you Kamala!" he tweeted, only to receive a snappy retort from Harris, who was preparing for her role in a possible Senate impeachment trial. "Don't worry, Mr. President. I'll see you at your trial."
It wasn't Harris's first run-in with a member of the Trump camp. Last June, Donald Trump Jr. shared a tweet that claimed Harris wasn't black enough to speak about problems within the community. He has since deleted it. But months later, he called Harris "the most disingenuous person in politics...after Hillary," because "she laughs at her own jokes."
Harris shot back, "You wouldn't know a joke if one raised you."
Trump has another slightly inconvenient bit of history with Harris: He and his daughter Ivanka have donated to her campaigns.
During Tuesday's campaign call, Pierson defended the Trumps' donations to Harris's campaigns for attorney general, which came between 2011 and 2014. "The president as a private businessman donated to candidates across all aisles," she said. "I'll note that Kamala Harris is a black woman and he donated to her campaign, so I hope we can squash this racism argument now."