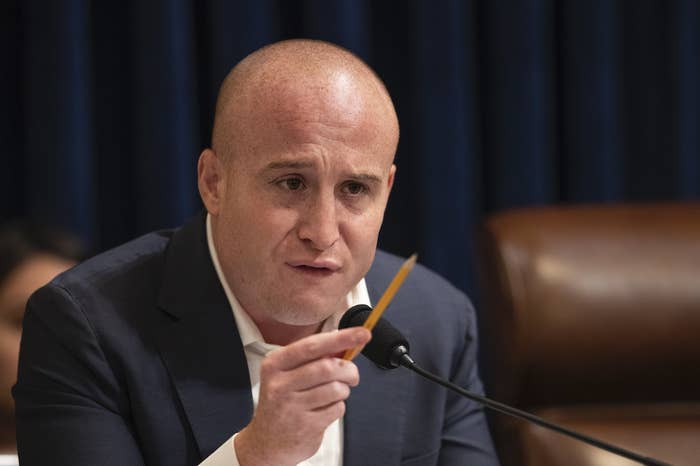 STATEN ISLAND, New York — One of the last Democratic holdouts against impeachment, New York Rep. Max Rose, came out in favor of the inquiry against President Donald Trump Wednesday night.
During a transportation town hall where more than 100 local residents came out, Rose said in a 9-minute speech that he supports impeachment.
"While the president of the United States may be willing to violate the constitution to get reelected, I will not shirk my duty, and I will not violate my oath. I will support and defend the United States Constitution," Rose said.
"And for that reason... I intend to fully support this impeachment inquiry and follow the facts," Rose said, largely blaming the administration for stonewalling the inquiry so far.
Rose had resisted supporting impeachment after more than 200 of his Democratic colleagues came out in support of an inquiry into President Donald Trump. He was one of just a dozen Democrats who had not publicly supported the move as of Wednesday. Last month, the freshman Democrat wrote an op-ed arguing against impeachment.
"The truth is impeachment will only tear our country further apart and we will see no progress on the enormous challenges we face as a nation," he wrote, adding that the administration is "one of the most corrupt in history."
For some Republicans, the editorial just proved Rose had been trying to walk a fine line between the left wing of the party and the more conservative voters in the Staten Island portion of the district.
"Most recently we've seen a lot of double-talk from Max on impeachment," Brendan Lantry, the chair of the Staten Island Republican Party, told BuzzFeed News over the phone a few hours before the town hall. "He's kind of doing a tap dance around the issue," he said, adding that voters are witnessing a "tale-of-two-Maxes."
The op-ed came about a week before seven of Rose's Democratic freshman colleagues, who also represent vulnerable seats in Congress — and have military backgrounds like his — published an op-ed in the Washington Post in support of impeachment. The move, combined with continued reporting on Trump's call with the president of Ukraine, encouraged more than two dozen new Democrats to come out in favor of impeachment, including House Speaker Nancy Pelosi, who officially launched an impeachment inquiry.
Still, Rose did not retreat on the issue.
Instead, the Staten Island Democrat released a statement last week urging Congress to "proceed in a deliberate and responsible manner that brings all the facts to the forefront."
After the hour-long town hall, Rose explained his thinking to reporters — he had thought the House could continue a transparent investigation, he said, and then it became "clear that this has got to be escalated to that of an impeachment inquiry."

Rose's reluctance to come out in support of impeachment was not surprising. Nearly 40% of voters on Staten Island are registered Republicans. His district also includes part of southern Brooklyn, however.
Last year, Rose bested Republican Rep. Dan Donovan to become only the second Democrat to represent the district in the past 30 years. Rose won by just over 12,000 votes in what is considered a toss-up district — especially the Staten Island portion — where voters favorited John McCain in the 2008 election, President Obama in 2012, and President Trump in 2016. Even Democratic voters on State Island urged Rose not to get involved with impeachment during his 2018 campaign.
But the Brooklyn portion of the district has tried to push Rose on impeachment. Progressives organized a rally in front of Rose's office in August where about 20 people showed up.
"We feel like he's being governed by his caucuses," Stephen Pickering said ahead of the town hall, blaming the Blue Dogs, a group of moderate Democrats in the House, for holding up impeachment.
Rose told reporters Wednesday night the recent announcement of a primary by Richard-Olivier Marius, a 29-year-old progressive who volunteered for Rose's last campaign, had nothing to do with his decision to support impeachment, adding that he welcomes a "socialist" to primary him. "You talk to any political expert and they would not say that what I am doing right now is the most politically astute thing that I can do," Rose said.
Two Republican challengers have also announced bids for Rose's seat. Local Assemblywoman Nicole Malliotakis and controversial YouTuber Joey Saladino have already been slamming Rose for flip-flopping on the impeachment issue.
Last week the Republican National Committee published a 30-second video saying, "Rose votes with the radicals for endless investigations of President Trump, wasting our tax dollars," showcasing him flanked by Pelosi and Reps. Rashida Tlaib, Omar Ilhan, and Alexandria Ocasio-Cortez. Trump retweeted the video.
Michael Grimm, who previously represented Rose's district before resigning and serving seven months for tax evasion, also chimed in after Rose made his announcement. (Grimm tried to regain the seat in 2018, but lost in the primary to Donovan.)
Grimm also retweeted an old post of Rose's that said impeachment would tear the country apart with a laughing-crying emoji.

Asked if he's concerned if his recent declaration on impeachment will cost him his election, Rose replied, "Absolutely not."
"So, first of all, I am not concerned at all by the NRCC or anyone that wants to try and challenge me because they already tried once and we kicked their ass. That's exactly what is going to happen again," he said.