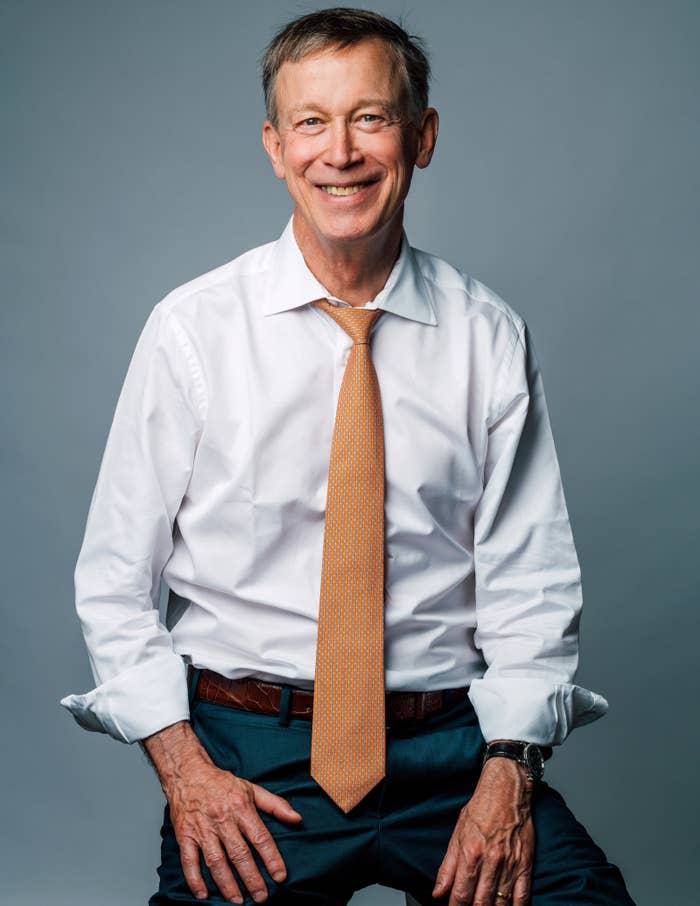 WASHINGTON — Former Colorado governor John Hickenlooper, a presidential hopeful, acknowledged Thursday that he's "not a great debater" and explained his viral "wave" moment with Sen. Bernie Sanders in Tuesday night's Democratic debate.

In a wide-ranging interview with BuzzFeed News' AM to DM Thursday morning, Hickenlooper explained the battle of the wave, said he'd give up beer to save the planet, and showed the internet his game face.
He squared off with Sanders and eight others in Tuesday night's debate in Detroit, but the two men had a special moment when Hickenlooper mocked Sanders on what has become the senator's signature arm-flailing gesture of frustration.
"I caught him out of the corner of my eye," Hickenlooper said to describe how the showdown came to be. "Sen. Sanders, you can do that if you want," Hickenlooper said, throwing his arms up in the air. "And he goes, 'Oh, I will.' And all of a sudden, we were in split screen at that time, so the whole world sees us — it looks like we're cheerleaders doing the wave."
Sanders' crazy arms came as Hickenlooper, a more moderate Democratic candidate, criticized the Vermont senator's Medicare for All plan during the CNN debate's lengthy health care section.
"I was telling him, you know, 'If you're going to hold on to this Medicare for All, you might as well FedEx the election to Donald Trump,'" Hickenlooper said, explaining how the conversation started. Hickenlooper maintained that stance Thursday morning on AM to DM.
"From my point of view, I think Democrats do run a risk if we stay too far to the left," he said, arguing that swing states like Wisconsin, Pennsylvania, and Michigan will not go along with giving up their private insurance. "We run the risk of really giving Trump the election. That's a nightmare."
Hickenlooper acknowledged that debating isn't one of his skills.
"I've never been a great debater, right? It's not something I studied or wanted to be good at or practiced," he said, adding with a laugh, "I mean, I've certainly practiced it in the last six months, more than a little."
But Hickenlooper, who has failed to climb beyond 2% in polls, said he is hopeful that his accomplishments in Colorado, a purple state, on issues like gun control, "near" universal health care, and a thriving state economy will convince voters he can "get things done."
Last year, Colorado's economy grew at its fastest rate since 2015, according to the Denver Post.
"I haven't seen anyone out there that's actually done what they've said they wanted to," Hickenlooper told AM to DM.
Of all the presidential hopefuls, Hickenlooper is the lone candidate who has had to deal with a mass shooting as a leader. In 2012, a gunman opened fire at a movie theater in Aurora, Colorado, killing 12 and injuring about 50. Hickenlooper said that as president, he'd deal with the rise in gun violence and mass shootings by mirroring the policies he enacted in Colorado in the aftermath of the Aurora shooting, first by rallying other states to pass universal background checks and then by making a federal push.
When asked if he would be willing to give up beer to combat climate change, Hickenlooper, who loves beer and opened a popular brewpub in Denver, said he would, echoing a promise by another governor in the presidential race, Jay Inslee of Washington.
"Climate change is the single largest danger that we face — not just for us, but it's for our children and our grandchildren. We're within 10 or 12 years of damaging this planet irreversibly. So yeah, I'd give up beer. I'd give up almost anything," he said. "I think this is what we all have to be thinking of — we'll do anything to save the planet."
Hickenlooper also noted he's washed more than 500,000 pint glasses in his life — more than any other presidential candidate in history.