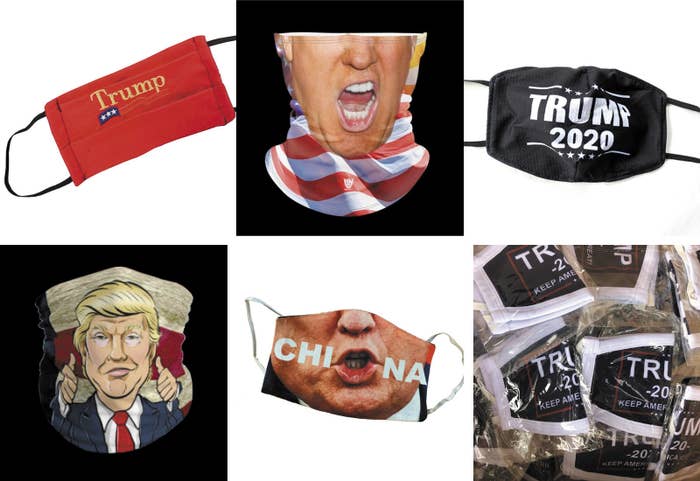 WASHINGTON — Face-covering sales have skyrocketed on Etsy, and some of the most popular styles celebrate a man who won't wear a mask.
Sellers told BuzzFeed News that masks bearing President Donald Trump's name, idioms, and face are a hit. The president has been criticized for not wearing a mask or advocating Americans wear them in the face of a pandemic that has killed more than 130,000 Americans. Supporters still appear at the president's rallies maskless, so it's not clear if the growing number of sales for Trump masks represent a detour from the administration's foggy disposition on wearing masks or an intentional nod to his presidency.
"I've only had my Trump masks for a month and they took off and are our top seller," said Leanne Soto, an Etsy seller in Loudoun County, Virginia. "I didn't know if they'd sell well or not."
Soto, 40, said she has shipped to every state except Alaska and Vermont, including bulk orders to Iowa and parts of Virginia. Days before the president's June rally in Tulsa, she noticed a "huge surge" in sales. And then last weekend just after Trump spoke at Mount Rushmore — where he claimed to more than 7,000 largely maskless supporters that there was a "merciless campaign to wipe out our history" — it happened again.
"I'm like, 'What the heck is going on?' I'm selling [a mask] every five and 10 minutes," Soto said.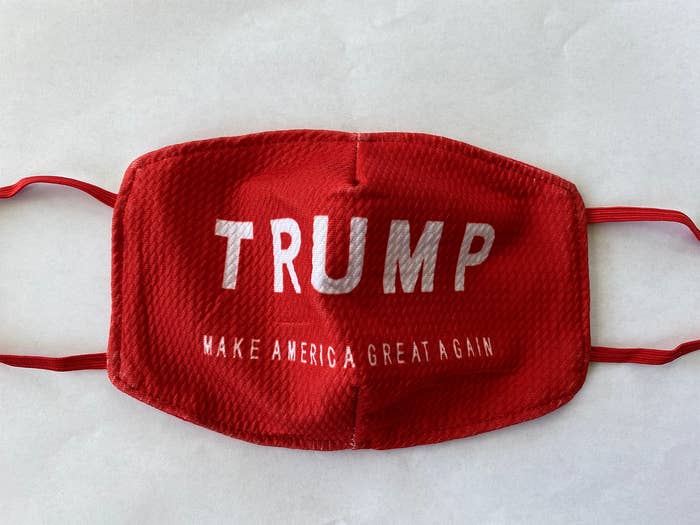 The Trump campaign does not currently offer masks for purchase on their site, which boasts everything from branded T-shirts to tree ornaments. In May, Brad Parscale, Trump's campaign manager, teased a neoprene mask would be "coming soon," but it never happened, as the president has continued to disregard mask use.
The campaign's production gap is giving some of Trump's most ardent supporters an opportunity to make extra money.
Lucretia Hughes-Klucken and her mother, Nancy Moore, of Loganville, Georgia, started making masks in March but were initially just focused on providing them to the senior members of their family who were more likely to die from the coronavirus. When Moore lost her job because of the economic downturn, the family turned their altruism into a profit-gaining venture by selling masks online.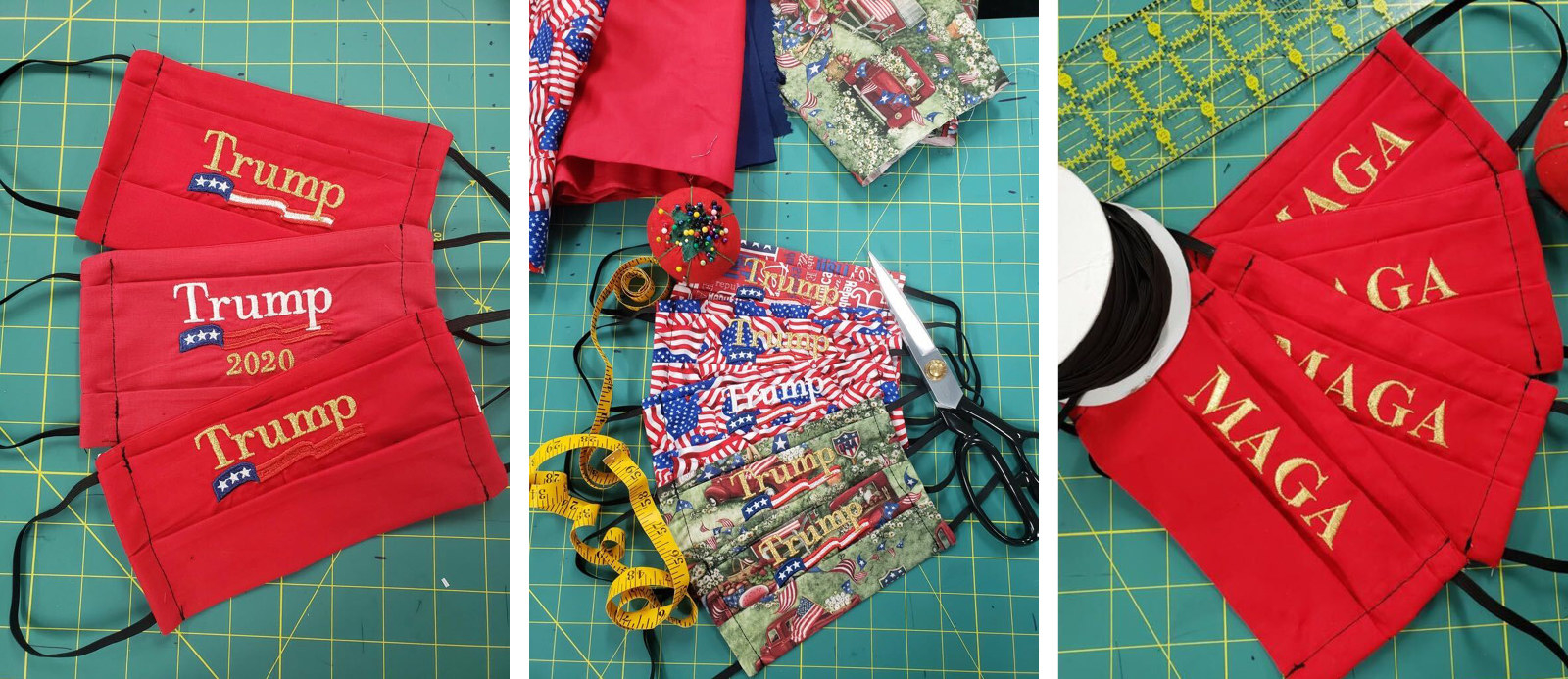 "My motto is God, family, country, and Trump," Hughes-Klucken told BuzzFeed News when asked what prompted her to start making Trump masks. "I told my mom to go over there and see if she can embroider 'Trump.' And hot dog!" The mother–daughter team (with some help from other family members) has sold more than 1,100 masks since April.
Some sellers expressed concerns about selling Trump swag. Soto said she has sold 1,000 Trump masks to one buyer in Iowa but refused to say who made the purchase. She usually reserves her Trump merch for eBay and Etsy, while her website features more animal, plaid, and floral prints.
"I sadly cannot sell through my website as I will get brutally smashed to pieces by a lot of customers," she said, adding, "Sad."
Etsy encouraged sellers to produce face masks in the early days of the pandemic and bolstered mask sales to $122 million with 2.7 million masks. And with coronavirus cases surging in much of the country, it's unlikely sales will slow anytime soon.
One Las Vegas jersey manufacturer transitioned his business to neck-breaker face coverings and is selling a design that lets buyers mask the bottom of their faces with Trump's face.
Hannon Deutsch of Boca Raton pivoted from his custom apparel business UniqueBusinessPromos.com in April and has sold more than 1,500 Trump masks on Etsy. Some of the sales, he said, came with an explainer.
"I kept getting multiple responses that people were just buying the Trump masks because it's the only way they can get their grandparents or parents to actually wear the masks," Deutsch told BuzzFeed News.
Deutsch, 39, said he's seen consistent sales, but after Trump "does or says something, it just seems like it riles up the troops, so to speak."
New state legislation and governors' executive orders have also dictated the peaks in masks sales. "When the Virginia governor mandated masks, every single order started flowing in from Virginia," said Deutsch, adding, "and they were all Trump masks."
The popularity of the Trump masks has shocked longtime sellers who've been active on the site for years. Lynn, a Wisconsin-based seller who asked that her full name not be used for fear of retaliation against her business, said it's now normal to see individual buyers purchase multiple masks.
"I've got a couple of Etsy shops and sell more generic designs on my other shops," Lynn said. "There's definitely more traffic for the Trump masks."
Lynn said she has sold 810 Trump-themed masks since May 6, nearly three times the amount of other face coverings.
"I've got some fun pop culture ones, I've got just some real generic ones," she said. "But the ones that have sold the best are, for sure, the Trump designs."
Even more surprising to Lynn are the cities from where her orders are coming, including Los Angeles and New York City.
"I'm like, wow, you're pretty brave," she said.