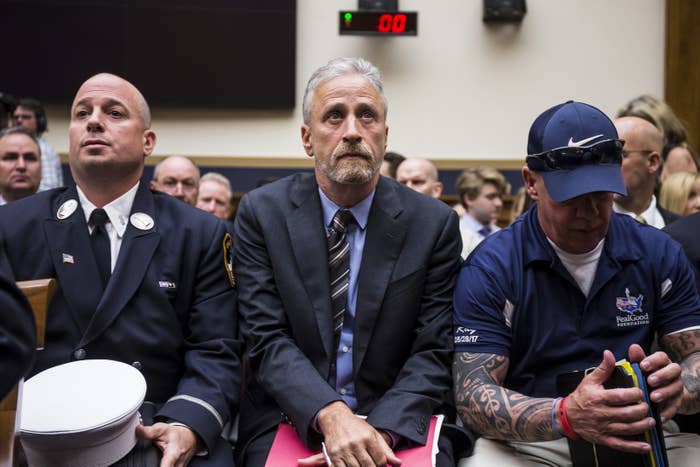 WASHINGTON — The Senate on Tuesday passed a bill to provide health care benefits for first responders and survivors of the 9/11 attacks for the next 70 years.
The bill, which passed 97–2, ensures that victims, first responders, and their families will receive benefits from the 9/11 Victim Compensation Fund, including health care, for 9/11-related deaths and illnesses. The measure — updated from a 2010 version of the bill — keeps the fund going through 2092 and allows applicants to file until 2090.
Only Sens. Rand Paul and Mike Lee voted no. After the vote, people in the Senate gallery and some senators who remained on the floor applauded. First responders and a teary-eyed Jon Stewart, who had advocated for the bill, hugged in celebration outside the Senate chamber.

The bipartisan bill had overwhelming support in both chambers with 73 cosponsors in the Senate and 402 members in the House of Representatives who voted to pass the legislation. President Donald Trump signed it into law on July 29.
Rep. Carolyn Maloney of New York, who sponsored the bill in the House, vowed in February to sport an NYC firefighter's jacket until the bill's passage.
"If you remember 9/11, you remember that we, as a nation, vowed to never forget," Maloney told BuzzFeed in a statement. "With that promise, we committed to making sure these heroes never have to go without the support they need and never have to wonder if support will be there for them and their families. With the passage of this bill, we can finally give these heroes the peace of mind they deserve. We are finally turning that promise into law."
As of May, the compensation fund approved nearly 30,000 claims totaling more than $12 billion.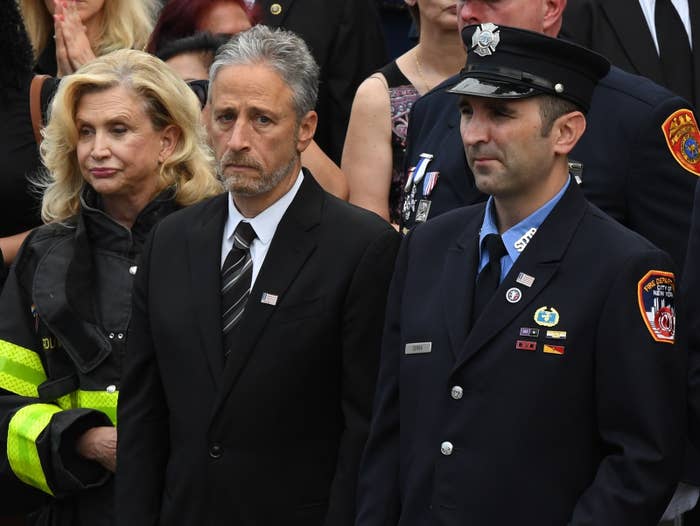 The bill, formally named the "Never Forget the Heroes: James Zadroga, Ray Pfeifer, and Luis Alvarez Permanent Authorization of the September 11th Victim Compensation Fund Act," is named for several 9/11 responders.
Alvarez testified alongside comedian Stewart before a House Judiciary subcommittee last month urging Congress to pass the legislation. The 53-year-old former NYPD detective, who was diagnosed with cancer linked to his work at the 9/11 site, died just a few weeks after the congressional hearing.
"Less than 24 hours from now I will be starting my 69th round of chemotherapy," Alvarez told the House subcommittee. "Yeah, you heard that correct. I should not be here with you but you made me come. You made me come because I will not stand by and watch as my friends with cancer from 9/11, like me, are valued less than anyone else because of when they get sick they die."
Stewart blasted members of Congress for not sitting through the whole hearing. Members of Congress often duck in and out of congressional hearings to attend to other business, but Stewart called it "shameful" and "an embarrassment" that some members left a hearing on such an important issue.
"Behind me, a filled room of 9/11 first responders, and in front of me, a nearly empty Congress," he said at the time. "Sick and dying, they brought themselves down here to speak to no one."
The bill comes before Congress as the 200th NYC firefighter died of a 9/11-related illness more than 18 years after the attack. Congress expanded the 9/11 Victim's Compensation Fund to first responders, as well as the families of those who were killed in the attacks, in 2011. In 2015, Congress renewed the bill through 2020, but advocates have long called for a more permanent authorization.

New York Sen. Kirsten Gillibrand, a Democrat and presidential hopeful, tried to bring the bill to the floor last week but was shut down by Sens. Paul and Lee over their concerns with the bill's price tag. The Republican senators introduced amendments to curb the estimated cost of $10.2 billion over 10 years, both of which failed on the Senate floor Tuesday.
"While I support our heroic first responders, I can't in good conscience vote for legislation which to my dismay remains unfunded," Paul tweeted after the vote. "We have a nearly trillion dollar deficit and $22 trillion in debt. Spending is out of control."
Gillibrand joined Stewart and other senators for a press conference after the bill passed Tuesday. "Today is not a celebration. It's a deep sigh of relief," she said.
An emotional Stewart also called the bill's passage a "relief," adding, "We can never repay all that the 9/11 community has done for our country but we can stop penalizing them."

Maloney also spoke at the press conference and finally took off her FDNY jacket, thanking members and advocates for helping to pass the bill. "It's getting hot. I get to take the coat off, I vowed I would wear the coat until we passed the bill," she said.
Rep. Peter King, the first Republican to back the bill, thanked Stewart for his help, saying that while the bill "probably would have passed" eventually, Stewart's advocacy in the House hearing really pushed it over the line. "Jon went and scared the hell out of everybody," King said.
Alvarez's son also spoke at the press conference. "When my father testified he said he was coming down to make sure: never forget.," he said.
CORRECTION
The 9/11 health care fund will now run through 2092, with people able to file claims through 2090. A previous version of this story said that people could file claims through 2092.