"Zero Dark Thirty" Twitter Promotes "Our" Drone Program
After criticism about CIA cooperation and alleged torture whitewashing, the ZDT PR campaign doubles down.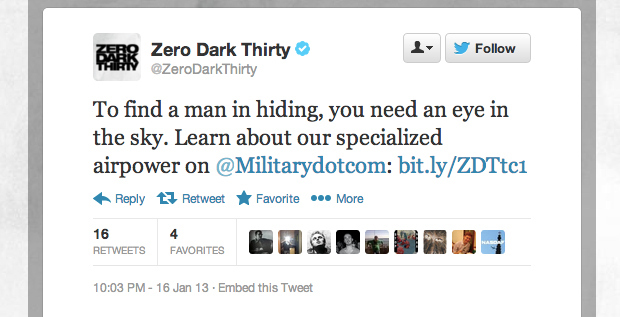 Since before its release, Zero Dark Thirty has drawn criticism for its cooperation with, and portrayal of, the government. Critics said it suggested — contrary to many, but not all, accounts — that torture hadn't produced useful information, that it traded a palatable account of events for access, and that the result provided the CIA with its own Top Gun.
ZDT's ad and PR campaign does not seem to have been softened by the backlash; if anything, it's gotten more bold. On Wednesday, the film's official PR account tweeted a link to a Military.com post with the text "to find a man in hiding, you need an eye in the sky. Learn about our specialized airpower on @Militarydotcom."
The use of "our" is eye-catching — America's? The Pentagon's? Sony Pictures'? — as is the content of the link: a series of infographics, created and supplied to Military.com by Sony, touting the specifications and capabilities of America's armaments, from "eagle-eye" aerial drones to "precise and powerful" assault rifles.
Some of the movie's online critics took note.
"Zero Dark Thirty's Twitter account is promoting drone warfare and you tell me 'It's just a movie, stop being critical!'" tweeted Mehreen Kasana.
ZDT's presence in the infographics is relegated to a small URL printed at the bottom. (This is the same technique used by sites like OnlineSchools.com, which release widely shared, and sometimes pandering, infographics on unrelated subjects with a small source stamp at the bottom.)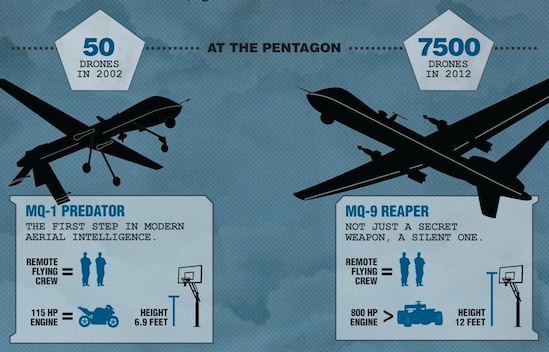 The co-chairman of Sony Pictures has defended the film since its release, saying that it "should be judged free of partisanship," and the filmmakers have argued that their artistic license is normal and, indeed, unavoidable. A spokesperson for Sony did not immediately return a request for comment.