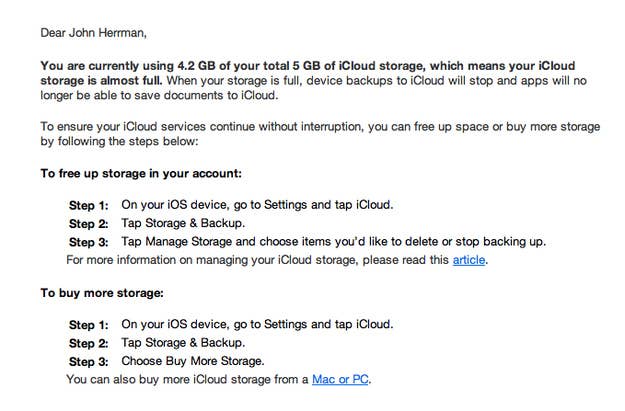 Over the last couple weeks, I've gotten multiple warnings from Apple that my iCloud storage is nearly full. If not for my line of work, this would have been one of the first times I'd been asked to think about iCloud, Apple's automatic online backup and sync service, since updating to iOS 5. It's also the first time I've been asked to pay for it — I had assumed, perhaps wrongly, that since my first backups didn't exceed the 5GB free storage allotment I would never need to pay.
While the warning emails have been part of iCloud from the beginning, Apple appears to be nudging its users lately:
At the low rate my storage demands are increasing, I'm probably only going to need to upgrade to the $20-a-year option. But still, at launch, iCloud didn't feel like something I would need to pay for. Now, I'm stuck paying a yearly fee to keep syncing my backups over the air. To put it another way, I'm paying at least $20 a year to stop using iTunes.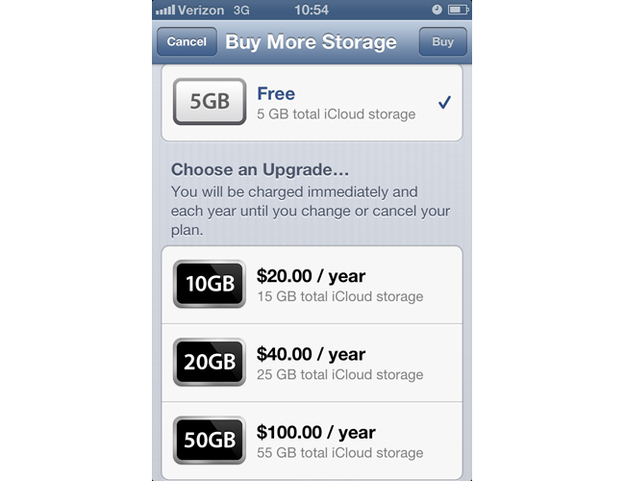 This unpleasant surprise, if it's as common as I think it will be, is a problem for Apple. But a bigger problem? A lot of the people getting these emails have no idea what iCloud is. And why should they?
iCloud works in the background and doesn't really do anything; it's mostly a backup tool, which means by definition you don't see it working and rarely interact with it. iCloud isn't an app — you don't use it, it's just something you have.
But I'm just annoyed that I'm getting asked to pay for something I thought I'd get away with using for free. Other people don't know, or care, what it is in the first place. Here are some other people who don't seem too excited about Apple's upsell:
If an iCloud upgrade is going to be effectively mandatory — and of course our storage demands are going to get higher, especially with Mountain Lion on the horizon — Apple should probably do a better job of telling people about it. Nobody wants to pay for something they've never heard of.