This press release arrived in my inbox with a clang.
GOOD, an organization most commonly associated with its ultra-conscious, proudly left-wing magazine, laid off most of its editorial staff a little over a year ago. It expressed plans to become "a platform for 21st century citizenship," based around aggregation.
GOOD was founded as "a free press for the critical idealist" — a publication for "people who give a damn." But now? It's partnering with the Air Force to help design a better drone.
Pre-layoff GOOD, which counted among its core staff Al Gore's son, published pieces like this. Now, post-layoff GOOD is sending out press releases like this: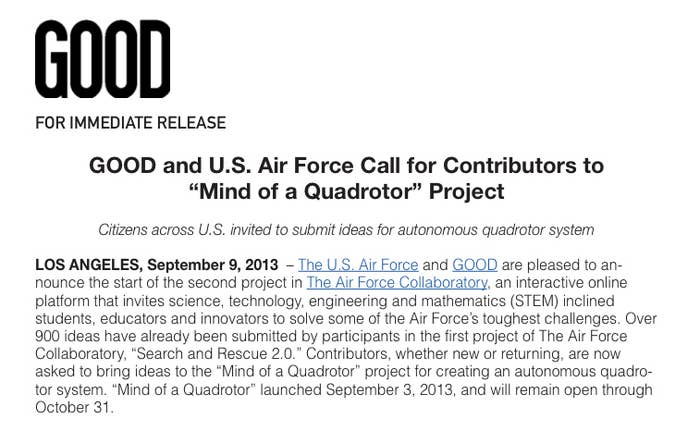 Again, 2010 GOOD: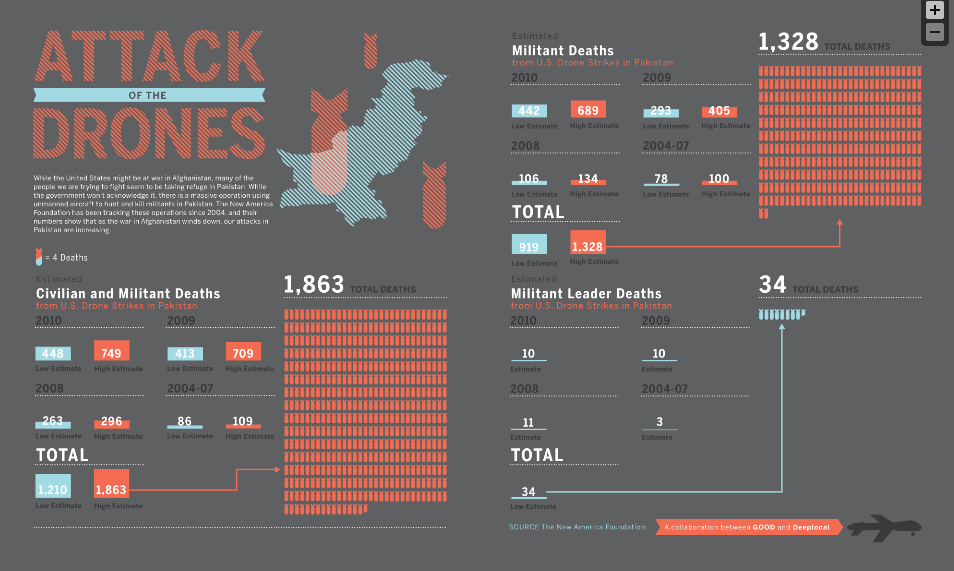 And GOOD in 2013: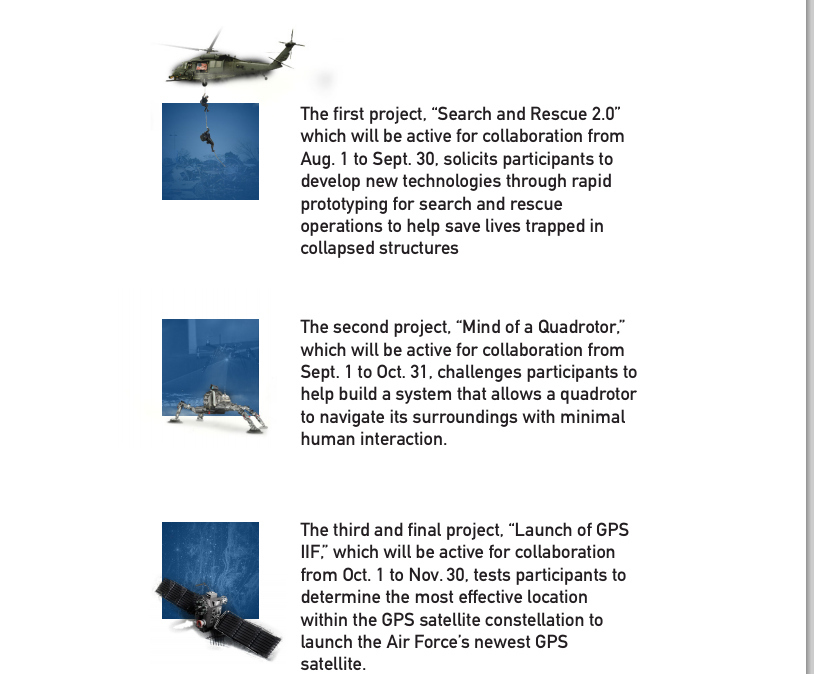 It's a little jarring! GOOD made its name, in part, as a clever and visually persuasive critic of the military-industrial complex, with infographics like this: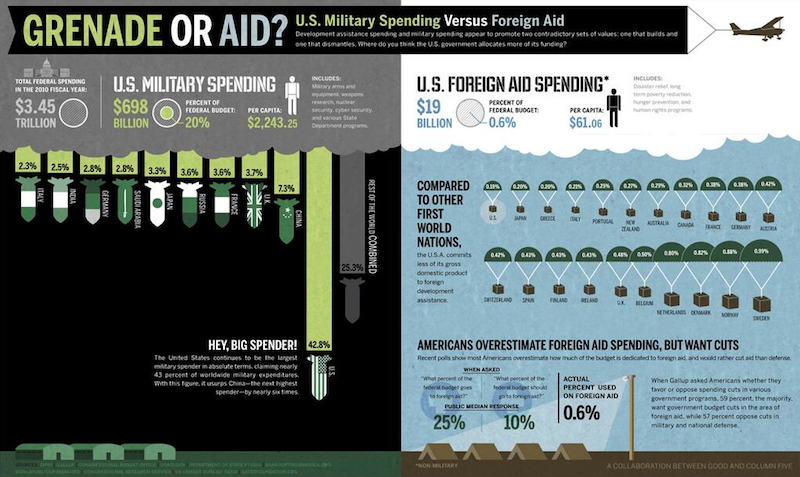 Update: a spokesperson for GOOD sent the following:
GOOD is a community with members from across the world. We evaluate our partnerships based on whether the collaboration yields value to our members - helping GOOD people do more good, and by providing specific opportunities and platforms for GOOD members to engage in projects that align with our core values of creative engagement and pragmatic idealism. Helping the U.S. Air Force, an organization with a long history of honor and innovation, design improved search and rescue technology fits that mission. So as far as the question posed in this title, what happened is that GOOD evolved from an audience of people who give a damn, to a worldwide community based on this common perspective, collaborating online at www.good.is and in person through local chapters around the globe. If you share these values, come join us.
From GOOD's own promotional literature:
GOOD Magazine was founded in 2006 by Ben Goldhirsh as "a free press for the critical idealist."Calling together his college and high school classmates, Ben was determined to create hispublication with an unconventional business model based on a social conscience.

In GOOD Magazine's first year, this unconventional business strategy coined "Choose GOOD"included donating all of the magazine's subscription fees—$20 per subscriber and totaling to $600,000 that year—to 12 charities, offering readers the option of which nonprofit their fees supported. Among these organizations were UNICEF, Teach for America, and Los Angeles CityYear. "The idea was that we would incentivize these consumers with the added benefit that theirmoney goes to charity, incentivize these charities to reach their constituencies for the $20donation, and enjoy the added marketing and public relations that would come from having aninnovative strategy," said Ben
Correction, 9/17, 12:31 EST: GOOD magazine still prints, but as a quarterly. A previous version of this article suggested that it no longer did.