What 55 Years Did To Frommer's
It started as an ultra-personal guide, became a travel book empire, and grew into a household name. Today, with a short press release, it began its transformation into a faceless data company. It's kind of breathtaking, really.
Frommer's was born as a travel guide to Europe, published in 1957 by this guy, Arthur Frommer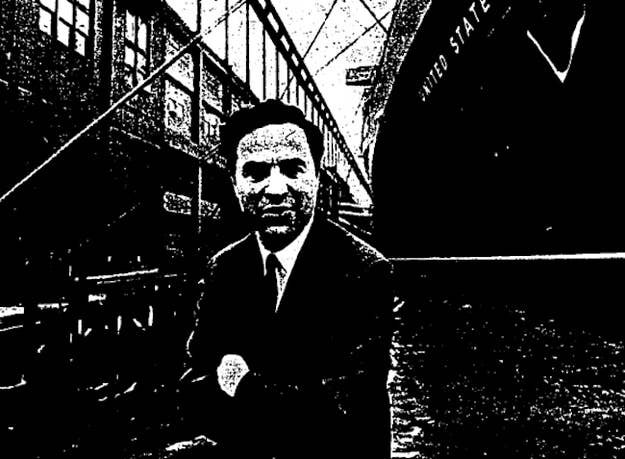 The guide, and its followups, came to be regarded by fans as something like a travel Bible: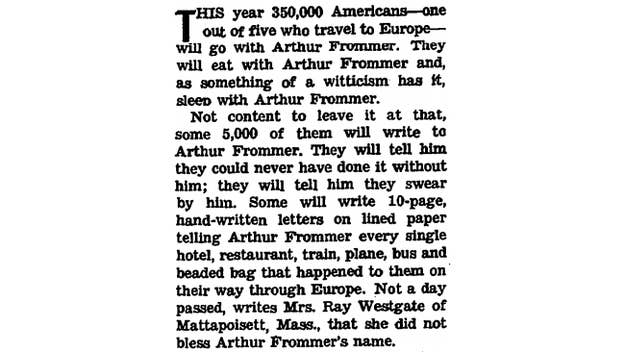 Within a decade, Frommer's guides had become synonymous with budget travel — and they had a philosophy: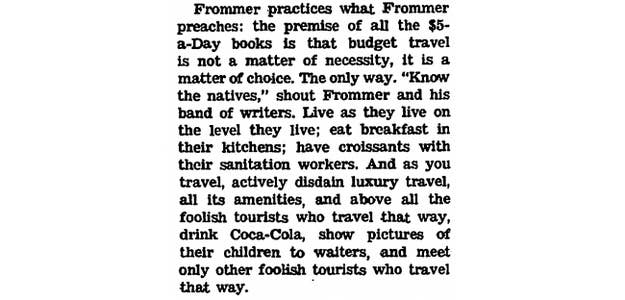 By the 80s, the guides were popular and well-known enough to be stereotyped and lampooned, lightly, in the mainstream press:
The travel guide is not simply a book: it is a person, as well. The Blue Guide has been to an expensive college and prefers to be known as le Guide Bleu. Its traveling clothes are well-cut and even if it doesn't list restaurants it makes a point of going to good, not necessarily expensive, ones..

Arthur Frommer's Dollarwise Guide has just bought a $600 guitar because they are cheaper here, and you get workmanship. It has an ant problem from time to time owing to the cheese and chocolate in its luggage.
And the company was able to vigorously defend the value of its guides — not the data within them, exactly, but the full, up-to-date products:
Publishers of two of the most popular series, Fielding and Arthur Frommer, recoil at the suggestion that you buy last year's book or dust off one that you used for an earlier trip.

In fact, to enhance the sale of new editions, out-of-date copies of both Fielding and Frommer are swooped up for destruction as soon as the new editions come out (some of them annually, others every two years).
In the 90s, it spawned a magazine in addition to its countless guides, which held true to its populist roots:
Mr. Frommer, who publishes a series of travel guidebooks, called the current crop of travel magazines inane, irrelevant, ''elitist, haughty and high-society.'' He argued that 90 percent of the country cannot afford the vacations the magazines espouse. They were, in fact, ''a public scandal, a disgrace.''
Around the same time, Frommer's opened a website:
In 2004, it was still enough of a household name to be a central plot device in a popular teen comedy, Eurotrip: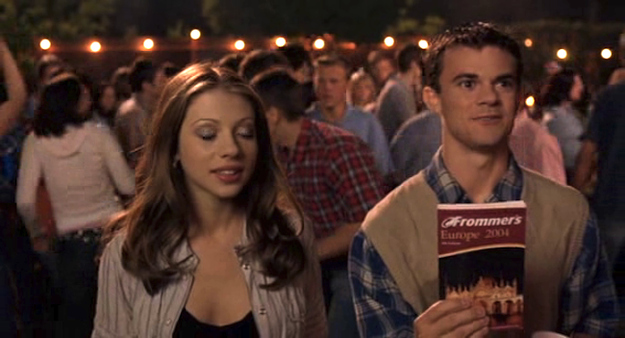 Which brings us to today. 55 years after Frommer wrote his first guide, and after five decades of building a brand, Frommer's has been absorbed into Google:
On August 10, 2012, Wiley entered into a definitive agreement to sell all of its travel assets, including all of its interests in the Frommer's brand, to Google.
Reports say its data will be used to supplement Google's location listings, like Zagat's before it. In fact, Frommer's, one of the most recognizable brands in the world, the Kleenex of the guide industry, will effectively be reduced to just another database, stripped of everything but a name in the byline and merged into a larger database. That singular guide that inspired thousands to write letters of gratitude to its author is will soon be just one more column in the great spreadsheet that is Google.
It's kind of breathtaking, really! And not necessarily a bad thing — this kind of old-media transformation happens all the time now, and it's often far less humane. It'll probably help Google turn up more relevant travel information for more people, too. But it's a tidy example of how, for all its creative potential, the internet can seem like a destructive place, particularly if you weren't born here.