We're Approaching Peak Notification
"Your Retweet was retweeted." Haven't checked your social networks in a while? Don't worry, they're checking themselves.

Today I received an email telling me that a tweet I had retweeted had been retweeted again, because of my initial retweet. A few minutes later, I got a similar message saying that someone had "favorited one of your Retweets," which, to be clear, was an entire email sent with the purpose of telling me that someone else's tweet had been favorited. If not for the months of steadily more specific email updates I'd been receiving from Twitter, I would have assumed this was a joke. But: no.
To be fair, the true purpose of this email, as with almost all emails from Twitter, was to get me to think about Twitter again, to check it more often, and to "engage" with it, in the terms Twitter's email optimizers are certainly using. But those particular emails struck me as crossing a line. And so do these: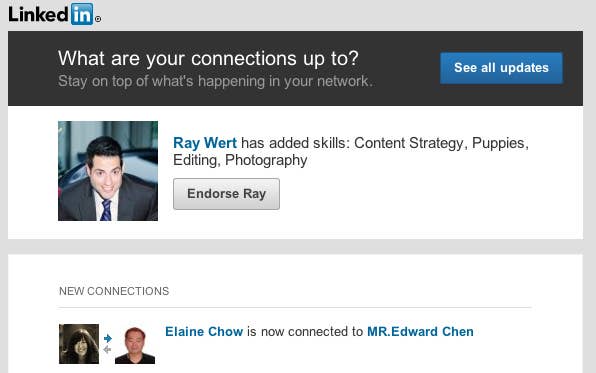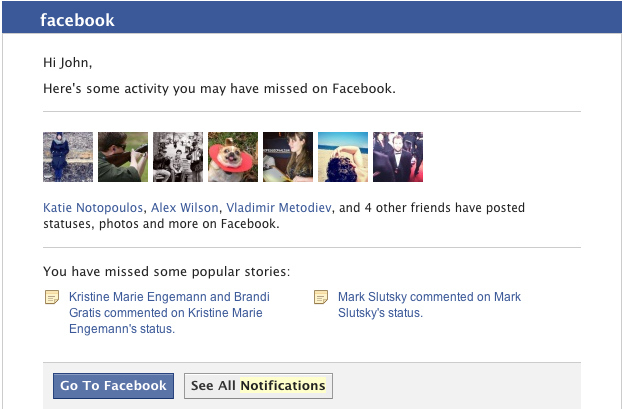 Ray has "added skills," and Mark has commented on his own status. These can hardly be called notifications — I probably wouldn't have noticed these things even if I checked LinkedIn and Facebook every day.
All email exists on a spectrum, from real to spam. Social notifications can sit on either side, depending on what they're telling you. They can never be quite "real," but they can come close; they're almost never fully spam, unless you can't opt out of them. I could have opted out of all of these emails, and I probably will soon.
But I also never asked for them. I gave these companies my email address expecting to get certain types of emails, and since then — it's been years, in all cases — the emails have gotten more and more granular, and generally more frequent.
Sometimes, though it's hard to tell for sure, they've gotten more frequent as I've used a social network less. The messages are telling me what's going on, but as my attention gets pulled in more and more directions, they're increasingly telling me what I'm missing.
It's easy to see what's happening here: Social networks want more attention, or engagement, and sending emails is a way to accomplish that. It's always worked, so why wouldn't it work again? If a broader notification got people back to Facebook, why wouldn't a more specific one? All of these emails, even the most ridiculous ones, bring some number of users back to the originating sites.
But nagging users to come back to your site is a treatment, not a cure, and eventually it will stop working. This trend ends in two ways: Either every update on your service is sent to your users' inboxes, at which point it's hardly a service at all; or the sum of these notifications overwhelms your users' inboxes, rendering them useless or leaving your messages unread.
The people who provide you with email would obviously prefer the latter, and Google is already bracing for Peak Notification. This is what its new inbox looks like:

There are now so many notifications that Google has decided — even for updates from Google+! — to demote them to something below a regular message. Your real email is now in your "Primary" inbox, which means the rest, divided among "Social," "Promotions," and "Updates," is in your secondary inbox. That's better than your spam folder, but not by much. At best, it reduces your non-personal email to a feed — to ambient information.
Now that they're drawing from an even smaller pool of attention, we can expect the companies sending these notifications to become bolder and bolder, and their messages to become more and more absurd, until a notifications tab (or worse, an entire inbox) left untended will become no better than a trash folder.
The only unknown is whether or not, after we reach Peak Notification, these companies will give up. Presumably a notification received as spam will be far less effective than a notification received alongside email that you actually care about. Its efficacy will approach zero, so it might make sense for a company that wants to maintain its reputation to just stop, at that point.
But then again, spam barely works either. And have you checked your spam folder lately?