Using The New YouTube App Is Like Staring Into Google's Troubled Soul
You would be forgiven for thinking that Google's gone a little bit insane lately. But the new YouTube app for iOS reminds us what, exactly, the problem is: Google is suffering from existential terror.

If I didn't know better, I might mistake Google+ for a cancer. I've watched its pale gray buttons and blood-red notifications spread to my email, my calendar, and my search pages. I've fought through it do to a few Hangouts, and wondered how, even in products launched after it, Google+ could seem so broken, so foreign, and so much like a Google Labs experiment that's gotten out of control.
Equally bewildering is why Google, one of the largest concentrations of engineering and design and marketing talent in the history of the world, would keep funneling its users toward a barren social network that at the very least needs serious fixing. But today, in the form of an app, we're reminded why it has to — that without a thriving Google+, or something like it, Google's most important properties risk become irrelevant.
In iOS 6, Apple will remove the Google YouTube app that's been part of the iPhone and iPad experience since 2007. The companies' increasingly icy relationship has also killed the iOS Google Maps app, leaving users with an Apple-designed, TomTom-supported replacement that is, by my judgement, quite a bit worse than what we had before.
Google says it will release a standalone mapping app for iOS, and today released a replacement YouTube app. The YouTube app is in most ways much better than the one it replaces, which, like the iOS Google Maps app, was designed by Apple and severely restricted in functionality. You couldn't watch music videos, for example, or any videos from YouTube partners. It's worth noting, though, that the new app doesn't even allow for uploads. (Though you can still upload to YouTube directly from the camera app.)
But what the app gains in power it loses in integration. Videos found in Safari or Facebook or anywhere else will no longer open the YouTube app, instead playing in an embedded iOS video frame. (Update: This behavior seems to have changed in the last couple hours — many YouTube links now do redirect to the app.) It's not the smoothest experience right now, but you can see and appreciate how it should and eventually will work.
For YouTube, this is a worrying situation: If Apple decides to remove the YouTube app hook, a situation Google would be wise to prepare for, the only way people will find themselves in YouTube's app, watching full YouTube ads, is if they open it directly — something I rarely ever did before, and doubt I'll do now.
As such, the new YouTube app is designed to stand alone, with sections and a user-facing homepage. But still, approaching YouTube head-on is a terrible experience. To stare into its maw is to confront all your worst worries about the internet. Here's what you'll see: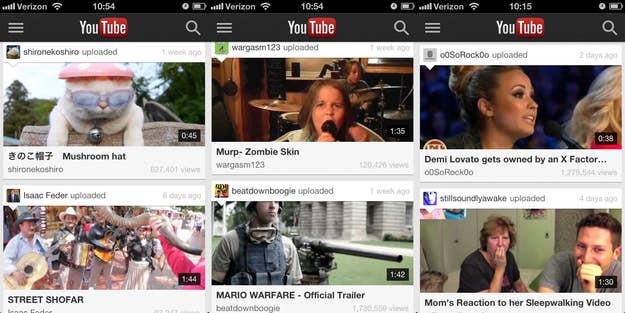 The YouTube "Popular" list, which is a curated but generally representative sample of what's trending on the site, appeals to no one. If you scroll enough you will find videos you like, but only after skipping past many more that you don't. YouTube is far too large and diverse for a front page like this; everybody uses it for everything, so even many the most popular videos will only appeal to a small subset of users.
Anyone who has used a YouTube app on a smart TV, Apple TV or Roku knows this feeling: that, despite the knowledge that there is a endless supply of good videos on YouTube, there is no way to find them. I mean, imagine if Google's homepage strategy was to suggest a list of the most popular searches at the time as the web's most "Popular" content. It would be horrible! And yet that's more or less what we have here.
The story of Google's iOS apps is the story of Google proper — a company whose vital, wildly popular products are becoming increasingly isolated from the next internet, where social media has replaced the homepage and measures of popularity take into account not just raw numbers but an individual's relationship to those numbers. YouTube has girded against potential isolation with a shift toward highly produced professional content, but its bread and butter is still user-created videos, the most successful of which are increasingly found, shared and rise to popularity on social networks.
The sheer unapproachability of the YouTube app — seriously, download it, try it, and tell me you're going to open it with any regularity — offers a tidy explanation for why Google's products and site can feel so disjointed. Google doesn't just want Google+ to be a new property or feature in Google. The threat from Facebook, Twitter, and whatever future service is lurking in a glint in some scarily ambitious teenager's eye, is an existential one; the company needs Google+ to tie together its sites, and to give YouTube, News, Search, Images, and Play homepages — or more broadly, interfaces — that people will actually want to use.
Google doesn't want to become a behind-the-scenes infrastructure company, serving up content people find elsewhere. It's not as glamorous, not as important, and probably won't be worth the company's $200b+ value for very long. And if Google+ doesn't work, it's not clear what will.