Twitter's Free Speech Protest By The Numbers
Twitter's first transparency report tells us why the company takes down tweets, and who's asking for information. And it might be a form of dissent, too.
Twitter has released its first transparency report, outlining the last six months of DMCA notices, takedowns and government requests. Like Google's recent transparency report, it's not a very detailed document. But it's illuminating, and a sly form of protest.
Six months of Twitter copyright takedowns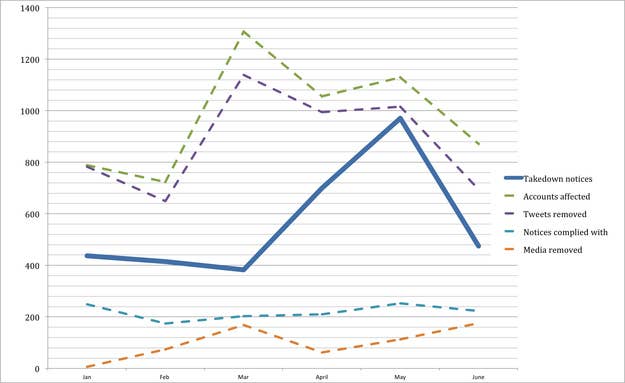 Despite a few spikes — what happened in May? — Twitter's copyright compliance has remained fairly steady. Another way to read this is that while DMCA notices can vary wildly month to month, legitimate (that is, non-spurious) claims have remained relatively steady. Also, it's not like Twitter is Google — there's no video or audio service, and only a limited picture service. It's not that easy to post takedown-worthy content on Twitter. Links to it, maybe. But not the content itself.
Government requests around the world
Twitter notes: "We've received more government requests in the first half of 2012, as outlined in this initial dataset, than in the entirety of 2011." This is the part of the report that people are going to worry about. Twitter has cast itself as the free speech social network on many occasions, and has held to its promise as best it can. The report says that Twitter hasn't taken down any content as a result of government requests; then again, not that many seem to have asked.
Outside of the United States its access compliance rate — that is, the rate at which it gives up users' information to governments, most often for criminal investigations — is fairly low. But in the US, where most requests are filed, its compliance rate is 75%. Like any company, Twitter has to operate within the laws of its host country, and chances are that a lot of these requests are reasonable and germane. But a few atypical tests have produced worrying results.
The Malcolm Harris case, in which a New York court issued an order for user information about an Occupy protester being prosecuted for disorderly conduct, is one such test. The court requested "any and all information" about Harris's communication through Twitter surrounding a series of Occupy protests, which likely includes private messages — more, Harris's lawyers say, than is necessary to prosecute the charge. Harris has accused the court of "fishing" for information.
Twitter challenged the order with the support of the ACLU on the grounds that to release Harris's information, which the company maintains belongs to him, would be an intrusion of his privacy.
Today, we found out that it didn't work.
In response, Twitter told BuzzFeed FWD:
We are disappointed in the judge's decision and are considering our options. Twitter's Terms of Service have long made it absolutely clear that its users *own* their content. We continue to have a steadfast commitment to our users and their rights.
In light of this fight, the transparency report carries a whiff of protest. This, says Twitter, is what the government is making us do.
Twitter says it'll be releasing these reports twice a year.