Twitter To Remove Third-Party Image Services From Its Apps
Last month's Twitter policy changes not-so-subtly suggested that third-party clients are not long for this world. Next to be put on notice: the image sites.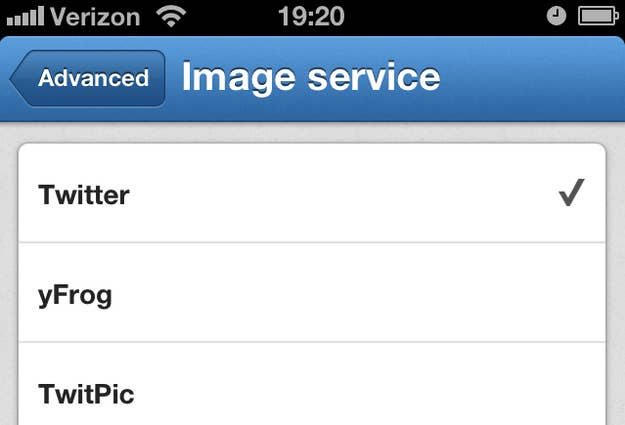 Twitter will soon remove support for third-party image hosts, such as Twitpic and yfrog, from its official apps, according to a person who was briefed on the company's plans. The changes will be coming fairly soon — likely in the next updates to each client.
Companies that will be affected by the change have been contacted by Twitter, perhaps in an effort to preempt a harsh reaction similar the one the company received from app developers after instituting a client user cap last month. At the moment, there are six upload options in the official Twitter app for iPhone. (Though one, Posterous, is owned by Twitter.)
Twitpic founder Noah Everett says he understands Twitter's choice, though he wishes it were a different one. "They're trying to control those eyeballs on their apps, they're an ad-based company, they make money that way." He says his site, the biggest of the bunch, gets a majority of its uploads from sources other than the official Twitter apps — a group, however, that includes uploads from 3rd-party Twitter clients, which account for about 23% of all tweets.
The change is consistent with Twitter's gradual transformation into a sort of hybrid platform/media company, and brings the service in line with its closest peers and competitors: images uploaded in Facebook, Tumblr and Instagram's official apps are hosted on the companies' respective servers.
Shepherding people to an official image service gives Twitter more control over the user experience, of course, but it also helps address an issue that is deeply problematic for a link-centric service like Twitter: link rot. A theoretical future Twitter archive would undoubtedly be full of dead links, but at least, the thinking goes, the images will be there.
The developer community will rightly take this as a sign that Twitter is wresting yet more control away from it, but it also won't come as a surprise. "It might be a big death blow to smaller companies," says Everett, who is banking the future of his company in part on an alternative platform called Heello, which Twitpic launched last year. The news, he tells me, was "one of those things we thought was coming."
Reached by phone, a representative for ImageShack, which operates the popular yfrog hosting service, declined to comment.