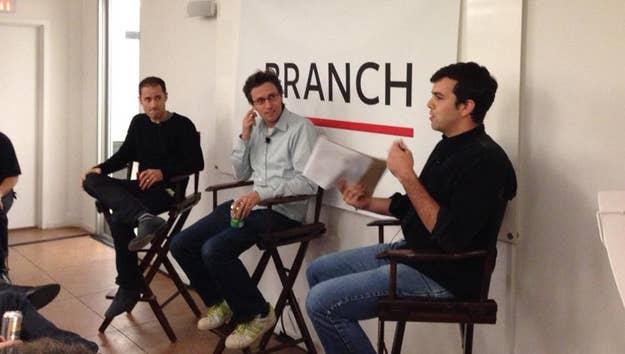 Twitter cofounder Ev Williams — who remains on the company's board — hinted Monday that follower counts may soon become the second most important number to users.
"The thing I think would be more interesting than followers is... retweets," clarifying that a simple measure of followers "doesn't capture your distribution."
"The dream metric," he said, "is how many people saw your tweet."
Williams spoke at a Branch roundtable in Manhattan Monday, panel was hosted at (disclosure!) BuzzFeed's offices and co-chaired by (double disclosure!) BuzzFeed founder Jonah Peretti and Josh Miller of the social commenting platform Branch. Williams spent most of the evening addressing questions about his new publishing platform, Medium, which he described as a "trying to be a marketplace for quailty content," but offered candid hints about Twitter's possible plans just before the discussion ended.
"I'm on the board, so I shouldn't say too much," he joked, "but I will."
Williams suggested that, after the recent restriction of Twitter's API, which was intended in part to usher users back to the site's official apps, collecting deeper engagement data wouldn't be a problem. With fuller control over apps, he said, Twitter could, for example, "measure whether or not a tweet was requested in a timeline" — indicating that it wasn't just made available to a user, but actually read.
I, and others, raised the possibility of a new central Twitter metric about a month ago, after a series of reports about the availability of for-sale fake followers. Twitter responded by emphasizing that the "fake follower" problem was overblown, and it was a mistake to assume non-Tweeting accounts are inactive — the company claims that some 40% of users who log in on a regular basis never tweet.
But right now it's hard to tell if these non-tweeting users are actually seeing anything you tweet — that is, unless you're an advertiser. The stats tools Twitter offers to partners may offer clues as to what the new follower count would be comprised of: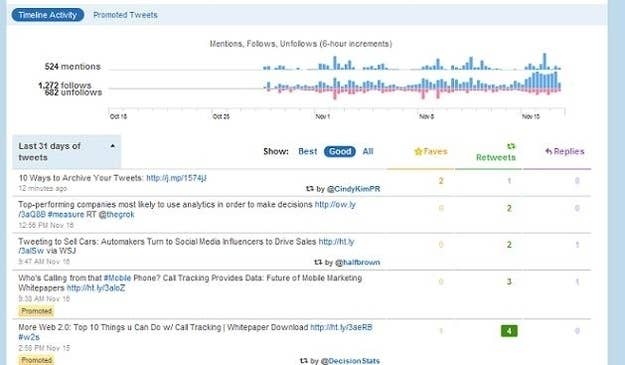 Retweets, reach, and clickthroughs, to start. Something like a directly measured Klout score, in other words.
The demotion of the follower count would likely be a gradual process for Twitter, which has spotlit the metric since the start. It would also be, as Peretti remarked during the panel, "a shit storm." It also runs the risk of deflating Twitter's perceived scale.
But it would, at least in theory, be a far more useful number by which to judge the actual importance of a Twitter account, and in aggregate, of Twitter as a whole.