Three Years In The Life Of A Wikipedia Article
Pull the slider from left to right to speed through years of painful textual surgery.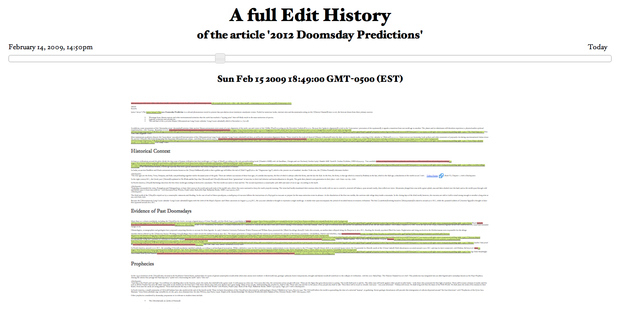 NYU Tisch student Kate Tibbetts has compiled three years of a Wikipedia article's activity — hundreds of edits — into a simple visualization tool. You know that fake-sounding factoid about how all the cells in the human body are replaced every ten years? Turns out Wikipedia pages are kind of like that.
The only part of the story this doesn't tell is the end: Apparently, the "2012 Doomsday Predictions" article has been deleted and its contents folded into a significantly less-cool-sounding article called "2012 Phenomenon." It's a shame, because I'd already marked my calendar to check back in with this page on January 1st, 2013.