The iPad's Retina Display Is Bad News For Magazine Apps
None of the iPad mag apps were ready for the launch of the new iPad, but that's the least of their problems. Suddenly, plain old PDFs look just fine.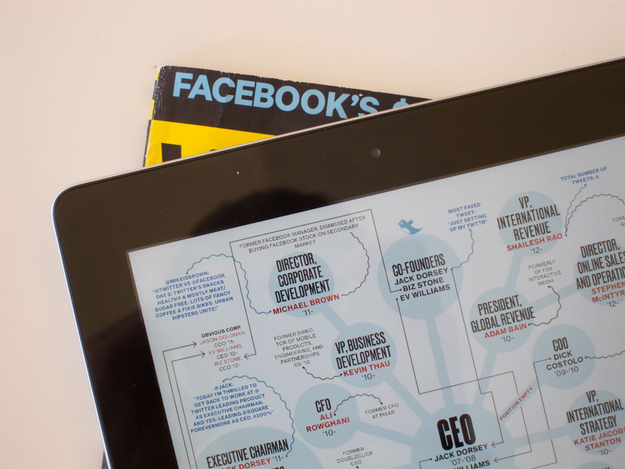 The original iPad's screen was smaller than a magazine page and much less sharp. That's why dedicated magazine apps were necessary at all: scanned pages looked terrible. All this stuff about "interactive content" and "iPad extras" was, at least for most companies, a way to dress up the point that regular print layouts have tiny text, and tiny text doesn't work at 1024x768.
But the new iPad's Retina display renders magazine PDFs, or "replica" editions, beautifully; reading a page in Zinio is almost like reading it on paper. It's nice. In contrast, none of the popular iPad magazine apps were prepared for the Retina transition, so they're all a blurry mess.
When they do make the transition, they'll pay a price: Wired's iPad issues already weigh in at hundreds of megabytes, and higher res images are only going to bloat them more. (A hundred page, perfectly legible replica issue of Men's Journal is taking up just 30 megabytes on my retina iPad.)
Newsstand and subscription support gave custom iPad magazine apps a boost last year, but I doubt a single one is making money for its parent company yet, or even coming close. Seeing a perfectly rendered print layout on an iPad has to make publishers wonder, what's the point?