By the time Jim Lehrer took the stage to demand silence from the waiting audience, they had been sternly warned at least twice already, by two separate officials. "Hopefully we can live for 90 minutes without these on," said debate commission Co-Chairman Frank Fahrenkopf, waving his smartphone. He ceded the stage to commission co-chairman Mike McCurry, who repeated: "You don't have to text, tweet or read an email."
One could be mistaken for thinking Lehrer and co. were admonishing a chattering, keyboard-tapping press corps to just watch; in fact, the debate hall is virtually devoid of press. The impressive swath of the political press that flew to Denver for the first debate of the election, whose employers spent thousands of dollars to be here, are sequestered in an auditorium far away from the stage. All the bloggers and wire reporters and nationally famous TV presenters sat at desks and booths in a Denver University gym, under basketball hoops that are folded up but hardly out of view. They are prohibited by men in uniforms from entering or even viewing the floor, and in turn, the debate.
America's political press has, quite possibly, the worst seats in the country.
Minutes before the candidates took the stage, sitting at one of BuzzFeed's allotted desks, I could see the following: A well known political reporter eating his second bag of peanuts, staring the Real Clear Politics poll tracking page. To his left, another reporter waiting for a video file of some sort to download — it wouldn't, because the event Wi-Fi ($175, courtesy of Paramount Convention Services) was down, as it seemed to remain for much of the debate. Two seats over is a woman sitting back in her chair with Tweetdeck opened to full screen; to her left, a man is practicing taking a photo of a nearby TV screen with a $1500 DSLR.
Ben Smith, our editor, has just returned. He had to make a run to a nearby Apple Store to pick up Ethernet adapters for the team's laptops. After some frustrated finagling, the three Ethernet lines ($975) are working, sort of.
From the perspective of the press room, the beginning of the debate is an unmitigated disaster, but it's no fault of the candidates. The image on the numerous televisions is woefully out of sync with the audio broadcast to the room.
The effect is slightly nauseating and at first funny, but not many were laughing.
Reporters were in Denver to gauge the tone, cadence and general affect of the candidates on stage. They were here to identify zingers and gaffes. Neither of those things are recognizable in this poorly dubbed edition of the debate — the edition that everyone in the room, from politicians preparing for on-site post debate spin, such as Marco Rubio, to TV pundits who will be asked to broadcast in its immediate after math, such as Lawrence O'Donnell, is stuck with.
One reporter in front of me literally threw up his arms when the audio fully cut out nearly 20 minutes into the debate. It had been, for about a minute at that point, garbled and echoed to the point of unintelligibility. It returned shortly, finally in sync.

Modern debates were born a media contrivance, made for TV from their genesis in 1960. The presence of a live audience, then, was always a bit strange. In the beginning, they provided a familiar TV aspect to the proceedings — a live studio audience, effectively. They created tension, and silently, with their mere presence, goaded candidates to behave as if in front of a group of humans rather than a dark lens. Debates were, and are, produced in the old style: carefully staged and planned pageants, meticilously controlled save for two (or three, as Jim Lehrer reminded us tonight) human variables.
A modern presidential campaign, however, is a TV show from beginning to end — a modern one, owing more to reality TV than vintage game shows. The utter dominance of social media during the debates makes the anachronism that much starker: the people with the best view in the entire press room were probably the team from Twitter, who kept a real-time tweet-rate stats page open at all times. In a way, they were first ones to know which of the candidates' "gaffes" were actually gaffes.
But even Twitter, a crutch for nearly everyone in the room, fell short. My modestly populated feed was moving too fast to read, and the hall video was unwatchable. I found myself with nowhere to look. Closing my eyes and just listening seemed like a sensible option.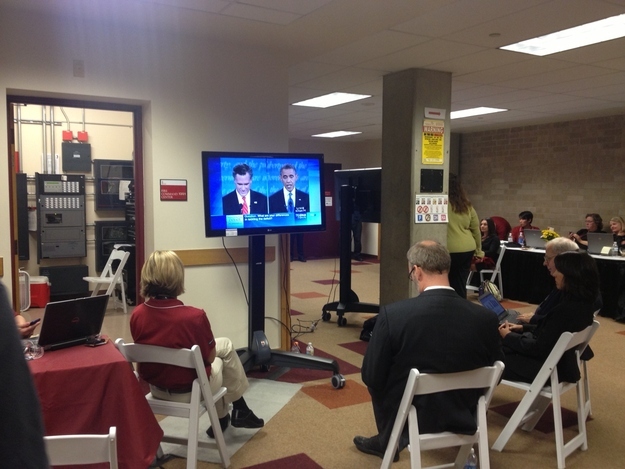 The Reddit/Buzzfeed debate viewing party, held in an Irish pub downtown, was far from an ideal venue for a Very Serious Debate Watcher. Nor was the taxi ride there, where volumes of the radio and the talkative driver were slightly too low and high, respectively. But there's a real argument to be made that both were more effective positions from which to judge the debate as it happened. Reporters and other viewers watching on TV remotely were certainly at an advantage, at least when it came to knowing what was said and what it means for the campaign.
The debate, my first, bore an uncanny resemblance to an event I've attended for years. CES, the largest tech trade show in the world, has been a must-attend event for the tech press for decades. The internet has changed that, perhaps faster than other trade shows. The prevailing sense today is that the show is dying — that it's not worth going to. This year, some of the biggest tech publications are scaling back. Why would you travel to an event that's basically made for the internet?
You have to wonder whether, in 2016, the political media might start asking similar questions.