So, Microsoft is making a tablet. Wait, let's just say this like normal people will say it: Microsoft is making an iPad. It's called the Surface.
- This is a big deal! Mainly because a) we haven't realllllly seen what the Windows iPad competitor is going to be like and b) Microsoft rarely makes its own hardware. Like, you can't buy a Microsoft laptop. Anyway!
- Actually, Microsoft is making two iPads/tablets — the Surface RT, and the Surface Windows 8 Pro. They're sort of named after that crazy old touchscreen table Microsoft released five years ago.
- The main difference is that they run different versions of Windows 8 — one for ARM chips, which are the low-power-consumption processors you find in smartphones and most other tablets, and the other for normal Intel chips, like you'd find in a laptop. Here's what Windows 8 looks like.
-The Surface RT is the cheaper ARM-based tablet, so it's basically a direct competitor for the iPad. It'll only run apps specifically designed for Windows tablets in the same way that an iPad only runs apps designed for an iPad. It'll be thinner, too; about as thick as Apple's tablet. It's got a 10.6-inch, 1366 x 768 screen and weighs about a pound and a half. If the iPad is a giant iPod Touch, this is a giant Zune HD. Or a giant Windows Phone.
- But but but! There's another version, because this is Microsoft and Microsoft is pathologically incapable of releasing a product with only one version. The Surface Windows 8 Pro has a cool name the full version of Windows 8, which means in addition to running tablet apps it can run regular old Windows apps, like Office or Photoshop or, I don't know, Minesweeper? Battlefield Deathkill 13: Violence Doer? It's pretty much a very thin laptop with a touchscreen. It'll also have a nicer 1080p display, a stylus and a USB port. "For professionals," Microsoft will say. "For people who maybe don't actually want a tablet," everyone else will say.
-Both of them are made out of M A G N E S I U M. And both will have these cool/weird/LOL/OH????/hmmm/well/ok/yes/we'll see case-keyboard combos. The bigger one will have air vents, because again, it's pretty much a laptop. A laptablet. Laptoplet. Tabtlop.
- We don't know how much these things will cost, btw. We can guess that the RT one will probably be about $500 the the Pro model will cost something closer to $1000. Let's say... $800? Sounds right.
The most amazing thing about it is the Touch Cover
- It's 3mm thick and it's also a pressure-sensitive multitouch gesture surface for typing. Since Surface is running Windows 8, that means the difference between a tablet and a PC just got a little bit tinier. You're not carrying a giant keyboard. It's simply built into the cover.
- It sees keystrokes as gestures. Microsoft says the Touch Cover senses touch faster than any other touch keyboard — so you should be able to type real fast.
- It's also got a multitouch trackpad built in. Though it looks kinda small.
- It attaches magnetically, just like the Smart Cover from you-know-who. It's supposed to feel like the spine of a book, though. It knows when it's flipped to the back of the tablet so you don't accidentally type in a bunch of stuff.
- There's also a 5mm-thick Type Cover with a real keyboard built in. If touch isn't enough.
The case is hardcore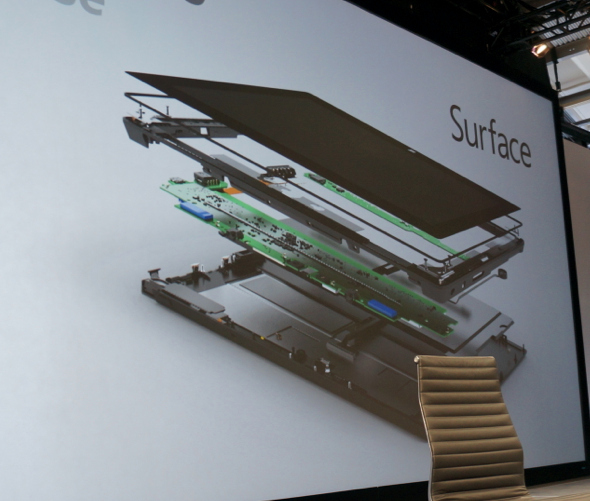 The case is made with VaporMg (pronounced like "Mag.") It's Microsoft's name for the production process, which requires 152 steps to get to the finish, starting out as magnesium.
It's what allows the Surface to have a built-in kickstand and still be just 9.3mm thick. Kick. Stand. No $40 magnetic case needed.
- This is the only tablet that might be competitive with the iPad in terms of being good. Unless Google shows something amazing at Google I/O next week, which is possible.
- For ages and ages, Microsoft has been one (old) kind of company. They make the platform, other people make the hardware. Windows and Office always needed Dell and HP and Lenovo.
- In the last few years Apple has become the world's biggest company by doing the exact opposite. With the Xbox, Microsoft has proven that it's at its best when it's controlling everything. In other words, Microsoft is at its best when it's acting like Apple. This thing, whether it works out or not, is a loud-and-clear message from Microsoft that the Bill Gates era is finally over.
And finally, here's what it looks like in real life