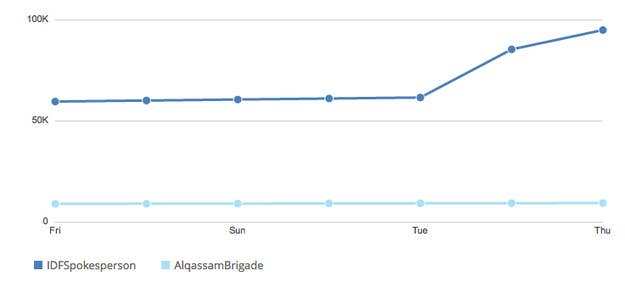 There are a lot of ways that people try to game Twitter. Most don't work, but through a series of jarring and controversial posts this week, the Israel Defense Force has found one that does: declarations of war, or at least violence.
On Tuesday, the @IDFSpokeperson account had 61,427 followers. In the last two days, it has grown by over half, with 23,808 new followers yesterday and 9,563 new followers so far today (as of 9:55 a.m., EST). The @AlqassamBrigade account, with which the @IDFSpokesperson account has been sparring, has shown more modest gains.
Caitlin Dewey at The Washington Post makes the case that it's actually Hamas that is winning the "Twitter war," based on the vastly higher usage of the free-floating #GazaUnderAttack hashtag over the #PillarofDefense tag, which was created by the IDF account. The numbers are stark but may not be appropriate to compare: One reads like a headline, or a news package tagline, while the other is a slogan from a propaganda outlet. (Not to mention that the gap is not as wide as it was yesterday.) One affirms a viewpoint far more than the other. More importantly, @IDFSpokeperson's new reach will be there tomorrow, and the next day, and the next.
To talk about Twitter followers while the specter of violence looms worryingly large might seem trivial. But if you ignore the proper nouns for a second — "Twitter" and "The Gaza Strip" juxtapose uneasily — it's easy to see that, at least in the information war, tens of thousands of nearly instantaneous enlistments is significant. And real.