The Newest Frontier In Political Advertising: Partisan Wi-Fi
A new router hack replaces website ads with political messages. Friendly advice for IT guys: Unless you work at a campaign office, you might want to skip this one.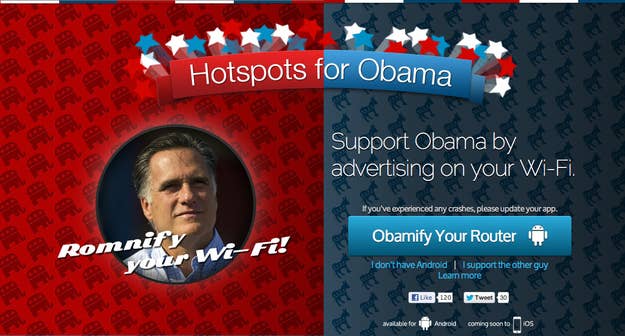 Here's a good way to make roughly half of your customers angry: A new app can change your router settings in such a way that will replace most internet ads with political messages:
With one click of their smartphone, a user can configure their Wi-Fi network to replace all web advertising with ads for their candidate of choice (as well as ads for voting location, updates, etc).
The project is called HotSpotTheVote, and has an app for both Mitt Romney and Barack Obama. Its creators say it would be most effective in the hands of "businesses that offer free Wi-Fi (coffee-shops, etc)," but also great for "somebody who wants to set up their favourite candidate's ads on their Home Wi-Fi network." The creator, this guy, describes the effort as part of "a startup," and not affiliated with any campaign but instead with Rock the Vote.
You can download the apps for Android here — quick installation requires a smartphone and your router password, but there's a manual method for people without Android handsets.
It's long been possible to block ads by changing your router settings, but it's never been a particularly simple process. Might I suggest an apolitical version of this app that just does that?