The New Gmail And The Return Of Inbox Zero
Gmail will soon split your inbox into four pieces: one mailbox and three feeds.
At some point, my inbox ceased to be a mailbox and became a feed.
I'm not sure when it happened, exactly, but I know this: Five years ago, I could keep up with my inbox, and I read everything in it that wasn't spam. Every message was dealt with. Today, my inbox is sitting at 6,785 unread messages. I'm behind, sure, but not 6,785 messages behind — most of those emails aren't really emails, but ambient information. They're updates from Twitter and Facebook, newsletters, and pitches mailed to multiple people. Messages that I need to see but don't really need to read.
Another way to frame this is that a new type of information had begun to crowd my inbox: feeds. Feeds from companies, from services, and even from people. This, despite the new Gmail's four categories, is the division that Google is trying to address. Feeds killed Inbox Zero as we knew it.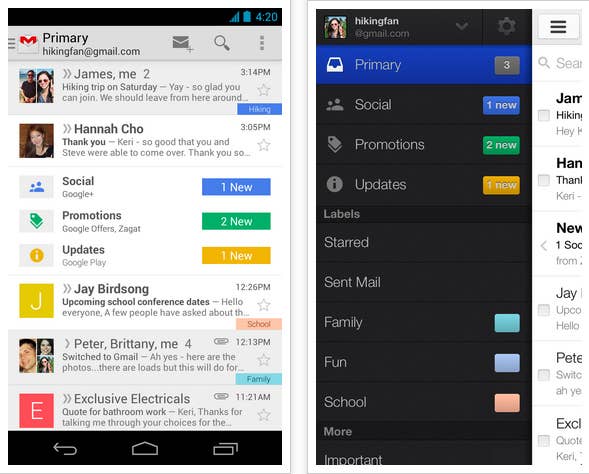 The new Gmail will roll out over the next few weeks, and it separates feeds and emails in an explicit way. Previous attempts to deal with this issue, such as Gmail's Priority Inbox, were helpful but interfered with the feed messages a bit too much; the new Gmail inbox demotes feed messages without breaking up their flow.
It also suggests the possibility of the return of Inbox Zero — at least, for the "Primary" tab. Those, presumably, are just the emails that need to be dealt with, a sort of pre-2007 version of the inbox. And this quote from Google's announcement is promising:
In the Gmail for Android 4.0+ and Gmail for iPhone and iPad apps, you'll see your Primary mail when you open the app and you can easily navigate to the other tabs.
In my ideal world, this default setting would extend to the notification systems of both Android and iPhone. The small red "Unread" indicator on my iPhone, or the messages in my Android tray, would only tell me about my Primary inbox.
After all, I rarely actually read messages sent to my inbox by Twitter — scan in list view, more like — so why should they be counted against me?