The Last Console Generation Took Four Years To Peak
An alternative history of the console wars.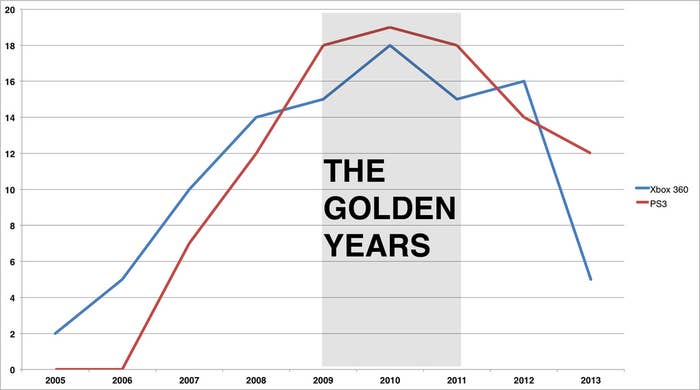 18 of the 100 best Xbox 360 games were released in 2010, according to Metacritic. 19 of of the best 100 PS3 games were released the same year. 2009 was a great year too, with 15 and 18 of the best Xbox and PS3 games, respectively; 2011 had an identically strong showing.
This, you might say, was the golden era of the last console generation, and it started four years after the generation began. This was the era of Uncharted 2, of Red Dead Redemption, of Mass Effect 2, of Skyrim, of Arkham Asylum and Arkham City. This is the era when the Call of Duty series peaked; the same could be said of Assassin's Creed. This was when indie games finally broke through — it was when we first played Braid and Limbo, for example. (Not reflected in the data: the early, series-defining hits, such as Gears of War and GTA 4, were by this time available for $20 at virtually any Gamestop. A truly great time to become a gamer.)
This peak is reflected somewhat in console pricing and sales, too: In September 2008, the Xbox 60GB came down to $300; in 2009 it fell to $250; by 2010, you could buy a 4GB Xbox 360 Slim for $200, or a decked-out 250GB model for $300. By 2009, you could buy a PlayStation 3 for $300. It wasn't until 2011 that the PS3, which by default included a large hard drive, fell to $250. 2010 and 2011 were the top sales years for the Xbox and PS3, respectively, which is kind of crazy — imagine making that prediction in 2006. (Both consoles are now available for $200 or less.)
This is not to say that you should necessarily ignore the next generation of consoles until 2017, or that this console generation will evolve in the exact same way as the last one did. But is a useful way to think about these consoles at launch, and a reality check for the coming holiday season.
Right now you're not buying a console, you're buying potential. And potential, in the world of changing, updateable platforms and surprise hit franchises, is extremely hard to judge.