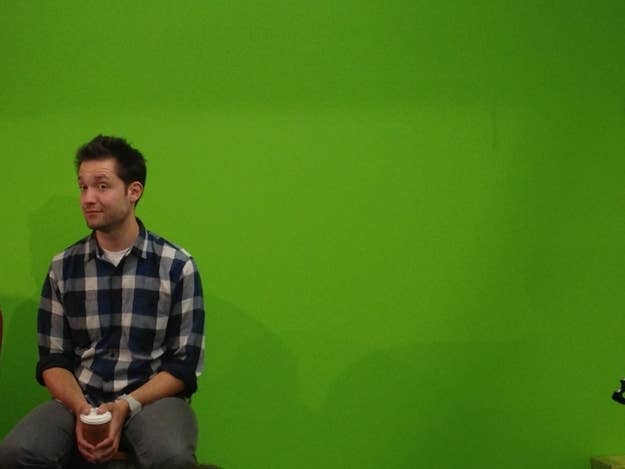 At an event held in Boulder, CO, on Thursday night, Alexis Ohanian, co-founder of Reddit and key figure in the online fight against the controversial SOPA and PIPA bills earlier this year, shared a loose thought: "This may be a terrible idea," he volunteered, "but what if we chose a day to 'geek bomb' DC, and we scheduled meetings with representatives and senators?" He went on. What if we "brought in geeks from every one of their districts, for one day, to talk specifically about these issues?"
His language instantly became less conditional. "It'll be [an] organized setup, kind of like a flash mob on DC," he said.
"A national Geek Day."
And just like that, we see how Reddit's next chapter will start: in politics.
The event was held as part of a bus tour organized by Ohanian and Reddit General Manager Erik Martin to raise awareness about internet policy. (The tour started at the debate in Colorado, and ends at the next on in Kentucky.) The subject of the panel was "Startups + Politics: Why You Should Give A Shit," and it took place in the office of a startup, Simple Energy. This is precisely the kind of general, vague plan you might expect to hear during a panel in front of these people, in this room.
But by the end of the night the campaign — event? holiday? — was already taking a recognizable shape. Dates were floated, volunteers stepped forward. One attendee approached Ohanian after the panel to ask him if he would spearhead an effort to write a constitutional amendment for internet freedom; he wisely and gently demurred. But this was just minutes after he explained to the crowd, virtually unprompted, how he deals with people who ask him if, or "when," he said, he might run for office. (The "decision tree," he says, leads him to believe that for the "foreseeable future," he can do more to change politics from the outside.) There was to be a new subreddit. At the time of writing, /r/geekday is unoccupied. Update: In the minutes since posting, another fold in the plan: a possible Geek Day pilot, or beta, focused on a single state's legislature.
Asked if he intended to see the campaign through, no more than an hour after first mentioning it, a visibly animated Ohanian told me, "Of course!" The idea, he admitted, came to him while he was on stage.
"SOPA/PIPA was the start, the Declaration [of Internet Freedom] was a next step, the Internet Defense League was another step," he explained. "Getting Republicans and Democrats to include the language of internet freedom in both their platforms was another step, this bus tour is another," he went on.
The recent visit to Reddit by Barack Obama, who participated in a hugely popular (if somewhat unsatisfying) Q&A with users, was the most visible aspect of what is certainly a moment for the site; it's obvious within minutes of talking to Ohanian just what kind of "moment" Ohanian believes this to be.
Reddit, in his vision, has become a political force and as such bears a new responsibilities. As one of its leaders (since focusing on his other startups, his only official position at Reddit has been on the board, but he still works closely with the site), he sees himself increasingly — maybe even primarily — as a political figure.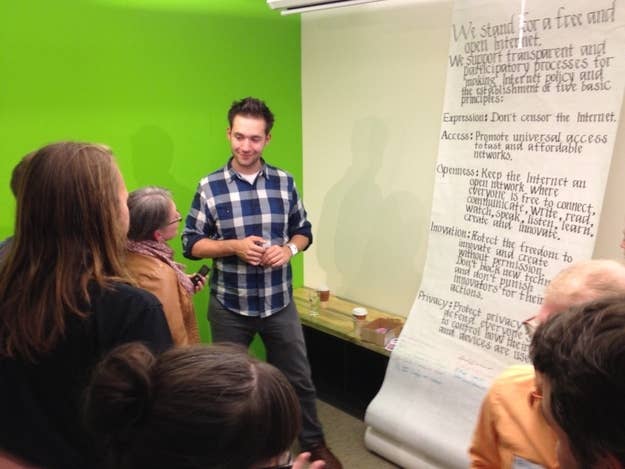 "We have to be smart about which day we choose," he continues. "I'm sure... we can find people in every district across the country who would be willing to speak on behalf of of us with some very specific asks for their congressmen and senators."
Erik Martin, who watched this improvised plan come together from the other side of the stage, rolled with it. "The fact that it came to him while it was onstage, and that it had this call and response effect with the audience, that people seemed to think it was a good idea... I mean, that's how we came up with this tour." That's also, not coincidentally, a pretty good description of how Reddit functions on a basic level.
As for Reddit's increasingly deliberate forays into politics, Martin says, "each time we try to dial it back... there's such a hunger from the community."
"People now expect us," he says, "if not to tell them what to care about, at least to help them figure that out." Tonight was step one, and a special new section on the site — a subreddit — will be step two. It's very likely that there's already no turning back; soon the fate of Geek Day will be subject to the whims and desires of the vast, productive, unpredictable and sometimes vexing crowd that is the readership of Reddit.
I asked Ohanian if he was settled on the name, which started as "a geek day" and solidified over the course of the panel into "Geek Day." Ohanian paused. "Maybe it's startup day? Startup America is already a thing. Geek Day is nice because it's simple."
He admitted, however, that "the internet will probably have better ideas."