The Insane Anthem Of The Brogrammer
"The words 'Micro' and 'soft' don't apply to my penis (or vagina)." This song, accompanied by a sexy dance routine, was performed at a large European developer conference.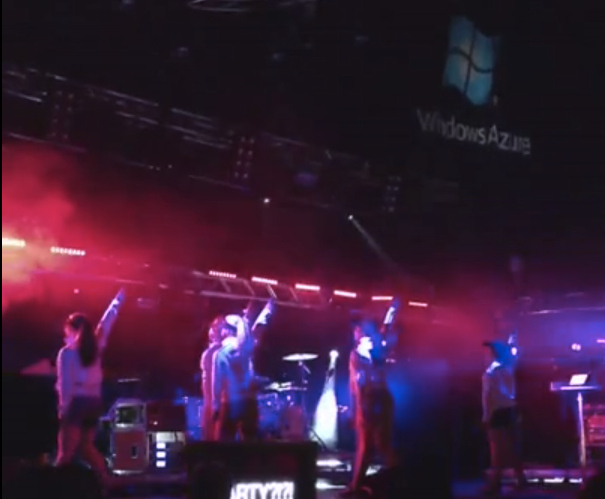 Tech conference culture can be off-putting. I don't know if it's the gender slant (mostly male) or the particular mixture of odd personality types (alpha programmers, tech executives and eager-to-please PR people) or the locations (usually some grim conference center, often in Vegas), but the effect can be alienating, even to someone who's predisposed to like talking to people about software development.
But generally, that's fine — these are first and foremost professional networking and education events, not social gatherings. The last non-Apple developer conference I went to, Microsoft's MIX, was an awkward experience, but a generally positive one.
This kind of thing, though, really doesn't help:
The routine, flagged by Todd Bishop, preceded a Microsoft presentation about upgrades to its cloud platform, Azure, at the Norwegian Developers Conference last week. Microsoft, for its part, is publicly mortified.
If you don't yet know why people are up in arms about "brogrammer" culture, try this: put yourself in a frame of mind in which equating your programming expertise with having a big hard penis (or, apparently, vagina) is funny. Now imagine hundreds of people with a similar mindset, all laughing at the joke together. Now imagine that your professional success depends on getting along with, working with, and impressing many of these people. Now imagine you're a woman.
I've transcribed the lyrics to the song below, in case you're looking for something to scratch into a bathroom stall at WWDC today:
It's the NDC

Program people!
Code fast code hard
It's the ND conference
Where developers are ready
for a rad experience
We are here to talk software
We're here to talk bugs
Tonight we're gonna party and
coding is our drugs

Let me hear you scream out loud, loud loud
(It's the NDC, It's the NDC)

[squealing]
I'm a software developer
I'm developing
And I'm here to party
I'm a software developer
I'm developing...
For the rest of my life
[squealing]

Come on!
Party people!

I've got the skills to impress
I'm a computer genius
The words "Micro" and "Soft"
Don't apply to my penis (or vagina)

I do CSS

It's my LSD

And XML

Is my ecstasy

The perfect way to to get tripped

Is to decrypt

A javascript

[squealing]

I'm a software developer

I'm developing

And I'm here to party

I'm a software developer

I'm developing...

For the rest of my life

[squealing]

Developers!

Are you ready for the NDC experience?

You hear Christian Johansen

and you can stop dancing

You see Mike Cohn

He's got it going on

[Indescipherable" Jon Mccoy
Is filling you with joy
And Lea Verou

Will make your dreams come true

[squealing]

I'm a software developer

I'm developing

And I'm here to party

I'm a software developer

I'm developing...

For the rest of my life

[squealing]

x3