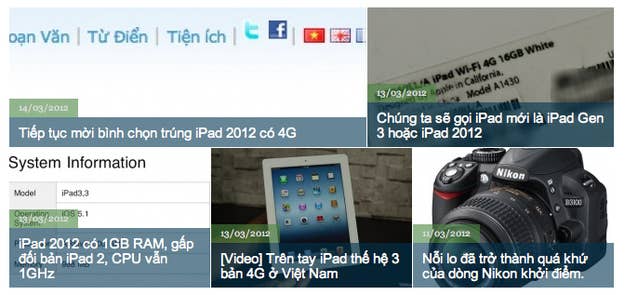 Nobody has a new iPad right now, save for Apple staffers, distributors and a few contractually gagged reviewers. Nobody except a guy who goes by Sonlazio. He's not only got one, but he's got video. He's got a review. He's got benchmarks, for god's sake.
This is the kind of scoop that makes a gadget site. Engadget, The Verge and Gizmodo — hell, even the NYT and WSJ — would do terrible things for one of these, but they never had a chance. Sonlazio posts on Tinhte.vn, the massive Vietnamese gadget site that Americans ignore until they can't; that is, until they scoop everyone again.
In the last few years, Tinhte has: Gotten a new iPad before anyone else; nabbed a prototype iPhone 4 a few days after Gizmodo did, showing off its software, white finish and 64GB storage; snatched an early iPod touch with a camera; released images of the first Palm Pre; leaked Apple's new laptop lineup; leaked Nokia's flagship N9 phone; played with the BlackBerry 9900 before anyone else; posted the first review Samsung Galaxy Tab 10.1; and revealed Dell's first portable tablet. And that's just a sampling. This just kills American gadget writers – these feel like they come out of nowhere.
Of course, they don't. Tinhte has editors, but they don't get the scoops. Tinhte is a forum, first and foremost, and its millions of users are what makes it work. The site was founded in 2006 as a straightforward tech forum. "We help members and guests focus on topics that post on home page," says Tinhte editor Nguyen Ho Tu Nam. In other words, they harness the mob.
And it's a huge mob: Nam sent me some analytics that put Tinhte at over 30m users a month — bigger than Gizmodo, the Verge, and Engadget, the largest of which is, to the best of my knowledge, well under 25m. They're the 12th biggest site in Vietnam, a country, Nam says, that's obsessed with gadgets: "Vietnamese [people] love hi-tech gadgets, smartphones, tablets… and long to get them in hand. In Vietnam, we don't have many outdoor entertainment centers, so people spend their time on internet, on hi-tech gadgets."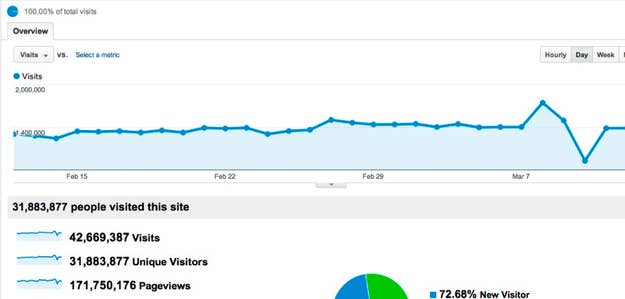 Obsession is obviously part of it. (The name, fully written as "Tinh tế," roughly means "subtle," implying total fixation on details, specs, etc.) But it doesn't explain how Tinhte users are so able to get these gadgets. The theory people usually run with is that, well, Vietnam is kind of close to China, so, like, maybe people have friends at the factories? That's not it, says Nam. "We have good relationship with hi-tech shops in Vietnam," he says, "and these shops have their own network with people who live abroad."
It's the distributors who leak these things, for the most part. In yesterday's post about the leaked iPad, for example, Sonlazio thanked a gadget shop by name. Can you imagine Engadget thanking, like, Best Buy for a scoop?
Nam can't help but jab his overseas counterparts, just a little. "Actually, we can safely say that over 90% of leaked products were brought here from the States," he tells me. That's how Tinhte wins.