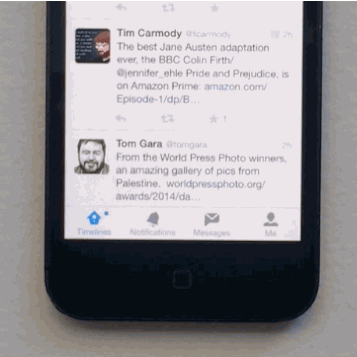 Here is a partial list of apps I use more than the "Phone" app on my "smartphone":
• Messages
• Gmail
• Twitter
• Facebook
• Instagram
• GroupMe
There are probably more, but these are certain. Most of these apps I use to talk to friends, family, and co-workers. My smartphone is much less a phone than a messaging device and feed delivery system; it's a screen I use to respond to friends in some apps and check for new updates in others. And I don't think I'm alone! This chart, released last year by Flurry, roughly outlines real-world smartphone app usage: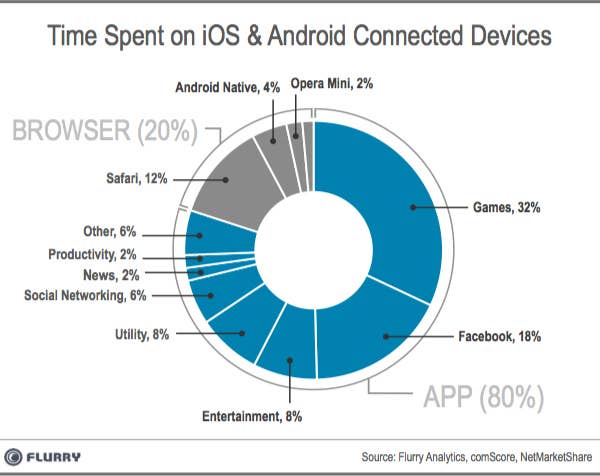 Since this study was released in April, virtually every major social service has reported a large increase in mobile usage. This is the new normal: Time spent on smartphones is time mostly spent playing games, messaging with people, and checking feeds.
Using your phone as a messaging/feed device produces some subtle consequences. One is an emphasis on notifications: Apps are often opened from a lock screen, through recent alerts; switching apps occurs in a similar way, through the notifications tray. Another is the de-emphasis of the homescreen, which (in my case) is used mostly to launch the apps I consider important but use less frequently: utilities like Google Maps, the camera, Instapaper, and the alarm clock. The iOS and Android homescreens, once declared "the most valuable real estate in the world," are becoming irrelevant.
The largest beneficiaries of this change have responded gradually but in largely the same way. Facebook, likely the most-used third-party mobile app in existence, added "Chat Heads," which made Messenger notifications much more prominent than before. Twitter, later that year, added in-app notifications and improved Direct Message support. In adding Direct, a messaging feature, Instagram also added a new notifications tray to its app. Paper, Facebook's ostensibly news-oriented new app, contains four different ways to notify users of new Facebook activity.
These apps are unmistakably trying to become your homescreen. They want to be the default, the anchor, and the starting point. They know you want to be distracted, kept up-to-date, and notified — but they want that to happen within their interfaces as much as possible.
If you subtract platforms from the conversation, this is just another expression of the messaging wars. But it's not enough to own the most popular channel when all the channels are so similar — there is a sense, I think, that the channel that wins will be the channel that feels most like home.
Facebook suggested as much last year, with the launch of Home, a Facebook-centric Android home screen replacement. It was a failure, but perhaps also a useful too-much-too-soon preview. It presumed — not without evidence! — that Facebook had become the center of many of its users' phone experiences, and reimagined the operating system around that presumption. It presumed that app launching was secondary to app using, and demoted the icon-grid touch homescreen, which is rooted in an entirely different era of computing. It suggested — again, rightly — that an operating system designed around the apps people use most today would look very little like iOS or Android.
But also assumed, wrongly, that users were also ready for monogamy, or something close to it. And so it bombed.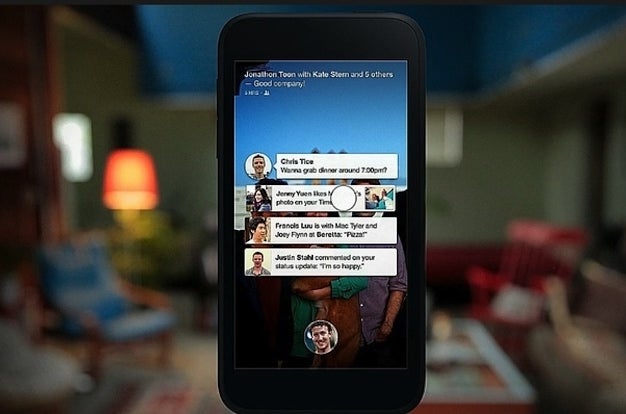 The only piece of Home that's still around is Chat Heads, which it introduced and promptly handed off to the main Facebook app. But its legacy is apparent in many of the other major social apps. They're not quite asking for monogamy, but they're hoping for a little commitment. They don't just want to be the apps that you launch most often. They want to be the homescreen that other apps have to distract you from.
In other words, they know they're the new centers of the smartphone experience. Now they're just acting like it.