The Only Apple Rumors That Nobody Cares About
The seemingly impossible task for China Labor Watch: to make a world of Apple lovers care about worker abuse. A heartbreaking report, and a disheartening response.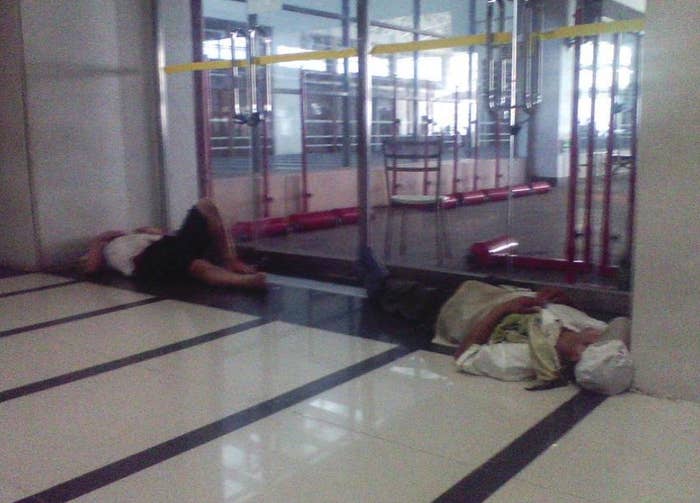 Undercover investigators working on behalf of China Labor Watch, a nonprofit based out of New York and Shenzhen, China, claim to have uncovered a shocking litany of labor abuses at the factories of Pegratron, one of the suppliers Apple uses to make its products. According to the report, investigators found "at least" 86 labor abuses, including use of underage workers, gender discrimination, racial discrimination, health and safety violations, work hours exceeding those set by both Apple and the Chinese government, cover-ups of said work hours, and straightforward abuse by management. It's an exceedingly grim picture.
So it's a bit jarring to see The Next Web, one of the largest tech sites in the world, writing up the following report:
Speculation surrounding Apple's long-rumored budget iPhone has escalated over the last few months, but a first-hand report by China Labor Watch today all but confirmed the handset's existence.
The site notes that the findings came as a result of an investigation to "assess alleged labor rights violations," but immediately changes the subject again with this neck-snapper:
Although the report focuses on workers' pay, hours and working conditions, it also confirms the lower cost plastic materials being used in Pegatron's Shanghai factory to create Apple's upcoming budget smartphone.
The Next Web is not alone — many other sites have framed the news in a similar way. And, to be clear, an unannounced major product from one of the most important companies in the world is most definitely news (update: and, as TNW's Matthew Panzarino points out, the site did cover the core of the report last night).
But is it bigger news than the human suffering allegedly caused by building it?
"For the very reason there are people like this, we are going to keep doing our work," says Li Qiang, executive director and founder of China Labor Watch. "We need to change the thinking on it," he says.
By nature, reporting critically on a large company, or one of its suppliers, is difficult. The organization sent several undercover investigators to pose as employees at Pegatron for multiple months, which allowed it to construct a report that is both detailed and based on first-person knowledge, not secondhand reports. The stakes are high, and the pushback can be severe. "The last two times that we've published reports on Apple, our website has been attacked, to the point that we've had to have it recovered by an expert," says Li. "We don't know for sure [where they're coming from], but they're always connected to Apple," he says.
But while such bold tactics and shocking findings might, in another context, inspire immediate widespread outrage and calls for change, China Labor Watch, and other organizations like it, face an even tougher challenge: People seem to have a hard time caring about workers in China, and people love Apple. "We've actually had people call us and say, 'This is influencing Apple's stock,'" Li says. "The investors are being influenced by this. The people are complaining but totally ignoring the labor violations."
"There are a lot of consumers that are just too far from where these thing are occurring," he says, "and it's just hard for them to really see past the Apple products."
It would be one thing if the general outlook for Chinese manufacturing workers was improving. But, Li says, this report gives reason to believe that progress is slow — or even reversing. "In the past we saw what was going on at Foxconn... and we thought maybe there would be something positive going on," he says. "After we did this report, it dampened our hopes. It seems like it might be going back. There's still a lot of violations at Foxconn itself, but Pegatron — the group of factories we just investigated — is even more serious."
Apple has issued a response to the report, saying that it "contains claims that are new to us and we will investigate them immediately," adding, "Apple believes in transparency and accountability, both for our suppliers and ourselves." And the report, so far, has generated a genuinely impressive amount of press and attention — as such reports usually do. But that attention tends to quickly fade into the background, each report becoming less distinctive in memory than the last. After a few more days of discussion, news of this report will dissipate, and attention will focus back to Apple's new iPhones, which are coming in a few months.
The "iPhone 5C," as it seems to be called, will likely be cheaper and come in multiple colors. Meanwhile, here's what's happening at the factory that's building it, according to investigators who lived there:



• Majority of workforce is composed of dispatch workers.
• Majority of workers hired by dispatch labor companies do not have five
types of insurance and a housing fund, as required by law.
• If dispatch workers do not complete three months of work at Pegatron, the
dispatch company will deduct a 600 RMB ($97) fee.
• Discriminatory hiring practices that restrict the hiring of:



• certain ethnic groups (Hui, Tibetans, Uighurs);
• people under 1.5 meters (4 feet 11 inches) tall;
• people over the age of 35;
• pregnant women.



• Discrimination toward women who are pregnant out of wedlock, do not
have a birth permission document from the government, or who do not
abide by China's family planning policies. Women who fall under these
categories cannot enjoy maternity leave at Pegatron.
• Matching the work load of most other workers, pregnant women are made
to work 286 hours of overtime per month; by law, pregnant women should
not be made to work more than 44 hours per week.
• During busy seasons, worker training does usually not meet the statutory
minimum of 24 hours.
• During worker training, the trainer simply lets trainees copy the answers to
the training test.
• There is insufficient time during training for workers to understand how to
utilize grievance channels within the company.
• Underage workers (under 18) do not receive any special protection,
working the same long hours under the same conditions as adults.
• The factory uses many student workers, some of whom are required to pay
fees or wages to their schools.
• Most workers normally work 63 hours per week during the low season and
66 hours per week during the busy season, both of which greatly exceed the
legal limit of 49 hours per week. Workers perform about 110 hours of
overtime per month.
• Workers are made to sign falsified overtime record sheets.
• Workers' 9.31 RMB ($1.50) minimum wage is insufficient to meet the basic
needs of life in Shanghai, making workers dependent on overtime work to
make a living wage.
• Unpaid overtime. Workers are required to join a 20-minute meeting every
morning without pay, adding up to a day of unpaid overtime over the
course of a month.
• Workers restroom breaks are limited. If a worker want to go to the
restroom for a second time in a single day, his team leader will scold him.

• 12 workers live in a single crowded dorm room.

Due to hundreds of workers having to share two dozen showers, some
workers are unable to shower until midnight.
• Even if a worker lives 20-minutes off campus, he or she must travel all the
way back to the factory to personally submit a sick leave application.
• Pegatron does not usually allow workers to take leave.
• Forced labor. Overtime is mandatory for most workers.
• Chemicals are used during the production process, but must workers lack
knowledge of the risk of these chemicals to their health.
• Insufficient fire escape routes.
• Lack of fire prevention training.
• Very few worker have the opportunity to participate in fire drills
And here is a recruitment poster, which among other things, suggests that Tibetans, Uyghurs, and pregnant women need not apply.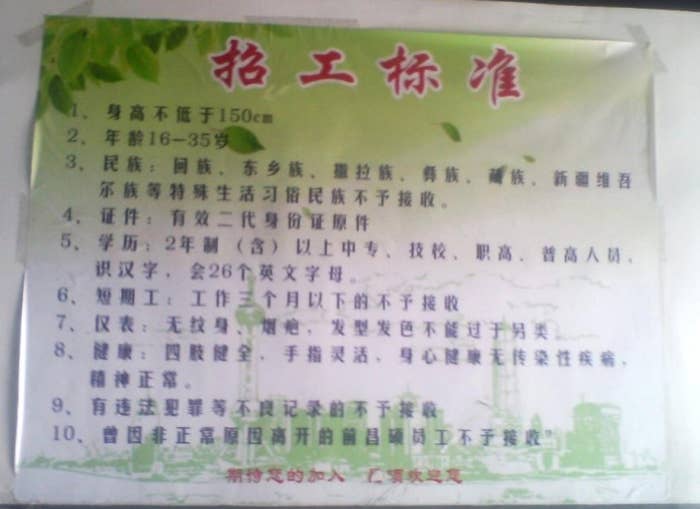 "September 18 is the date currently being banded about for the cheaper iPhone's official reveal," says The Next Web. "Not long now, it would seem."