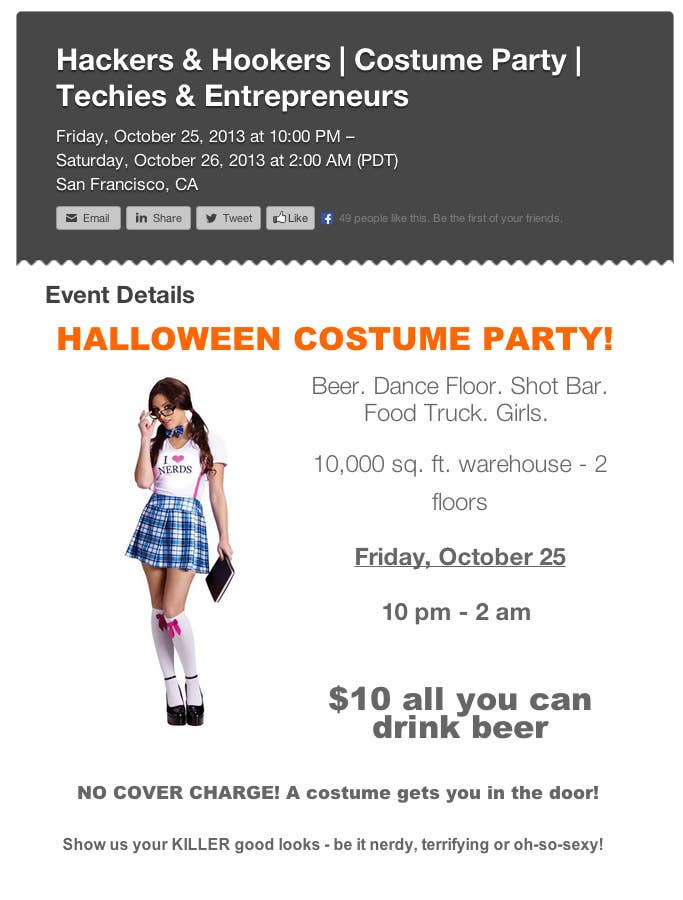 Is San Francisco's startup culture inherently, necessarily sexist? No. Is it, in its current manifestation, a difficult place for women to work and find work? Yes. Does it, for the same reasons, attract an inordinate number of flamboyantly piggish men? Probably!
Here's an invitation posted by hacker house/startup mansion/co-working space Hacker Hideout. It's perfectly symptomatic of a larger problem: Men are hackers, women are hookers; beer, food trucks, "shots bars," and girls are attractions.
Here's how Hacker Hideout describes itself:
Hacker Hideout is a member based community center in San Francisco for thinkers and builders; tech lovers and business moguls; students and teachers alike. We are and like to think of our facility as a co-working space, micro incubator, socialecotechnological (yes we made this up) think-tank, and social event center for Hackers, Builders, Designers, and Shakers of San Francisco.
Now, here's how Twitter has been describing Hacker Hideout's party:



A reverse image search on the listing's images will bring you to an AirBnB listing which sheds a bit more light on this "hacker house": For $35 a night, or $700 a month, you can rent a "shared room" in a house located in what is arguably San Francisco's most dangerous neighborhood, Bayview. (Also one of the nation's most polluted.) Contrary to the listing's suggestions, this area is not convenient to downtown. The host, James, says of himself: "Most of my time these days are spent working on several entrepreneurial ventures and playing with my adorable daughter."
The way it's marketed seems like a thin ploy to lure tech-inclined out-of-towners into a less-than-ideal living situation. Of the house's three reviews, one is positive. "This was not a restful experience," says another. "no wifi. Sounds like it should be an obvious thing to provide if you claim to cater to 'temp techs,'" it says.
In any case, print out this invite for the next time someone tries to tell you that industries can't have cultures, or that those cultures can't be rotten.