Listen To 62 Years Of The Billboard Charts In One Place
Pour yourself a drink and settle into the couch. This is going to take a while.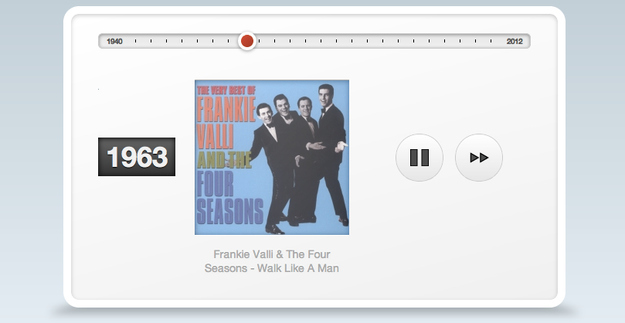 Go here, pick a year, hit play. DONE, congratulations, you're a trendy time-traveling teenager.
Radio Time Machine taps into the massive music library at Rdio — the other Spotify — to assemble a browsable, listenable timeline of six decades of popular music. Each year's station queues up 10 or so tracks; all you have to do is press play or skip (you'll be doing a lot of skipping). Rdio subscribers get full songs. Everyone else gets 30-second samples.
Really, trust me on this: take an hour, maybe two, and work your way through the years. It's the the easiest, and best, history class you'll ever take. (Also: what the hell is up with 1951?)