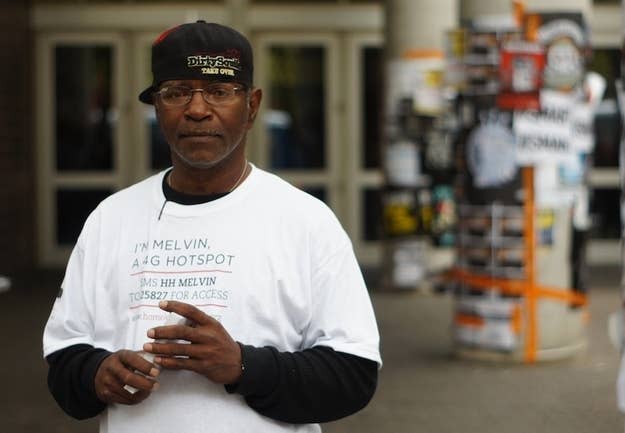 Much has been written about SXSW's "Homeless Hotspots," and the backlash has been swift and harsh. Melvin, an Ohio native, has been working the sidewalk outside of the Austin Convention Center for the last four days, offering people access to Wi-Fi in exchange for the suggestion of a donation, and doesn't seem perturbed: "It's been pretty much straight up," he told BuzzFeed FWD. That said, "I think it would be, from my aspect, more helpful to know what my income is — my compensation."
Melvin became part of this experiment, which was masterminded by marketing agency BBH, through a local homeless shelter called Front Steps. "They gave me the information about this. I just opted to get involved." Melvin's profile on the HH website is here.
He says it's been busy, but otherwise OK. "People have been polite for the most part, yeah. I mean you have that select few." I sense that he's getting a lot of questions about the program rather than access codes, which is getting tiring.
Asked about the public's reaction — namely claims that the program is demeaning or, as the New York Times said, "a little dystopian" — Melvin smiled. "I don't feel that way at the moment, heh, but of course that all depends on some other issues." Issues like money, mostly, which he and his coworkers won't know about for about ten more days. People donate through PayPal, out of sight of the Hotspot holders themselves.
Melvin, who declined to give his last name or his age, appears to have kept a positive outlook about the whole thing, and about his own plight, which he also declined to talk much about.
"I would say that these people are trying to help the homeless, and increase awareness. They're trying not to put us in a situation where we're stereotyped. That's a good side of it, too — we get to talk to people. Maybe give them a different perception of what homeless is like," he said.
"It's all good."
You can find Melvin at SXSW at Trinity and 3rd. Here's his PayPal link. Anyone can donate.