Dropbox's Twitter Push Notifications Are Likely A "Bug"
The day after its IPO announcement, users are getting some surprising — and intrusive — notifications from Twitter. Updated: It appears they're the result of a bug.
The day after Twitter formally announced its plans to go public — which will hinge on its strength as an advertising platform — some users received an unusual and novel notification: an iPhone push notification from a brand.
This morning, my phone buzzed with a new message from Twitter. My account is set up such that Twitter only sends notifications to my phone on the receipt of a direct message. But this is what I saw: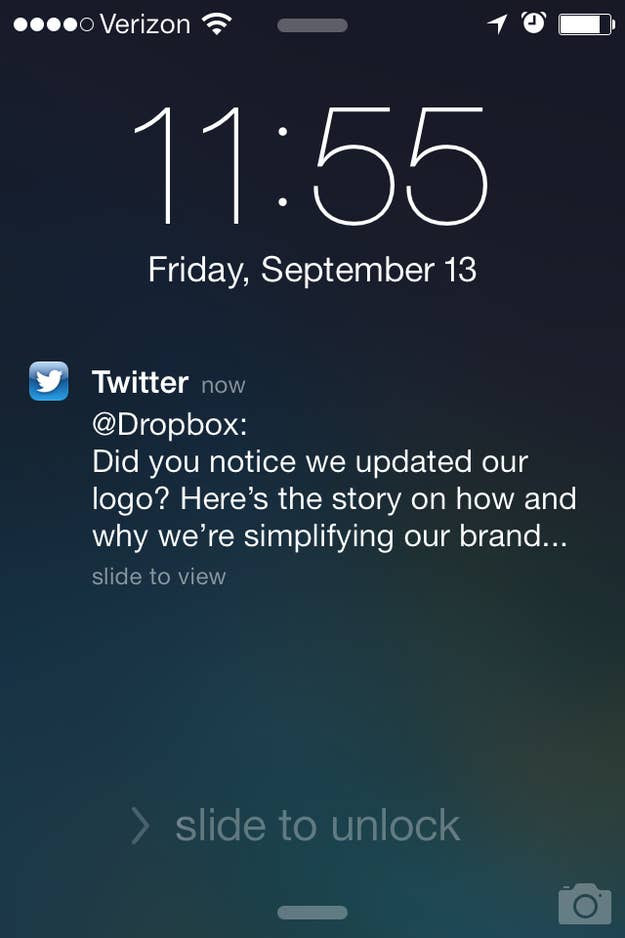 Lately, I've been receiving notifications about popular tweets and newly popular accounts from Twitter through an internal service called @MagicRecs, which works via direct message. I assumed this had something to do with that, but it didn't — though I do follow Dropbox, I received no direct message or @ reply from its account. It seemed to be an advertisement pushed to my phone, and nowhere else. An advertising phantom.
Others had the same experience. Some today, and one all the way back in May:
This does seem like it might be prohibited by Apple's developer guidelines, which state: "Apps cannot use Push Notifications to send advertising, promotions, or direct marketing of any kind."
Though it's hard to imagine Twitter hasn't considered that, and decided that this is somehow different. Anyway, interesting timing!
Another possibility: Twitter has been been testing, on Android in particular, a system that notifies users of certain tweets deemed notable, not unlike @MagicRecs, but built into its apps. It's possible that this tweet, which was posted two minutes before I received my notification, was selected as notification-worthy regardless of its content — it's sort of popular, and again, I do follow Dropbox.
If the argument from Twitter is that because I follow Dropbox, and because the tweet was popular, that this wasn't an ad, or that Dropbox didn't pay for this, then fine: Twitter wins on a technicality. But plenty of more popular tweets come and go, and I've never seen this before. It seems notable that the first unprompted notification I've ever received from Twitter was about the only non-news brand I follow.
Twitter did not immediately respond to a request for comment. We will update if and when it does.
Update 1: Another user claims to have received a similar notification earlier this week:
Update 2: According to a recent tweet sent by Twitter CEO Dick Costolo, it seems that the push notifications are most likely a content surfacing experiment that's gone astray as a result of a "bug":
More than anything, the potential "bug" appears to be a victim of unfortunate timing. When you're a hammer, everything looks like a nail. And when one of the internet's most prominent tech companies is about to go public, everything looks a bit like an ad unit.