Interrupted Airtime
The hilariously bizarre launch of the most anticipated startup of the year.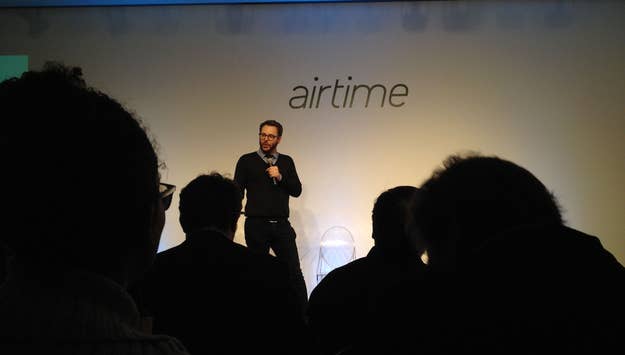 A seated, tight-faced Olivia Munn grabbed the mic. "We were on it last night, it does work" she told a crowd of at least 100 tech journalists, TV reporters and venture capitalists. "This is not how it's really operating, I swear to fucking god." She, along with everyone else on the stage, had not been having a great morning.
She was in New York, along with Joel McHale, Julia Louis-Dreyfus, Jim Carrey, Ed Helms, Jimmy Fallon and Napster cofounders Shawn Fanning and Sean Parker, to launch a startup called Airtime, and the presentation had ground to a halt for the fifth or sixth time, due to technical difficulties. She had also, just minutes ago, done this:
Yes, that's Snoop Dogg in the chat frame. Yes, Munn made this joke: "sorry, there's a white man calling, which means you have to go." And yes, people laughed.
Minutes later, a visibly frustrated Parker mused out loud, "nothing like a successful product demo," as Jim Carrey hammed it up over an Airtime video chat, plodding through the same bizarre reverse-use-case-simulation as all the other onstage celebrities: appearing on Airtime, then quickly revealing that he was, in fact, behind the curtain the whole time. Jim Carrey made a joke about his "pubes" then bounded out from stage left.
Joel McHale had by then appointed himself a sort of disaster control emcee for the evening, gamely drawing attention away from the technical glitches, perhaps even a little too well. About mid-way through — and I'm 99% sure I heard this correctly — Parker muttered sarcastically to McHale after unsuccessfully trying to take back the floor, "well, it's your show." McHale grimaced.
"I can't thank you guys enough, you took a completely fucked up situation... and actually salvaged it," Parker said to his celebrity panel, a group he told us were mostly friends, not targeted spokespeople. It had been two hours since we showed up, and we had barely talked about Airtime.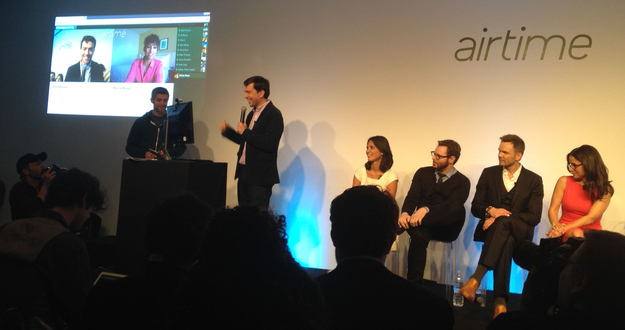 The Airtime launch was a lot like using Chatroulette: when something wasn't going wrong, it was all about itself. The presenters joked about how things weren't going well, and the audience joked quietly about the presenters. It was very meta, in other words, and never gave Parker the chance to give an earnest pitch. That came afterwards, when he seemed more at ease. Here it is, basically:
Airtime is video chat for your Facebook friends. It also lets you chat with other Airtime users who seem, based on Facebook information, like they should be your friends. It lets you share videos from YouTube and soon, says Parker, from Spotify. It also lets you share interests; opening a chat with another user shows you a list of things he or she likes, which a chat buddy can add to his own list with a click.There's a points system.
The bigger concept, beyond just "video chat for Facebook," is that Airtime is a real-time social network. Facebook (and even Twitter), says Parker, are asynchronous, and therefore less personal, social networks. He thinks conversation online can, and should, be in real time. Airtime is the platform for that. A platform within a platform, but a platform nonetheless.
"I feel like Facebook has its hands full with [its] vision," Parker told a group of reporters. "This is something that is very outside their purview."
Facebook, which, remember, has a video chat function, provides the social graph on top of which Airtime sits. The difference is that Facebook video chatting is completely private; Airtime will use sharing techniques — the "your friends are using x app" and "so-and-so has left you a message" mechanisms — to spread in a much more public way. Parker told me he's not sure "we'll need to ever think about another social graph," so the integration with the Facebook mothership seems both technologically and theoretically complete.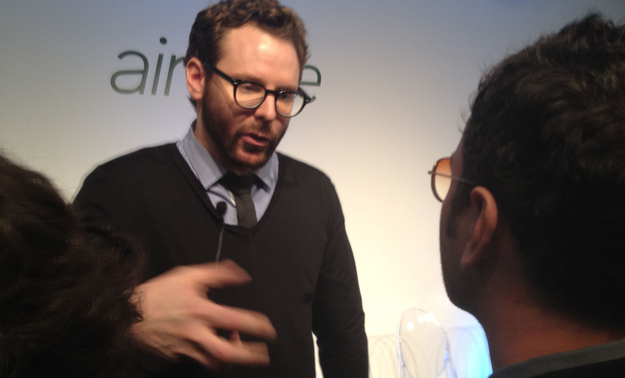 I asked him if he thought the undivided attention required to conduct a video chat might be a lot to ask of Facebook users, accustomed as we are to passive asynchronicity. "There's great evidence that people on Skype or iChat, you know, spend hours on video chat. And they have huge active monthly user bases," he added.
Airtime is just simpler and easier and more fun to use and sign up for than other video chat services, he told me, which is another way of saying that it's eligible for the kind of explosive, overnight growth that made apps like Socialcam and Draw Something popular. That, it seems clear, is the kind of unpredictable, clasp-your-hands-and-pray success that Airtime, which has received over $30m in funding over the last two years, is banking on.
I ask Parker if he's ever made a friend using Airtime, which has been in a closed alpha for months. "Yeah."
Who's the best friend he's made on the service? "Probably some of the people down in Los Angeles who were helping facilitate a bunch of stuff," he said, naming no names but gesturing toward the crowd, which had since gathered into loose islands around the remaining celebrities.
He moved on to the next reporter, a young man from a large tech blog that I probably don't need to name, who opened by saying "Hi Sean, really went well up there." Nobody laughed, and then they talked about funding. I looked over at the empty demo stations. I tried to imagine who I might be Airtiming with in the coming days, weeks, and months, and started to feel dizzy.
Ed Helms, who had paused a few feet away en route from the stage, squinted toward the other side of the room. His face loosened. He smiled. He had found the door.
You can try Airtime here.