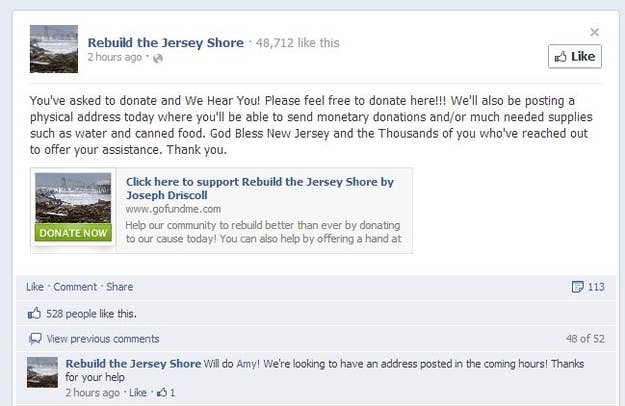 Updated with statement from Rebuild the Jersey Shore. See end of post.
Ad hoc disaster charities and charity scams are not new. But now, in the wake of Sandy, overnight fund-raisers are taking to Facebook. And they're going viral.
At just 19 hours old, "Rebuild the Jersey Shore" had nearly 50,000 Facebook likes. "Rebuild Seaside Heights" had another 15,000. "Rebuild New York," an anonymously founded page, hasn't caught on yet. These are just a few of the innumerable post-Sandy support pages on Facebook and elsewhere online, but they're striking in that they're trying to become something more: charities.
At the time of writing, the "Rebuild Jersey Shore" fund-raiser (Goal: $1,000,000) has gathered less than $500. But it opened an hour ago, and donations appear to be coming in at a steady pace, despite the near total lack of information available about its manager or his ability to run a charity.
The first message on the page's wall was shared once, and liked just 294 times. It reads: "We've been in contact with the State Dept and will be organizing volunteer efforts this weekend for multiple locations. Follow us regularly to stay up to date." (BuzzFeed has so far been unable to reach anyone who can check this claim.)
Shortly afterward, another post: "Please 'Share' our page. Get the word out ASAP and let's make sure the boards are back on the walk by summer," followed by a vague plan to organize volunteers to help clean up the beachside town of Long Branch, NJ. Within four hours, the page's administrator, Joseph Driscoll, posted that due to "enormous interest and support," he had decided to register as a "licensed NJ based charity." This morning, he opened a fund-raiser on GoFundMe, an IndieGogo-type site that is popular for personal appeals for money — its "Sandy2012" page is packed with individuals and families asking for money from family, friends, and acquaintances.
A representative for the New Jersey Division of Consumer Affairs told BuzzFeed FWD that such fund-raisers are technically legal. Driscoll, who according to Facebook splits his time between Pennsylvania and New Jersey, is not required to register as a charity in the state until he raises more than $10,000. And even then, he would have a grace period.
If he only solicits donations online, he may never have to register in the state at all — though a recent update to the Facebook page claims it will be "posting a physical address today where you'll be able to send monetary donations and/or much needed supplies such as water and canned food," which would count as in-state solicitation. Again, though, if Driscoll registers, and follows through on his promises, he would not run afoul of any laws.
He already runs afoul of longstanding wisdom regarding charities, however. On its website, the New Jersey State Department, which Driscoll claims he is coordinating with, cautions residents about giving to charities with no history. "Ask for written information about the charity to be mailed to you," the notice says, and "consult the Division of Consumer Affairs' Charitable Registration Directory."
One specific piece of advice reads, "Beware of promises of a gift or prize in return for your donation." The GoFundMe page for Driscoll's event, as of 1:15 p.m. EST, says this: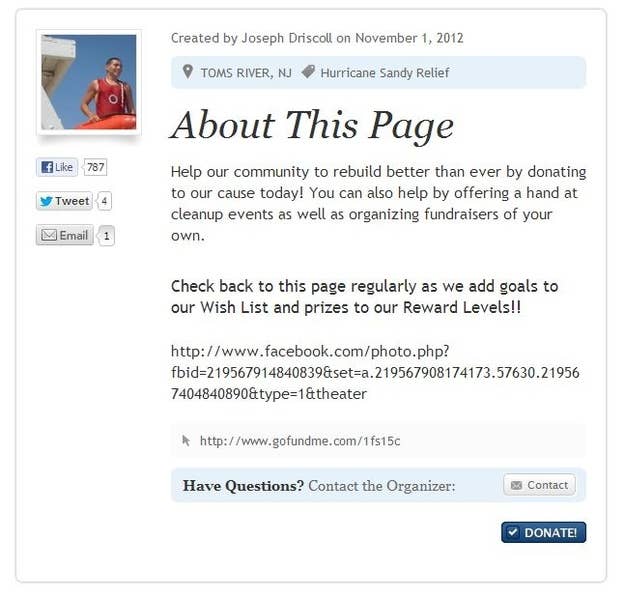 The FTC's guidance on charitable giving is even more direct. In the immediate aftermath of Sandy, the agency posted a notice on its website warning that "scams often follow disasters," and to donate only "to charities you know and trust. Be alert for charities that seem to have sprung up overnight." Tracy Thorleifson, a staff attorney for the FTC, tells BuzzFeed that "obviously we recommend people donate to charities they know or trust," and that if a charity doesn't check out, "don't give."
Driscoll's page, as well as the even less documented "Rebuild Seaside Heights," which has its own anonymous donation page, clearly fits the FTC's profile for a suspicious fund-raiser. Again, that's not to say that it's a scam — it's easy to imagine a concerned citizen seeing an opportunity to help, setting up an ad hoc charity and following through on his promises. But even that is problematic. Running a charity, particularly one that aims to raise a million or more dollars, is no small undertaking. "If you're going to donate to a charity with a larger focus than your local area, and you want your donation to go just to your local area," says Thorleifson, "reputable charities are required to honor your request [to direct the donation.]"
"It's a fallacy to say that large state and national organizations don't network with community groups," she says. "There are lots of other people on the ground." (Speaking of which, here's list of ways to help.)
In any case, in the time it would take for an overnight charity to register with the state and effectively prove its legitimacy, donations would have already been collected. Someone like Driscoll would be required by law to follow through on his promises, vague as they may be, and could find himself vulnerable to numerous state and federal laws, including theft, consumer deception, and failure to register as a charity. "Both New Jersey and New York have very strong charities enforcement programs, says Thorleifson, "[and] they will undoubtedly be very active in monitoring claims." If she were to attempt a charity scam, Thorleifson jokes, she "wouldn't do it right now."
Driscoll did not respond to multiple requests for comment, though he has since posted an update the fund-raising site in response to multiple commenters' skepticism: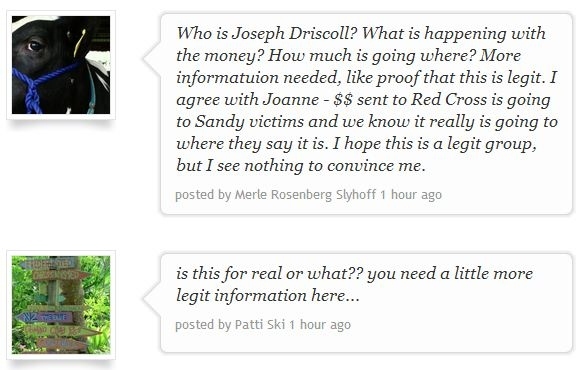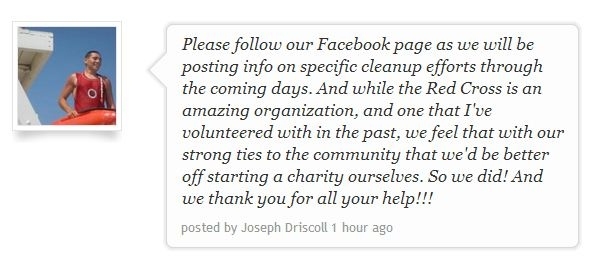 The FTC recommends reporting any suspicious fund-raising via its website, or your state Attorney General's site.
Update: I spoke with Driscoll on the phone, and have no reason to doubt his motives. The advice from the FTC, however, still stands. Driscoll's statement, in full:
My name is Joseph Driscoll—I'm from Toms River, NJ. I attended Manchester Township High School and served on the Seaside Heights Beach Patrol during summers in college. I managed your local LA Fitness right there in the Seacourt Pavillion. I own a business in Toms River and am a licensed insurance producer in four states, including our great State of New Jersey. Most of all I'm a concerned citizen and want to help.

Yesterday, as I watched our horrible tragedy unfold a few friends and I thought it would be a good idea to put a Facebook group together to gather our community. However, by the time I went to bed last night our page had over 40,000 likes as well as thousands of messages offering assistance and donations.

We didn't expect all this. But we're taking it head on. We're connecting officials with various county and township OEM offices for coordination of cleanup efforts. We're setting up drop shops for relief materials and giving them directly to the first aid squads, fire departments and families who have directly asked us for our help. We're setting up fundraisers and will coordinate with local community leaders to determine who needs the most help the fastest…and that's where we'll start.

Many of us have wondered how we can get involved over the last few days with no answer. Well, we have an answer for you. If you don't want to drop off your food at our centers…message us and we'll get you in contact with someone who's directly in need. If you don't want to donate let us know…we'll refer you directly to a family in need. We're getting rid of the red tape and getting help to our community.

Despite the few who insist on damning our efforts we have tens of thousands of strong supporters. Already donations and items are piling in. We are amazed at what New Jersey has come together and done. We WILL REBUILD OUR SHORE.