So Long, Apps: How Hardware Took Over South By Southwest
Forget CES: Austin is where you show your new gadgets. An old-school turn for the tech world's trendiest show.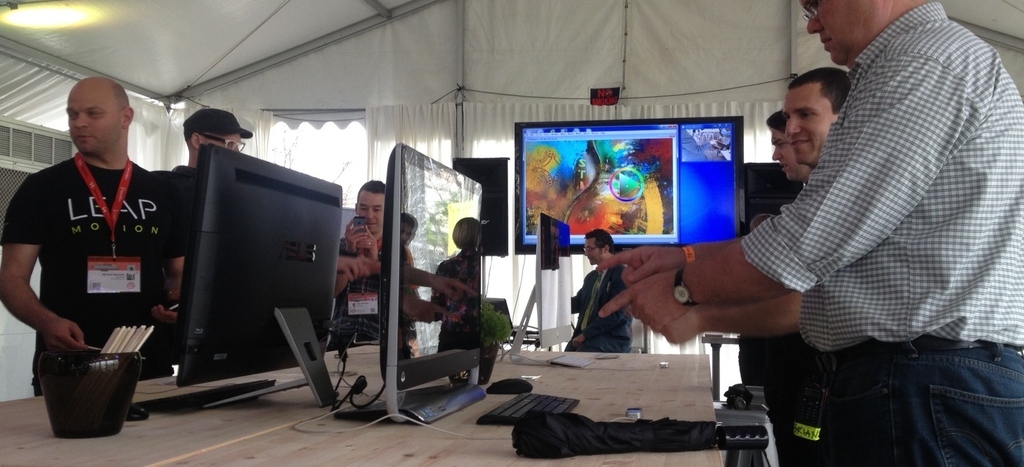 AUSTIN — The main hall at SXSW was eerily quiet on Saturday morning; many attendees were either sleeping off hangovers or angling for a free, sponsor-furnished breakfast just outside its doors. Even the registration line was short and silent.
But one block away, outside under a tent, was a mob scene. Dozens had crowded around tables and booths at the display for Leap Motion, a small motion-sensing device not unlike the Xbox Kinect, but for computers. "This is a great venue," says Michael Zagorsek, VP of marketing for the company. "This is the first time the public is getting a chance to try the controller," he says. "Anybody who's tried it before has come to our office, or a meeting."
With startling speed, SXSW has begun to overtake the Consumer Electronics Show, or CES, as the premier venue for new hardware — at least, coming from startups. As Jenna Wortham noted in the New York Times, SXSW Interactive, though much smaller than CES, is hosting almost all of the most interesting hardware companies of the moment: gaming hardware companies like Oculus VR and Ouya, internet sensation Leap Motion, light-field camera company Lytro and 3D printing pioneers MakerBot. If you're a small company doing something interesting in the hardware space, you're at SXSW. And you don't really care about Vegas.
"This is a one-to-many event, where CES is one-to-one," says Leap Motion CEO Andy Miller, who was formerly a VP at Apple. "Everyone here is an influencer on some level."
"The crowd at Southby is perfect for a company like ours," says Lytro's Kira Wampler. "There's a good emotional vibe — it's so valuable to be around people who see your company or your shirt and yell, 'Lyyytrooooo!'"
The attitude toward hardware at SXSW — and its flagship exhibitors — stands in stark contrast to CES, which has suffered from a lack of notable launches and announcements over the past three years (Microsoft, formerly one of its largest exhibitors, dropped out after 2012). After a decades of dominance, the Vegas show has receded to an earlier form; now it's a place for large hardware companies to show off their research projects, and for established players to hash out manufacturing deals. It is, in other words, a true trade show.
"We didn't go to CES," says Matt Tran, cofounder of Boosted Boards, an electric skateboard company. The product needed more work, he says. But he worries that it might not have been worthwhile anyway: "It felt like we'd get kind of drowned."
This shift comes at a transitional time for SXSW too. For a brief period, from 2007 through about 2010, SXSWi became a launchpad for trendy apps and online services. This was when Twitter, FourSquare, and GroupMe broke through in Austin, and when SXSWi, which had never really been a place to launch products, was invaded by eager app makers, all desperate to be the next app to "win" SXSW.
"When Twitter and FourSquare broke out, the idea of apps was still pretty new," says Wampler. "By definition, the early adopters had to be the ones to go out and tell people, "hey, you do want to tell people when you're 'checking in.'"
"Now," she says, "we're all comfortable with apps." Everyone has a smartphone, so you don't need to drag them out to Austin get them to try a new photo app.
Hardware, on the other hand, is a tougher sell. "A lot of people think it's vaporware," says Leap Motion's Miller. "But then [at SXSW] they get their hands on it."
Hardware startups have, over the last 10 years, struggled to gain traction. Until very recently, money flowed away from them and toward pure-software app and service companies that promised at least the possibility of a massive, quick, Instagram-style payoff. The hardware business moves more slowly: Investments are large, and returns, while potentially healthy, are steady at best.
The rise of crowdfunding site Kickstarter has helped turn the odds back in hardware startups' favor. Oculus launched on Kickstarter, as did Ouya. Lynx Labs, a SXSW attendee which has created a device that uses "visual odometry" to quickly scan 3-D objects, is a month into its own campaign; Jeff McAlvay, founder of Board Forge, a device for rapidly assembling custom circuit boards, is planning one if SXSW goes well. Boosted Boards raised nearly $500,000 with its Kickstarter in September.
It's not just Kickstarter, though; investors who last year were crawling SXSW for new app investments are interested in actual devices again. Tran says he's already full up — in addition to his Kickstarter funding, he's raised a seed round from VCs.
"The attention of venture investors has shifted," says Miller. "The hottest companies are hardware/software combo companies. If you look at the valuations," he says, "they're pretty big."
The rise of Kickstarter has corresponded with two more subtle trends: the ease of prototyping new hardware, helped in part by 3-D printing companies like MakerBot (Tran pointed to two parts of his skateboard that were rapid-prototyped); and the ability to work with newly flexible contract manufacturers in Asia, which were previously only available to large, established companies with vast means and longstanding connections.
This has led to a glut of small hardware companies. And while their forebears — the Samsungs and Sonys of the world — had a valuable partner in CES, the new class is loyal to SXSWi. Where CES is can be confusing and alienating for a small company, SXSW provides a captive audience of actual potential customers — beta testers, really.
"People are open to a variety of devices here. I see CES as a place where folks go to see new laptops and phones," says McAlvay. Lytro, which makes almost all of its sales over the internet, is loaning out 100 cameras for 24 hours at a time. Lynx Labs is also using the conference for recruiting; sitting on its display table, next to its camera, was a stack of job flyers.
MakerBot's Nate Leichter sums up the sea change. "Four years ago at SXSW is when we launched our first 3-D printer," he says. "This is the first Southby since then that we've launched a hardware product." In the opening keynote, no less.